Gemstones from Afghanistan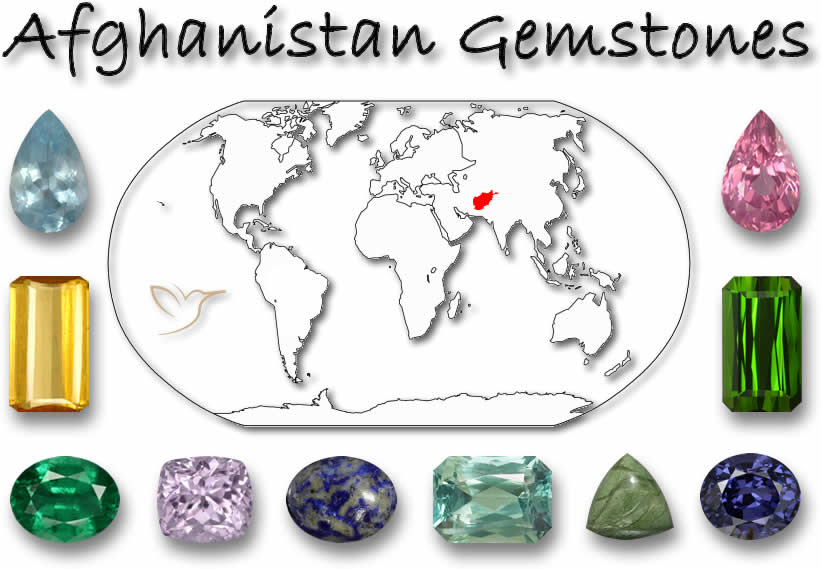 Mention the country, Afghanistan, these days and all we can imagine is war, explosions and suffering but this mountainous and challenging nation has a history which stretches back thousands of years and its beginnings are strongly linked to its gemstones.
Of course its geological history is a lot older than a few thousand years. Much like many other hotbeds of mineral resources, the rocks found in Afghanistan are very old - up to a billion years in the making.
Add to this the movement of tectonic plates 40 million years ago, which created the towering mountains and provided the heat and pressure needed to form gemstones, and we have the perfect environmental storm.
The ancient Silk Road that linked China to Europe via the middle-east went straight through Northern Afghanistan and its natural resources including tin, copper and gold were exported far and wide. The Lapis Lazuli found in Ancient Egyptian tombs is believed to have come from the famous mines of Badakhshan, which were in operation as long ago as 7000BC.
Afghanistan may have a very long history of mining for gemstones but it also has great potential for the future if it can find peaceful resolutions to its many problems. We live in hope and present a few details of the gemstones found today in Afghanistan.
So there we have a selection of Afghanistan's finest gemstones. There are a number of other stones which have been found in this landlocked and often troubled country such as ruby, sapphire and garnet. However as yet sufficient enough quantities and good enough quality material cannot be found on a regular basis for us to include them, yet.
This country's geology does suggest that in the not too distant future even more gemstones will become available.
Quick Guide to Afghanistan Gemstones

| Gemstone | Color |
| --- | --- |
| Aquamarine | Light Blue |
| Beryl | Golden Yellow |
| Emerald | Green |
| Hiddenite | Light Green |
| Kunzite | Pink |
| Lapis Lazuli | Blue |
| Morganite | Light Pink |
| Serpentine | Green |
| Spinel | All Colors |
| Tourmaline | All Colors |
First Published: December-08-2020
Last Updated: December-09-2020
© 2005-2021 GemSelect.com all rights reserved.
Reproduction (text or graphics) without the express written consent of GemSelect.com (SETT Company Ltd.) is strictly prohibited.
Article Categories
Total Number of Articles: 1443