Gemstones from Brazil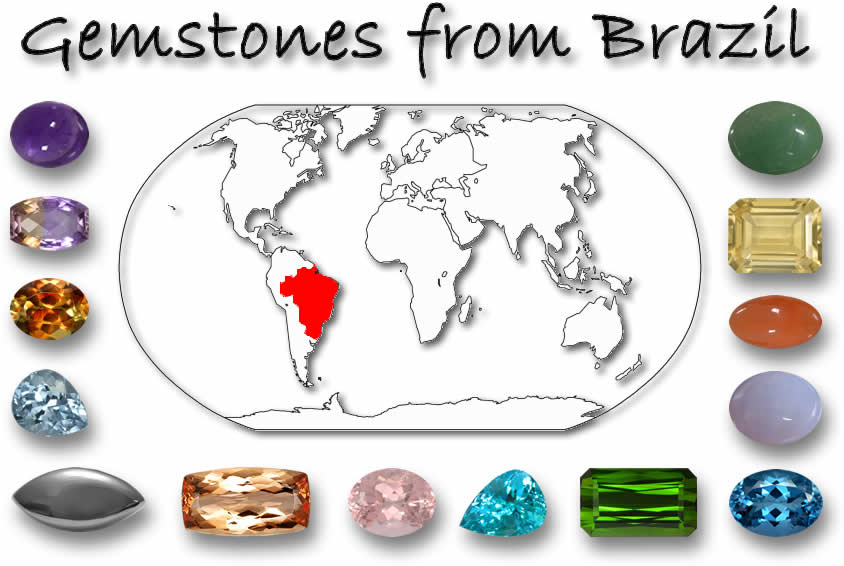 There are a few countries that could claim to be the most bountiful source of gemstones, Sri Lanka and Mozambique spring to mind but perhaps Brazil could be at the top of the pile.
A land famous for its sandy beaches, samba music, football players and vast jungles can also boast amethyst, ametrine, citrine, diamonds, emeralds, topaz, tourmaline and even opals as a few of its natural gemstone resources.
Although there is evidence that ancient civilizations used amazonite, beryl, emeralds, obsidian and jade, and there are stories of native tribes using diamonds as plaything for their children, the story of Brazilian gemstones begins with the arrival of Portuguese colonists in the 16th century.
Brazil was 'discovered' in 1500 when Pedro Cabral landed in Porto Segura. Brazil was given its name by the colonists after the brazilwood tree which was plentiful at the time and the timber from this tree along with sugarcane was soon exploited.
Whilst searching for gold, Portuguese miners discovered diamonds in Bahia, where early historian Pero Gandavo wrote of 'mines of white stones such as diamonds' in 1576 and explorer Sebastiao Tourinho found blue and green gemstones - probably tourmalines - whilst searching for emeralds in 1572.
Pretty soon, Brazil became the world largest source of diamonds and would remain so until the discoveries of new mines in South Africa 150 years later.
In the 18th century, German immigrants from the gemstone cutting town of Idar-Oberstein, discovered amethyst in what became to be known as the Minas Gerais region of north east Brazil. At the time, amethyst was as valuable as rubies and sapphires.
Slowly but surely over the next two centuries more and more colored gemstone varieties were discovered across this resource rich land until it has reached the point of being the largest source of gems in the world.
We have put together a list of them in alphabetical order and present to you what we feel are the best of Brazil's colored gemstones.
Quick Guide to Brazilian Gemstones

| Gemstone | Color |
| --- | --- |
| Amethyst | Violet / Purple |
| Ametrine | Purple / Yellow |
| Andalusite | Brown / Multicolor |
| Aquamarine | Light Blue |
| Aventurine | Green |
| Beryl | Yellow / Golden |
| Carnelian | Orange |
| Chalcedony | Lavender / Violet |
| Citrine | Yellow / Golden |
| Diaspore | Color-Change Yellow / Pink |
| Diamond | Clear / Yellow |
| Emerald | Green |
| Hematite | Metallic |
| Imperial Topaz | Golden Orange |
| Morganite | Light Pink |
| Paraiba Tourmaline | Neon Blue / Green |
| Quartz | Various |
| Tourmaline | Various |
| Topaz | Various |
First Published: November-27-2020
Last Updated: November-27-2020
© 2005-2022 GemSelect.com all rights reserved. Reproduction (text or graphics) without the express written consent of GemSelect.com (SETT Company Ltd.) is strictly prohibited.
Article Categories
Total Number of Articles: 1866