What Gemstone represents my Country?
Use the shortcuts below to find your country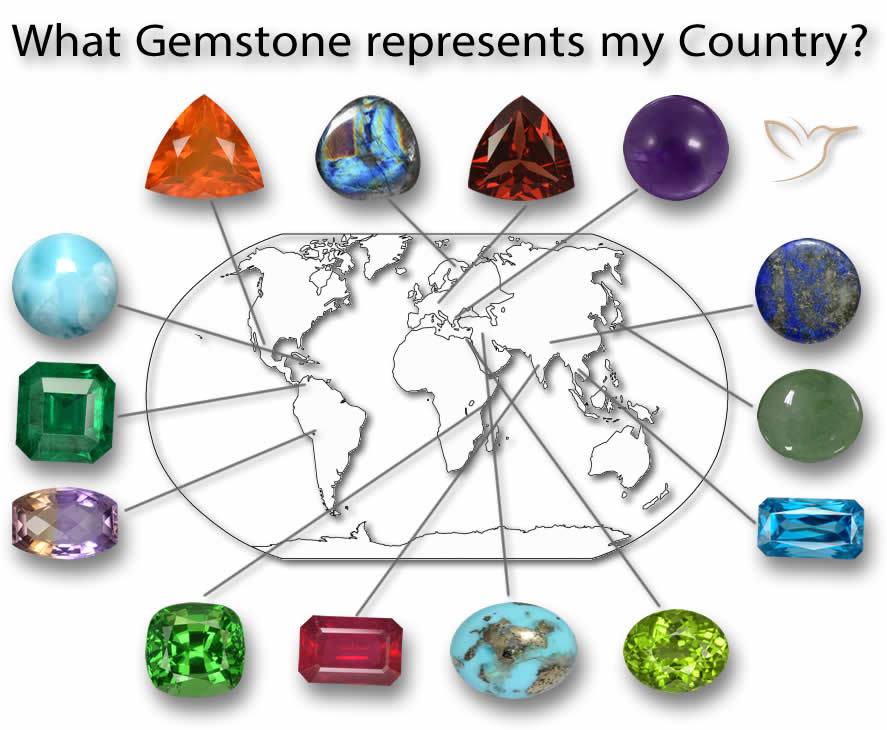 Certain gemstones are linked forever with certain countries – rubies with Myanmar, jade with China, Alexandrite with Russia and so on, however in many of these cases the gemstone sources have been depleted or dwindled considerably.
Other countries may have a tradition of jewelry making or gemstone cutting but no natural resources of any real note of their own while others have gemstone varieties too numerous to count but little or no refinement facilities.
Countries such as Brazil, Madagascar and Sri Lanka are blessed with a huge range of precious gemstones and picking just one is difficult. Sri Lanka had the nick-name 'Gem Island' and as far back as Marco Polo it was praised for its sapphires, topazes and amethysts and it continues to produces stunning gemstones to this day.
We have come up with a list of gemstones that typify individual countries. Not always the most expensive, the most common or the best known but symbolically or historically linked to each country.
We have tried to make sure the gemstones, although rare, are readably available and not beyond the reach of most people's pockets.
Apologies if we have missed your country – there are nearly 200 out there and not all have a connection to a particular gemstone although we would love to be corrected if you can supply information about your country's links to gemstones.
Quick Guide to Country Gemstones

| Country | Gemstone |
| --- | --- |
| Afghanistan | Lapis Lazuli |
| Argentina | Rhodochrosite |
| Australia | Opal |
| Bolivia | Ametrine |
| Brazil | Imperial Topaz |
| Cambodia | Zircon |
| Canada | Ammolite |
| China | Jade |
| Colombia | Emerald |
| Congo | Andesine Labradorite |
| Czech Republic | Pyrope Garnet |
| Dom Republic | Larimar |
| Egypt | Peridot |
| Eswatini | Hematite |
| Ethiopia | Black Opal |
| Finland | Spectrolite |
| France | Rose de France Amethyst |
| Germany | Agate |
| Greece | Amethyst |
| Honduras | Opal in Matrix |
| Hungary | Opal |
| India | Ruby |
| Indonesia | Jasper |
| Iran | Turquoise |
| Italy | Carnelian |
| Japan | Jadeite |
| Kenya | Tsavorite |
| Korea | Amethyst |
| Madagascar | Grandidierite |
| Mali | Mali Garnet |
| Mexico | Fire Opal |
| Mozambique | Garnet |
| Myanmar | Ruby |
| Namibia | Demantoid |
| Nepal | Kyanite |
| New Zealand | Jade |
| Nigeria | Aquamarine |
| Pacific Islands | Pearl |
| Peru | Pink Opal |
| Philippines | Pearl |
| Poland | Amber |
| Russia | Charoite |
| Saudi Arabia | Carnelian |
| Scandinavia | Iolite |
| South Africa | Diamond |
| Spain | Andalusite |
| Sri Lanka | Sapphire |
| Taiwan | Coral |
| Tanzania | Tanzanite |
| Thailand | Golden Yellow Sapphire |
| The UAE | Pearl |
| Turkey | Color-Change Diaspore |
| Ukraine | Jasper |
| United Kingdom | Sapphire |
| United States | Tourmaline |
| US Native American | Turquoise |
| Vietnam | Spinel |
| Zambia | Emerald |