Gemstones for Blood Types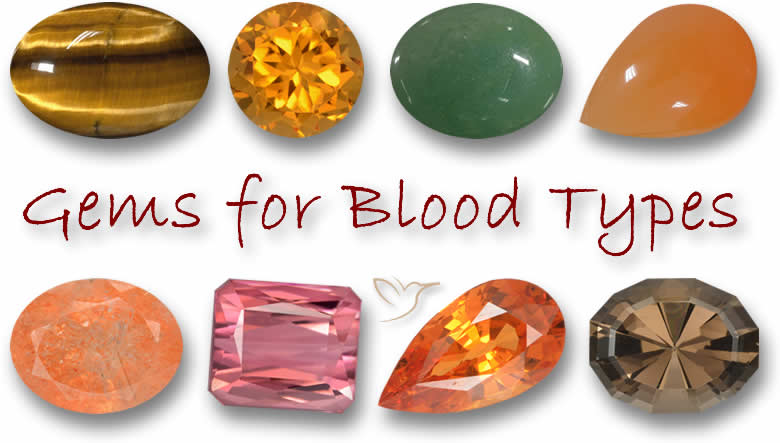 During my time in south east Asia I was surprised at how many times I was asked what my blood type was. Not while visiting the doctor but in casual conversation - and everyone looks shocked when I say I do not know!
Upon further investigation it seems that your blood group can influence your temperament, personality traits, behavior and which career you should pursue.
People with blood type A are kind, compassionate and sensitive and are suited to jobs such as accountants, writers or programmers.
Blood type B personality traits include being friendly, energetic and creative. Ideal careers are investigators, journalists and artists.
Those with Blood type O are more practical, organized and responsible. They make excellent leaders, managers and directors.
Finally Blood type AB means you are independent, energetic and outgoing. Your career should be as a teacher, lawyer or social worker.
With a few conversations with some locals, a bit of research on the internet and some matching up of personalities, I have come up with the perfect gemstones for your blood group.
So there we have a selection of colored gemstones to match your blood group and if you are anything like me you will be tracking down your medical record to find out yours.
In eastern cultures, this is taken very seriously - in Japan, 99% of people know their blood type. Potential employers often ask what blood type you are before giving interviews and dating apps include blood type in the profiles!
Get ahead of the game and get the gemstone to match your blood type now.
Gemstones for your Blood Group

| Blood Group | Gemstone |
| --- | --- |
| O | Tiger's Eye |
| O | Carnelian |
| B | Citrine |
| B | Aventurine |
| A | Pink Tourmaline |
| A | Smoky Quartz |
| AB | Sunstone |
| AB | Spessartite Garnet |