Gemstones for the Medical Profession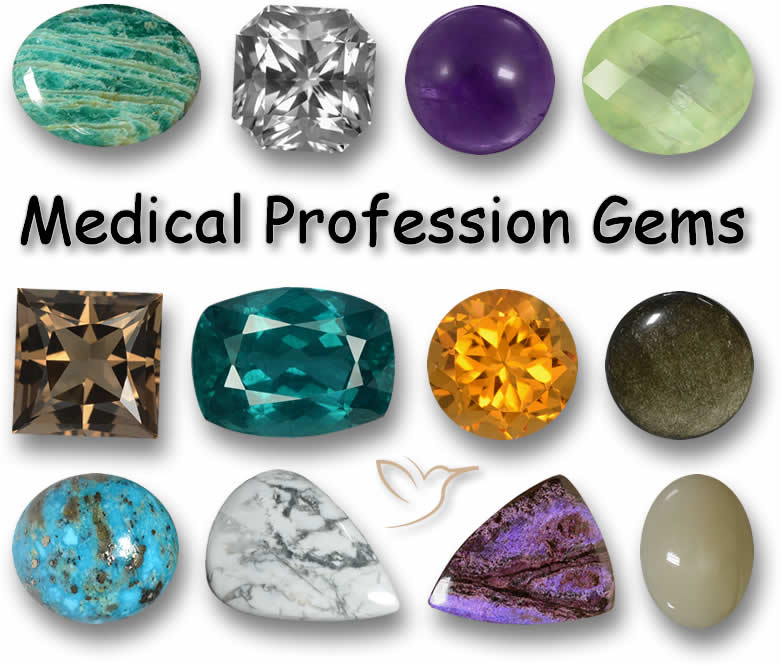 In ancient times, the medical profession found it totally acceptable and normal to prescribe gemstones as part of both prevention and cure for all sorts of ailments.
Things seem to be circling back these days as many people in healthcare are beginning to take a more holistic approach by including diet, herbs, massage, emotional and spiritual well being and yes, gemstones, in their treatments.
Doctors, dentists, nurses, massage therapists, acupuncturists, hypnotherapists, surgeons, homeopaths, chiropractors, the list goes on and on, can all benefit from the presence of crystals in the workplace.
We have selected the top gemstones with a heritage and history stretching back into the mists of time as healing aids. They have a variety of attributes and we are sure you will find a suitable stone or two.
Let's start with a couple of relaxing gemstones which can put your clients or patients at ease before any sort of treatment or diagnosis.
Moonstone and Amazonite
Both these gemstones calm anxiety and induce feelings of safety, allowing for greatly improved communication when searching for the root of a problem and improving the process of any treatment that may take place.
Ideal for
Waiting Rooms
Consultancy Rooms
Hypnotherapists
Dentists


The next few gemstones are all-round healing gemstones which can be of benefit to anyone feeling under the weather.
Clear Quartz
Known as the Master Healer, this gemstone has the ability to realign or unblock all the chakras so can work on just about any condition. Its powerful vibration will heighten energy and repel negativity.


Amethyst
This lovely purple gemstone is often called 'Nature's tranquilizer'. It is a well-known anti-oxidant which can detoxify the body and a super anti-inflammatory agent. Amethyst is a natural antiseptic so is great for wounds and excellent for blood circulation.


Turquoise
A crystal healing, master-stone that can be of benefit to the entire body. The immune system, respiratory system and tissue regeneration are its particular strengths.


After or during treatment a patient or client can benefit from a supporting gemstone or two.
Citrine
This lovely yellow gemstone lifts energy levels and encourages positivity to help you through the recovery stages following illness or surgery.


Smoky Quartz
Smoky Quartz cleanses the body of toxins and negative energy, clearing the way for recovery, especially if heavy medication was part of the treatment.


Apatite
This gemstone will help you regain the strength needed for a speedy recovery and encourage new cell regeneration.
Ideal for
Doctor's consultancy rooms
Patient's recovery area


Sometimes our health issues can be physically painful. Medical practitioners can and will administer pain relieving drugs but these can be intrusive and cause side effects. There are a couple of gemstones known for their pain relief.
Sugilite
An interesting purple gemstone with pain subduing properties as well as an ability to lessen feelings of grief and fear.


Obsidian
Obsidian is a powerful suppressor of pain most associated with joints and arthritis but can be used with all manner of aches.
Ideal for
Recovery rooms
Physiotherapists
Patient's recovery area


It is not only the patients who can benefit from the work of gemstones, the physicians and therapists can too.
Prehnite
This generally greenish gemstone is known as the crystal to 'Heal the Healer'. While the practitioner is completing his tasks the prehnite will offer protection and vital energy.
Ideal for
All medical professionals


Our last gemstone is especially for dentists but can also work for those who work on bones and the skeletal system.
Howlite
This white and gray gemstone will work wonders for the calcium in your body, boosting absorption and growth for teeth and bones.
Ideal for
Dentists
Osteopaths
Chiropractors


Our Quick Guide to Medical Profession Gemstones

| Gemstone | Benefit |
| --- | --- |
| Moonstone | Calming |
| Amazonite | Calming |
| Clear Quartz | All-round healer |
| Amethyst | All-round healer |
| Turquoise | All-round healer |
| Citrine | Aids Recovery |
| Smoky Quartz | Aids Recovery |
| Apatite | Aids Recovery |
| Sugilite | Pain Relief |
| Obsidian | Pain Relief |
| Prehnite | Heals the Healer |
| Howlite | Calcium Support |
Disclaimer
Disclaimer GemSelect has been buying and selling gemstones for many years now and in that time we have built up quite a relationship with our customers and suppliers. We are not experts in the meanings and health benefits of gemstones but we have been able to speak with and take advice from people who are.
We are based in Thailand where the belief in spiritual and physical benefits of gemstones, herbs, prayers, pilgrimages, amulets, colors and the stars is common and part of nearly everyone's daily life.
All of our employees have some experience with using gemstones or amulets in order to improve or maintain their physical or emotional health.
The powers of gemstones have been chronicled for 1000s of years and proven time and time again to be effective in improving people lives in many, many ways but we must stress that they are not a replacement for medical treatment.
If you feel unwell or are concerned about your mental health please contact qualified medical help as soon as you can.
In addition we try to research and verify information about the history and efficacy of each gemstone using the internet and various reputable books published by a number of sources.
Recommended resources
Crystal Basics: The Energetic, Healing, and Spiritual Power of 200 Gemstones
Crystals for Karmic Healing
Crystal Healing for the Heart: Gemstone Therapy for Physical, Emotional, and Spiritual Well-Being
Author: Nicholas Pearson
Healing Crystals: An Illustrated Guide to 150 Crystals and Gemstones
The Complete Crystal Handbook: Your Guide to More than 500 Crystals
Author: Cassandra Eason
The Encyclopedia of Crystals
The Crystal Bible
Author: Judy Hall
The Chakra Bible: The Definitive Guide to Working with Chakras
Author: Patricia Mercier