Aug 18, 2020
Updated Aug 18, 2020
The Power of Purple Gemstones - 10 of the best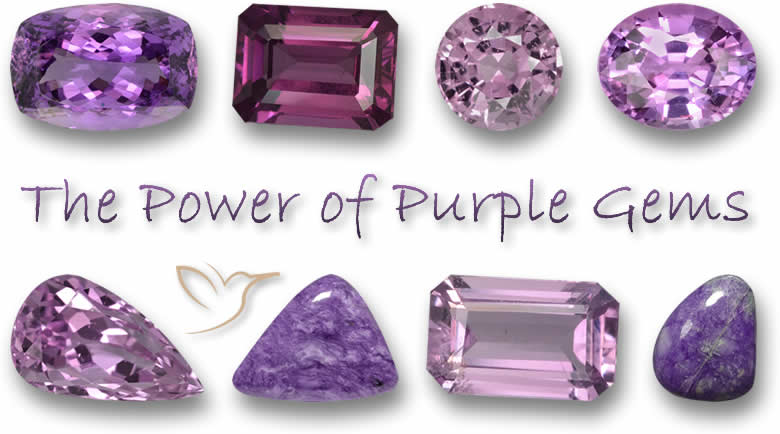 There are many reasons to love purple gemstones, it could simply be their sumptuous colors or it could be their renowned spiritual powers, either way there is a lot to be said for owning one.
Purple has been associated with wealth, passion, power, royalty, luxury, ambition, magic, religion and extravagance since the beginning of civilization, perhaps in part because of its relative rarity in nature but also its essential innate beauty.
Gemstones are an intrinsic part of our environment and, just like the rare flowers, plants and fruits, finding a natural purple gemstone is very difficult.
Luckily Mother Nature has been kind enough to give us a few and let's start with the king or queen of the purple gemstones the much-beloved and historical Amethyst.
Purple and the Chakras
Chakras are energy centers positioned along the body which have an effect on your physical and mental well-being. Each Chakra point has a designated color and sphere of influence.
Purple gemstones generally have an ability to guide the Third Eye and Crown Chakras at the top of the body. If your Third Eye or Crown Chakras are blocked or out of alignment then a well placed purple gemstone or one held in the hand while meditating may unblock or re-align the Chakra.
For a more detailed look at Chakra Gemstones see our article here
Quick guide to Purple Gemstones

| Gemstone | Highlight |
| --- | --- |
| Amethyst | February Birthstone |
| Charoite | A gift from Russia |
| Amethyst | February Birthstone |
| Kunzite | The Evening Stone |
| Spinel | The August Birthstone |
| Sugilite | From Japan with Love |
| Rhodolite Garnet | January Birthstone |
| Purple Sapphire | Purple Sapphire |
| Chalcedony | The Healing Stone |
| Star Ruby | July Birthstone |