Zodiac Gemstones - A Detailed Guide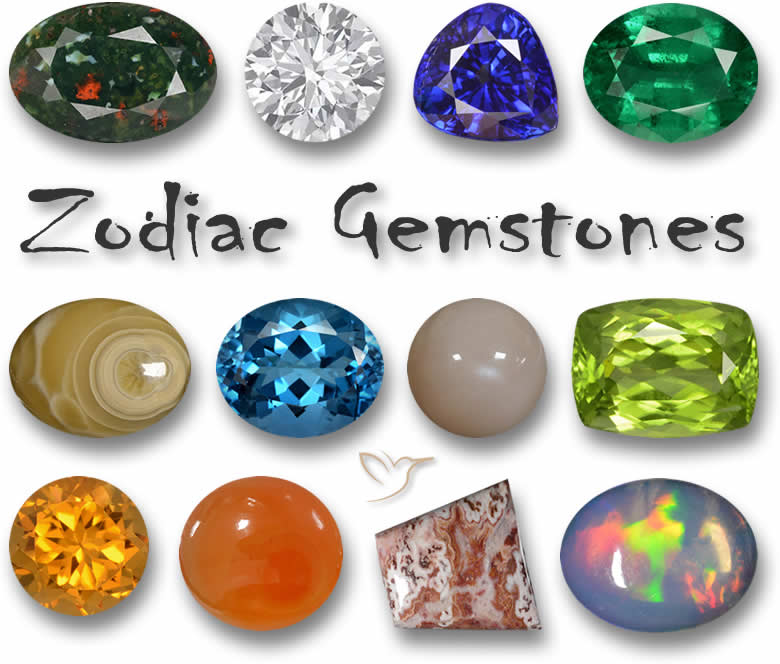 The Zodiac signs originated in Babylonia about 3000 years ago although human beings have been looking to the sun and stars for guidance both physical and spiritual since the dawn of civilization.
The placement of constellations in relationship to the sun was divided into 12 equal signs that were 30° wide and given names such as The Great Twins, The Scales, The Bull of Heaven which will sound familiar today.
The sun would move through these constellations at regular times during the year and gave rise to the 12 signs of the Zodiac – a Greek word meaning sculpted animals which reflected many of their names.
Astronomy was adopted by all the great ancient kingdoms of Egypt, Greece and Rome and used to bring order to a chaotic world, predict the seasons and the coming weather and forecast impending disasters.
Eventually it developed to include the fortunes and prospects of humans – first the king himself and then the rest of us.
Gemstones have long been appreciated for their spiritual strength and, much like birthstones, soon certain gemstones began to be associated with particular Zodiac star signs.
The planets, the elements, colors and superstition have combined to link each sign of the Zodiac to a number of gemstones.
We have created an easy-to-follow guide to let you know which gemstones traditionally match your sign as well as their color and spiritual attributes.
This guide will also come in handy when thinking about a gift for that special person in your life – if you are not sure what they would like a gemstone associated with his or her star sign would be ideal.
So which gemstone is the perfect one for you or your loved one – let's find out.
Aries - The first sign in the zodiac
| Date | Personality |
| --- | --- |
| March 21 – April 19 | Passionate and determined |
| Gemstone | Personality |
| --- | --- |
| Bloodstone | Strength, protection and vitality |
| Alternative Gemstone | Personality |
| --- | --- |
| Diamond | Love and faithfulness |




Taurus - The second sign in the zodiac
| Date | Personality |
| --- | --- |
| April 20 - May 20 | Practical and dependable |
| Gemstone | Personality |
| --- | --- |
| Sapphire | Protection from negative energy |
| Alternative Gemstone | Personality |
| --- | --- |
| Emerald | Growth and fertility |




Gemini - The 3rd sign in the zodiac
| Date | Personality |
| --- | --- |
| May 21 – June 20 | Affectionate and loyal |
| Gemstone | Personality |
| --- | --- |
| Agate | Harmony and peace |
| Alternative Gemstone | Personality |
| --- | --- |
| Topaz | Love and affection |




Cancer - The 4th sign in the zodiac
| Date | Personality |
| --- | --- |
| June 21 – July 22 | Caring and emotional |
| Gemstone | Personality |
| --- | --- |
| Emerald | Growth and fertility |
| Alternative Gemstone | Personality |
| --- | --- |
| Moonstone | Compassion and kindness |




Leo - The 5th sign in the zodiac
| Date | Personality |
| --- | --- |
| July 23 – August 22 | Creative and flamboyant |
| Gemstone | Personality |
| --- | --- |
| Peridot | Prosperity and happiness |
| Alternative Gemstone | Personality |
| --- | --- |
| Citrine | Vitality and energy |




Virgo - The 6th sign in the zodiac
| Date | Personality |
| --- | --- |
| August 23 – September 22 | Hard working and empathetic |
| Gemstone | Personality |
| --- | --- |
| Carnelian | Motivation and creativity |
| Alternative Gemstone | Personality |
| --- | --- |
| Jasper | Nurturing and courageous |




Libra - The 7th sign in the zodiac
| Date | Personality |
| --- | --- |
| September 23 – October 22 | Sociable and fair minded |
| Gemstone | Personality |
| --- | --- |
| Opal | Hope, purity and truth |
| Alternative Gemstone | Personality |
| --- | --- |
| Tourmaline | Healing and inspiring |




Scorpio - The 8th sign in the zodiac
| Date | Personality |
| --- | --- |
| October 23 – November 21 | Assertive and trustworthy |
| Gemstone | Personality |
| --- | --- |
| Beryl | Perseverance and tolerance |
| Alternative Gemstone | Personality |
| --- | --- |
| Coral | Courage and wisdom |




Sagittarius - The 9th sign in the zodiac
| Date | Personality |
| --- | --- |
| November 22 – December 21 | Open-minded and active |
| Gemstone | Personality |
| --- | --- |
| Topaz | Love and affection |
| Alternative Gemstone | Personality |
| --- | --- |
| Citrine | Vitality and energy |




Capricorn - The 10th sign in the zodiac
| Date | Personality |
| --- | --- |
| December 22 – January 19 | Responsible and self-controlled |
| Gemstone | Personality |
| --- | --- |
| Ruby | Invincibility and courage |
| Alternative Gemstone | Personality |
| --- | --- |
| Lapis Lazuli | Wisdom and truth |




Aquarius - The 11th sign in the zodiac
| Date | Personality |
| --- | --- |
| January 20 – February 18 | Thoughtful and caring |
| Gemstone | Personality |
| --- | --- |
| Garnet | Friendship, loyalty and trust |
| Alternative Gemstone | Personality |
| --- | --- |
| Turquoise | Truth and tenderness |




Pisces - The 12th sign in the zodiac
| Date | Personality |
| --- | --- |
| February 19 – March 20 | Compassionate and forgiving |
| Gemstone | Personality |
| --- | --- |
| Amethyst | Spiritual protection |
| Alternative Gemstone | Personality |
| --- | --- |
| Aquamarine | Calming and soothing |




Zodiac Gemstone Table
| Zodiac Sign | Gemstone | Alternative Gemstone |
| --- | --- | --- |
| Aries | Bloodstone | Diamond |
| Taurus | Sapphire | Emerald |
| Gemini | Agate | Topaz |
| Cancer | Emerald | Moonstone |
| Leo | Peridot | Citrine |
| Virgo | Carnelian | Jasper |
| Libra | Opal | Tourmaline |
| Scorpio | Beryl | Coral |
| Sagittarius | Topaz | Citrine |
| Capricorn | Ruby | Lapis Lazuli |
| Aquarius | Garnet | Turquoise |
| Pisces | Amethyst | Aquamarine |