Gemstones and the Elements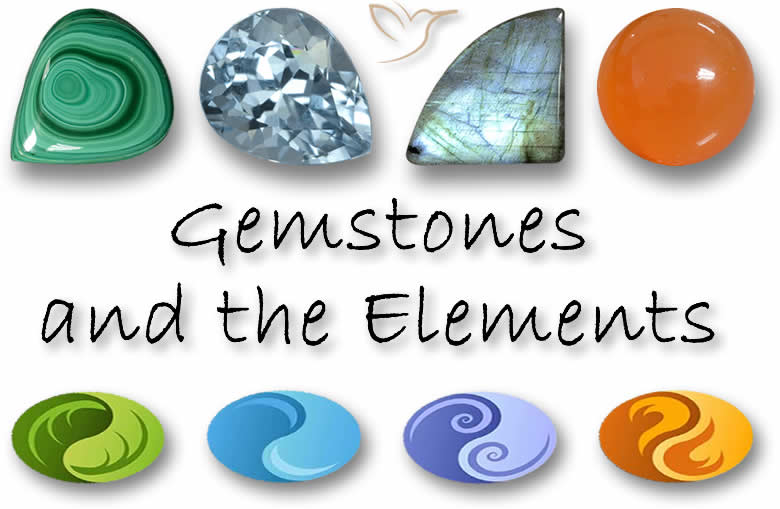 Both ancient eastern and western cultures developed the idea of elements which could explain the mysteries of nature. The western version was conceived by the ancient Greeks and refined by philosophers such as Plato and Aristotle.
While the eastern equivalent had 5 elements, the Greek had 4 elements, air, fire, water and earth. These four elements not only described the physical world but also the personalities and characteristics of human nature too.
Earth represented the solid ground we walk on as well as physical and sensual aspects of life.
Water flowing and moving all the time in rivers, lakes and seas implied the emotions and feelings of man.
Air was the atmosphere and the breath of life but could also represent intellect, thoughts and inspiration.
Fire was the sun and heat as well as our passion, zeal and occasionally destructive drive.
These four elements are also linked to ancient astrology and the zodiac:
Earth - Taurus, Virgo and Capricorn
Water - Cancer, Scorpio and Pisces
Air - Gemini, Libra and Aquarius
Fire - Aries, Leo and Sagittarius
From this, you can easily discover which one is your element.
They also had their own seasons, days, planets, colors and, as we shall discover, gemstones. Over the centuries almost all the well known, and some less well known, gemstones were assigned to each element.
I have narrowed them down and chosen what I feel are the finest and most fundamental gemstones.
Let us start on earth and move on from there, shall we?
Earth Element Gemstones
Other gemstones linked with the Earth element include:
Water Element Gemstones
Other water gemstones include:
Air Element Gemstones
Other air gemstones include:
Fire Element Gemstones
Other well-known fire gemstones are:
There we have a pretty comprehensive list of the best gemstones for each of the elements.
How to use these crystals in relation to our particular element is a very specialized subject best left to the experts but in the simplest terms the crystals are a link to the energies of each of the elements.
Use Earth gemstones for personal growth
Use Water gemstones to increase love and friendships
Use Air gemstones to boost the intellect
Use Fire gemstones to increase energy
And remember you do not have to stick to the element you were born under, feel free to use any crystal to enhance your life in any way that you feel is necessary.
Quick Guide to Gemstones and the 4 Elements

| Element | Gemstone |
| --- | --- |
| Earth | Agate |
| Earth | Malachite |
| Earth | Rutile Quartz |
| Earth | Tiger's Eye |
| Earth | Aventurine |
| Earth | Fluorite |
| Earth | Jade |
| Earth | Black Tourmaline |
| Water | Opal |
| Water | Moonstone |
| Water | Aquamarine |
| Water | Chrysoprase |
| Water | Emerald |
| Water | Pearl |
| Water | Kunzite |
| Water | Pink Tourmaline |
| Air | Amethyst |
| Air | Blue Topaz |
| Air | Labradorite |
| Air | Lapis Lazuli |
| Air | Sapphire |
| Air | Blue Tourmaline |
| Air | Sodalite |
| Air | Kyanite |
| Fire | Fire Agate |
| Fire | Peridot |
| Fire | Carnelian |
| Fire | Citrine |
| Fire | Red Garnet |
| Fire | Fire Opal |
| Fire | Ruby |
| Fire | Sunstone |