The Guide to Vivid Gemstones.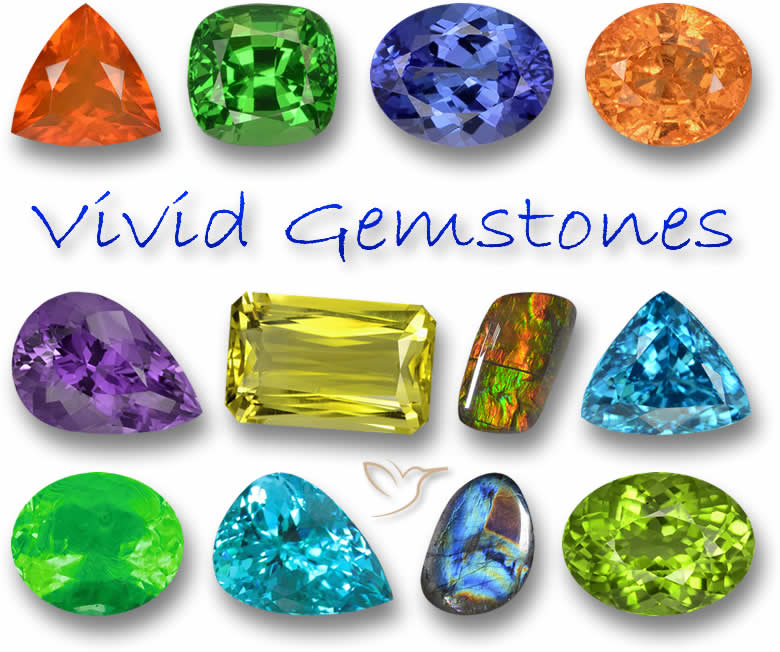 Intense, bright colors have a powerful affect on our emotions. Vivid reds, yellows and greens can be energizing and inspiring - making us feel alert and alive.
But which gemstones stand out from all the rest?
Let us guide you through 14 of the best, most dazzling, colored gemstones available in a range of dramatic colors - one or two of which will surely match your mood and tastes.
Wearing bright red, orange and yellow colors can make you feel more positive and self-confident and there are not many more vibrant gemstones than these:
Green is a lucky color in many cultures around the world and also suggests fertility, nature, youth and new enterprises.
Blue can often be described as cool, calm and collected but with the following gemstones exciting, energizing and electrifying seem better adjectives.
Blue Apatites are about the only other gemstones that come close.


That's a few gemstones in lively single colors but how about a couple that have all the colors imaginable all in the same stone?
Color change bonus gemstone.
All of us here at GemSelect do not have to be told about the positive effects of seeing any one of these intense and vivid gemstones, they will always brighten the spirits and bring energy and excitement to the room.
So come on out of your shell and grab all the attention with one of these vibrant gemstones today.
Our Quick Guide to Vivid Gemstones

| Gemstone | Colors |
| --- | --- |
| Rubellite Tourmaline | Pink / Red |
| Fire Opal | Red / Orange |
| Spessartite Garnet | Fire Orange |
| Quartz | Bright Yellow |
| Burmese Peridot | Green |
| Tsavorite Garnet | Bright Green |
| Paraiba Tourmaline | Neon Blue / Neon Green |
| Zircon | Bright Blue |
| Topaz | Bright Blue |
| Tanzanite | Rich Violet Blue |
| Amethyst | Intense Purple |
| Ammolite | Multicolored |
| Spectrolite | Multicolored |
| Hyalite Opal | Fluorescent Green |
First Published: August-26-2020
Last Updated: August-26-2020
© 2005-2021 GemSelect.com all rights reserved. Reproduction (text or graphics) without the express written consent of GemSelect.com (SETT Company Ltd.) is strictly prohibited.
Article Categories
Total Number of Articles: 1792