12 Best Gemstones for Pendants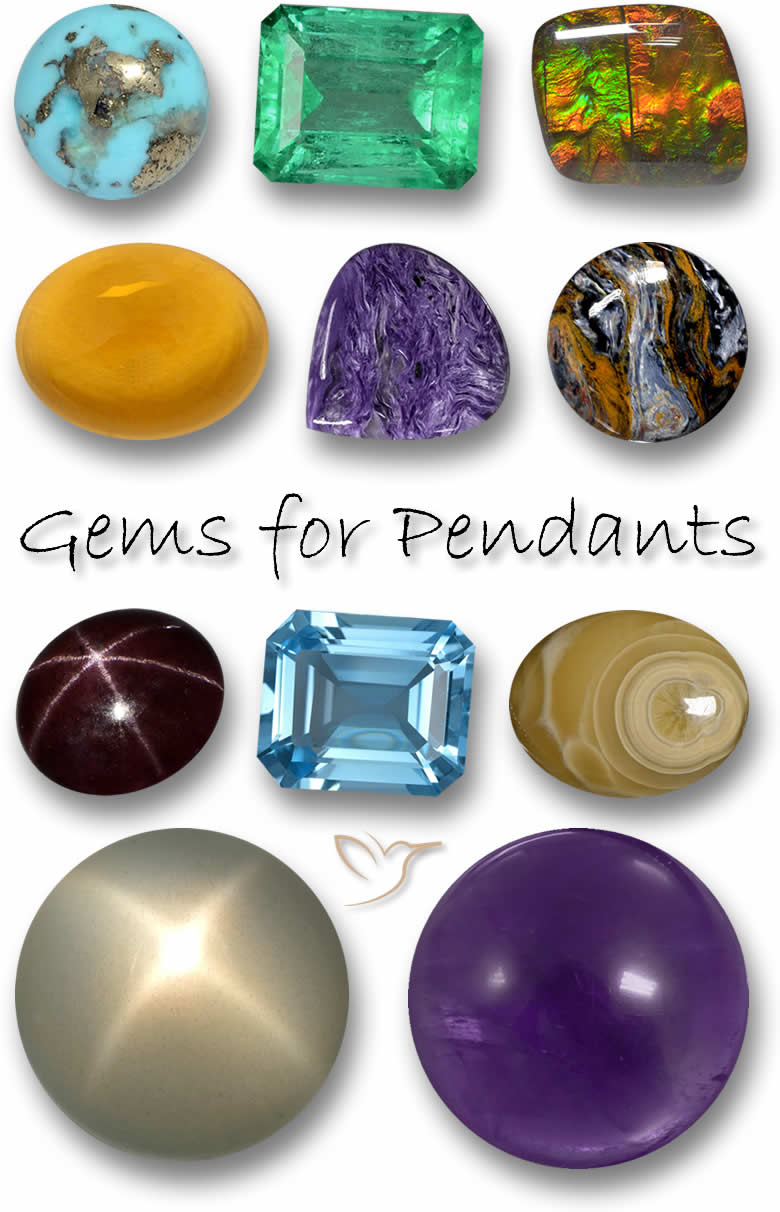 Pendants make great jewelry items. They can be subtle or bold, vividly colored or pastel, round, oval or odd-shaped, spiritually powerful and stunningly beautiful.
But what makes the perfect colored gemstone for pendants? Of course, the first consideration is personal taste – if you like the look it is ideal for you.
There are a few things to bear in mind when deciding on a gemstone for a pendant.
Size matters. Even the most delicate and discrete pendant will be a couple of carats so it will be worth thinking about price and availability at this point. Generally pendants need to be quite big so we will need to find gemstones that come in nice large sizes.
Pendants hang close to three different Chakra points, the Throat, Heart and Solar Plexus, so choosing a gemstone which can influence these particular Chakras is a good idea.
Similarly, certain gemstones are spiritually more powerful and protective than others and may be able to have a positive influence over specific issues. Selecting a gemstone with particular powers can help.
How, where and when the pendant will be worn is a factor, the color, size and shape of the gemstone itself, what you will be wearing with it and where will you be? A small faceted gemstone is best for a formal gathering while a large odd-shaped cabochon may be better suited for contemporary or modern settings.
Gemstones are rated for their durability up to a maximum of 10 (diamonds) and while pendants are relatively safe, your choice needs to be able to stand up to scratches and knocks.
Okay let's get to what we feel are some of the best choices for gemstones for pendants.
Why don't we begin with some gemstones that are not only classically beautiful with a rich history but also help keep our Chakras in alignment?
A combination of great colors and swirling patterns can make for some very eye-catching and unique pendants.
The next two have often been suggested as gemstones for men although of course they can be made into pendants for anyone who loves a very natural look.
Star gemstones are a rare phenomenon where internal inclusions are arranged in such a way that, when cut into a dome shaped cabochon, a 4 or 6 rayed star shape seems to float just below the gemstone's surface. They have a long history of spiritual power.
Star Rubies and Sapphires are the most famous star gemstones but good quality examples can be very expensive so I thought of two wonderful alternatives.
Let's finish with a couple of more regular looking clear gemstones.
So there we have it, our 12 top picks for the best gemstones for pendants.
There are a huge range of different gemstones available at GemSelect so take a look to see if you can come up with one better suited to your taste. You can filter your choice by size, color, price, cut and many more options until you find one to match your specifics.
Our Quick Guide to Gemstones for Pendants

| Gemstone | Colors |
| --- | --- |
| Turquoise | Sky Blue |
| Emerald | Green |
| Citrine | Yellow to Orange |
| Agate | Multi-colored |
| Charoite | Purple |
| Ammolite | Multi-colored |
| Pietersite | Multi-colored |
| Smoky Quartz | Brown |
| Star Garnet | Red to Purple |
| Star Moonstones | Cream to Orange |
| Amethyst | Purple |
| Topaz | Blue |
First Published: August-25-2020
Last Updated: August-25-2020
© 2005-2021 GemSelect.com all rights reserved. Reproduction (text or graphics) without the express written consent of GemSelect.com (SETT Company Ltd.) is strictly prohibited.
Article Categories
Total Number of Articles: 1863