Gemstones to decorate your home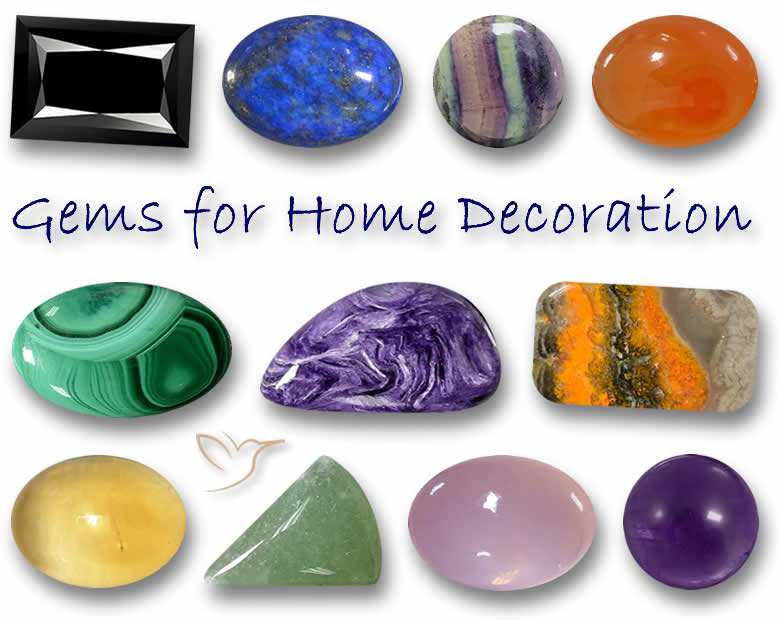 We have been wearing gemstones as jewelry for thousands of years and gemstone crystals are well known for their physical and spiritual benefits, why not extend their versatility and use them to decorate your home?
Gemstones can make any room look great and their powers can flow around the house promoting wellbeing to all.
Simple ideas include a few gemstones dotted along a bookshelf or a mantle, a platter or a bowl full of gemstones on a hall cabinet, a dinner table centre piece or some larger crystals on a side table or console.
You can be a bit more creative by making or buying wire wrapped gemstones to hang on a wall or from light fixture, constructing a gemstone mandala or chakra display, decorate a mirror or picture frame, building a crystal garden or attaching gemstones to vases, bowls or planters.
Place gemstones next to candles or lamps or even the fire place for a very romantic look. Put candles or small plants inside geodes. Get a bit more ambitious with a display cabinet or a religious or spiritual remembrance shrine.
But what gemstones should you choose to decorate your home?
There are a few things to consider when using gemstones as ornaments. Obviously the gemstones need to be attractive and in a color that will suit their surroundings. The spiritual powers need to be suitable for their location.
Sharp edges and being easily swallowed is not a good idea when children and pets can get to them.
Based on good looks, appropriate spiritual powers, the principles of feng shui, availability and affordability here are 12 great gemstones to decorate any home.
Gemstones for Home Decoration Summary

| Gemstone | Attribute | Color |
| --- | --- | --- |
| Black Tourmaline | Protection | Black |
| Lapis Lazuli | Harmony | Blue |
| Fluorite | Balance | Green |
| Carnelian | Creativity | Orange |
| Citrine | Prosperity | Yellow |
| Malachite | EMF Protection | Green |
| Amethyst | Good Night's Sleep | Purple |
| Rose Quartz | Love | Pink |
| Aventurine | Good Luck | Green |
| Charoite | Purple Beauty | Purple |
| Jasper | Colors and patterns | All Colors |
| Gemstone Carvings | Decorative | All Colors |
First Published: August-21-2020
Last Updated: August-21-2020
© 2005-2021 GemSelect.com all rights reserved. Reproduction (text or graphics) without the express written consent of GemSelect.com (SETT Company Ltd.) is strictly prohibited.
Article Categories
Total Number of Articles: 1865