Gemstones from Myanmar
With regard to Burmese gemstones, the first thing that springs to mind is high quality rubies and sapphires from Mogok in the Mandalay region. In fact, this area has been called "The Valley of Rubies" due to its glittering treasures of exceptional purity and hue, such as the famed "pigeon's blood" deep bluish-red rubies. Such prized rubies have been mined since the sixth century. In the late 1500s, the King of Burma appropriated the area and took control of its mineral wealth. For a short time, the area was freely mined, and then became a British colony, before gaining independence in 1948. From 1962 to 2011, the country was ruled by a military junta.
90% of the world's rubies come from Myanmar. The best known Burmese rubies include an 8-carat ruby that was fashioned into a ring by Van Cleef & Arpels and given as a Christmas gift to Elizabeth Taylor by Richard Burton in 1968, who told her that he had waited for the most perfect ruby in the world. The ring achieved $4.22 million at Christie's in 2011. Elizabeth Taylor was also given a Cartier Burmese ruby and diamond suite by her third husband, Mike Todd, which is worth over $5 million. Another remarkable ruby is the Carmen Lucia Ruby. It weighs 23.1 carats and is one of the largest faceted rubies in the world.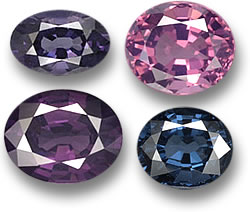 Apart from its world-renowned rubies, Myanmar has produced several other interesting gemstone materials. The Mogok Stone Tract has produced spinel, apatite, scapolite, moonstone, zircon, garnet, iolite and amethyst gemstones. There are also lapis lazuli and peridot mines in this area.
Particularly fine specimens of spinel have emerged from Myanmar. Some of these have a rich red hue and high level of fluorescence that has caused them to be mistaken for top grade rubies in the past. One such gemstone is known as the "Black Prince's Ruby". It is a 170-carat red spinel that has been set into the British state crown. Another famous spinel is the 325.5-carat Timur Ruby, which is another item in the British Crown Jewel collection. In the past 10-15 years, fine bright red spinel has emerged from Kachin Province, east of the area where jadeite is mined.
One of the most valuable gemstones mined in Burma (now known as Myanmar) is imperial jadeite, which comes mostly from the hills of Kachin Province in Northern Myanmar. The town of Hpakant is the most famous mining area. This town has mined jadeite since imperial China imported vast quantities of it, as mentioned in records from the Forbidden City of Beijing. Jadeite is still being mined in Hpakant, but the supply is decreasing and prices are sharply increasing.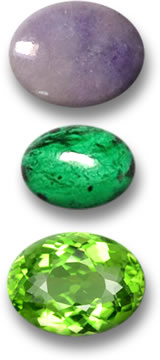 A relative of jadeite is the material known as maw-sit-sit, which contains jadeite. It is named after the village of "Maw-sit" near Kansi in the Kachin region of Northeastern Burma where it was discovered in 1963. Since maw-sit-sit emerged from Burma relatively recently, it lacks the history and lore associated with rubies and spinel. Maw-sit-sit is an opaque material and tends to have a mottled appearance, with white, dark-green or blackish patches or veins. Maw-sit-sit is considered to be a rock, due to its varied composition, which consists mainly of kosmochlor. As with jadeite, the best quality maw-sit-sit is emerald-green.
Another green gemstone material, peridot, is mined in the Mogok region, at the Pyaung Gaung Mines. The top grade peridot gems from these mines are considered to be the finest in the world. The gemstones are large and exhibit a yellowish-green to bottle-green hue. Since peridot is idiochromatic, meaning that the color comes from the composition rather than impurities, it is only green. Top grade peridot gems can rival fine emerald. In fact, peridot was called "evening emerald" by the ancient Romans because of its glowing green hue that is exhibited even in low light. This area has also produced star-peridot, enstatite and chrysoprase.
The gemstone materials of Myanmar have their place in history, from ancient times, right up to the present day. The gemstones of this land include legendary rubies to die for, jadeite favored by Chinese emperors, and curious new materials such as maw-sit-sit. The modern Myanmar has been taking steps toward a more open nation and this will hopefully lead to improved mining conditions and more gemstone materials emerging from the land of golden pagodas and the hills that surround Mandalay, previously named Rattanapura, "City of Jewels".