GemSelect Newsletter - June 2008
In our newsletter this month: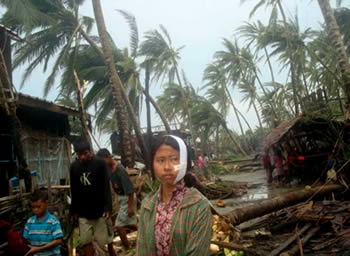 Cyclone Nargis Floods Burma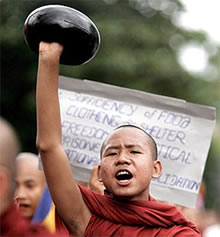 Burmese Monks refusing alms!
As recently as 1940, Burma was the most prosperous nation in Southeast Asia. It was the largest exporter of rice in the world, and had vast reserves of valuable teakwood, not to mention its treasure of rubies and jadeite. Unfortunately most of this wealth had flowed to her colonial masters, the British, who had annexed Burma to British India in the 19th century. The British developed the rice and logging industries, and built railways and schools. But as in India, they were basically colonial exploiters.
When Burma negotiated its political independence from Britain in 1947, there was finally hope that the Burmese could have both freedom and economic prosperity. But this was not to be. The Burmese revolutionary hero, Aung San, was assassinated even before the official independence day, and years of fragile democracy and civil war culminated in the army taking control in 1962, with General Ne Win creating a kind of reclusive kingdom, isolating Burma from the world.
The recent devasting cyclone in Burma that left as many as 100,000 dead in the Irawaddy Delta is only the latest Burmese tragedy. There have been glimmers of hope in the past, especially in 1990, when a rare democratic election was won by the National League for Democracy. The NLD was led by Aung San Suu Kyi, the daughter of Aung San. Although she was prohibited from standing for election, the NLD won over 80% of the parliamentary seats. But the generals refused to recognize the election results and have kept Aung San Suu Kyi under almost continuous house arrest ever since.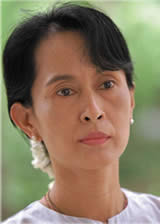 Daw Aung San Suu Kyi
The international community has struggled to find a way to help the Burmese people. Even much of the humanitarian aid for the victims of Cyclone Nargis has been refused by the paranoid Burmese junta. Economic sanctions have failed, since Burma's vast natural resources are eagerly consumed by China. Recent attempts to prevent the import of Burmese gemstones into the USA and the European Union may make the West feel like they are taking action, but this only serves to further limit the livelihood of ordinary Burmese people. With the protection of China, Burma can withstand any international pressure.
The situation in Burma is tragic, and it is hard to see much cause for hope after the latest catastrophe. But sometimes tragic events have positive outcomes. It has happened before. India's aid to Pakistan after the 2005 earthquake helped to bring the two archrivals closer together. The same happened in 1999 when Greece was the first country to come to Turkey's aid after a devastating earthquake, leading to a breakthrough in once-hostile relations between the two countries. The Burmese generals are now being forced to open the doors to accept international aid for their suffering people. But the generals have also demonstrated their utter callousness toward their own citizens, including younger members of the military. It will not be forgotten. In a country that recognizes the power of karma, the generals may well have sealed their own fate.
We add hundreds of new gems to our inventory every day. We also add new content to our site each week, in the form of articles and reference material.
Recently we've added new articles on topics including rutilated quartz, tiger's eye, fracture-filled ruby, the history of the cushion cut and gemstone art. Click the link to see all our gemstone articles.
Each month we feature a rare and unusual gem from our recent acquisitions. This month's featured gem is a very large flawless tanzanite from Tanzania:

Natural Blue Tanzanite
The demand for fine tanzanite continues to exceed demand. Nonetheless, much of the tanzanite on the market is mediocre; small in size, uninspiring in color and indifferently cut. It wouldn't be so bad if tanzanite wasn't so expensive.
Here is one of the finest pieces of tanzanite we've been able to buy in the last year. It weighs an impressive 5 carats and is a deeply saturated violet blue, the most desirable tanzanite color. The Portuguese cut maximizes its brilliance. But what makes this piece especially rare is that it is graded IF - internally flawless.
For more information about tanzanite see our tanzanite information page.
Every month we answer questions of general interest from our customers. Please feel free to send your questions or suggestions to our support team at help@gemselect.com!
Question
I bought some nice
cabochons
recently, but I noticed that they were not well polished on the bottom. Was it just an oversight or was it intentional? Thanks for your answer. SB, Canada.
Answer
Many opaque cabochons are mounted in jewelry in such a way that the base is not visible, and thus the cutter opts not to polish the base. In fact if glue is used to set the cab, it is better if the base is not polished. Translucent or transparent cabs are usually polished on the base.
Question
Do you sell a gem named cordierite? Or do you know where I can find it? MM, USA.
Answer
Cordierite is one of the names used for the gemstone that we sell under the name of iolite. Cordierite is composed of magnesium aluminum silicate, and has a hardness of 7 to 7.5 on the
Mohs scale
. It is the name most commonly used in mineralogy, while
iolite
is used in gemology. The name cordierite comes from the French geologist P. Cordier (1777-1861); the name iolite comes from the Greek root for "violet". For more information see our
iolite information page
.
Keep up with our new arrivals before they hit the newsletter by joining our thousands of fans and followers on our social networking pages. We love interacting with our customers - you can visit us on Tumblr, LinkedIn, Twitter, Facebook or Pinterest!
To ensure you can receive our emails, please be sure to add help@gemselect.com to your list of safe contacts, or you add us into your email address book! Please feel free to contact us with any questions, comments and queries! We respond to each and every email we receive.
Happy Gem Hunting!
Your friends at GemSelect