Gemstones of the Rich and Famous
Jacqueline Kennedy Onassis
Jacqueline Onassis was once the wife of the 35th President of the United States, John F. Kennedy. She had a large and magnificent jewelry collection and loved large colorful necklaces and bracelets. Jackie O acquired most of her jewelry from her second husband, Greek shipping magnate Aristotle Onassis, who gave her $5 million in jewelry and often slipped bracelets into the bouquets of flowers he sent her.
Jewelry owned by Jackie Onassis that was sold at the Sotheby's Estate of Jacqueline Kennedy Onassis auction on April 24, 1996 included:
A pair of cabochon ruby and diamond earrings, a wedding gift from Onassis in 1968, sold for $360,000. They had been valued at $25,000 to $35,000.
A 17.68 carat ruby ring that sold for $290,000.
A ruby cabochon necklace that achieved $247,500.
An amethyst necklace sold for $55,000.
A pair of red tourmaline briolette earrings dangling from amethysts that reached $35,000.
A garnet cabochon flower brooch that achieved $145,000.
Two simulated pearl necklaces that were bought by a European collector for $112,500.
Two additional simulated pearl necklaces that were bought by an Asian collector for $85,000.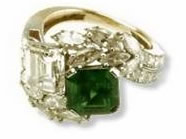 The Van Cleef & Arpels engagement ring that John F. Kennedy presented to Jacqueline consisted of one 2.88 carat diamond mounted next to a 2.84 carat emerald and accented by marquise-cut diamonds.
The emerald engagement ring trend.
The Jackie Kennedy ring started a trend and emeralds became one of the most popular choices for brides-to-be during the mid 1950s.
Queen Elizabeth II
The Queen's personal jewelry is conservatively valued at $57 million. She has so much jewelry that she has a special room to keep it in, beneath Buckingham Palace. This does not include the Crown Jewels, which are kept in the Tower of London. Her personal jewels include:
The Timur Ruby, which is actually a magnificent spinel weighing 352.50 carats. It is not faceted, but retains its original baroque shape. There are fascinating inscriptions on the stone, written in Arabic script, stating the previous owners of the stone, all Mogul emperors, and showing that its history dates from before 1605 AD.



The Cambridge and Delhi Dunbar Parure, a fantastic suite of emerald jewelry designed and crafted by the crown jewelers, in anticipation of the coronation of King George V and Queen Mary on June 22, 1911, and their subsequent proclamation as Emperor and Empress of India.




The Prince Albert Brooch, a huge sapphire, which was presented to Queen Victoria by Prince Albert the day before their wedding.


Queen Mary's large ruby earrings. These earrings were a fifty-ninth birthday gift to Queen Mary from King George V and consist of large oval rubies surrounded by nine brilliant-cut diamonds.
Marlene Dietrich
Marlene Dietrich used to wear her own jewelry in her movies.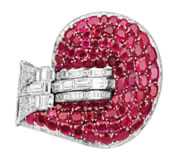 In "Stage Fright", 1950, directed by Alfred Hitchcock, Marlene wears her own ruby bracelet, which was made by Van Cleef & Arpels, Paris, c.1937.
In October 1992, the bracelet sold for $990,000 at Sotheby's in New York to an unknown bidder.
Dietrich also wore her own cabochon emerald jewelry suite in the 1938 movie, 'Desire'.
A story goes that during a dinner party at Katherine Cornell's house, Marlene took off her 37.41 carat cabochon emerald ring while she was baking a cake in the kitchen and then couldn't find it. The house was turned upside down but the ring couldn't be found. It was only during dessert that the ring was discovered by one of the dinner guests inside a piece of the cake!
Elizabeth Taylor
Although Liz Taylor is usually associated with huge diamonds, she also had a fabulous collection of other gemstones.
As an engagement present, Richard Burton gave her an emerald and diamond brooch that she wore with an emerald necklace he gave her as a wedding present.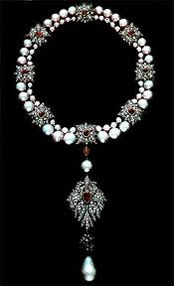 Possibly one of the most interesting pieces of jewelry that Richard Burton gave to Elizabeth Taylor was La Peregrina, one of the largest and most historic pearls in existence, a pear-shaped drop that originally weighed around 56 carats and was previously owned by queens and generals for over 500 years!
Earrings to match La Peregrina were given to Elizabeth Taylor by Aaron Frosch years after her 40th birthday. The earrings are natural pearl and diamond pendants by Bulgari. She wore them in the movie "Ash Wednesday" (1973).
Another one of Taylor's husbands, Michael Wilding, gave her a sapphire cabochon engagement ring.
Mike Todd gave her a spectacular ruby necklace and earring set.
In 1975, at her second wedding to Richard Burton, Elizabeth Taylor showed off
the Grand Duchess of Russia's emeralds. Set by Bulgari, the suite includes earrings, a necklace and a bracelet.
Grace Kelly
Grace Kelly received a 12-carat emerald-cut diamond engagement ring from Prince Rainier. Also given to Grace was a friendship ring with rubies and diamonds. The prince was said to be one of the wealthiest bachelors in the world and Grace was a Hollywood icon, so the world was captivated by the intermingling of Hollywood and old-world royalty. Once married, Grace did not make any more movies.
In her final screen performance before becoming Princess Grace of Monaco, Grace Kelly wore the magnificent diamond ring. During the film, aptly titled "High Society", actor Bing Crosby looks at the ring and quips, "Some stone, did you mine it yourself?"
Lady Diana Spencer
Prince Charles gave Lady Diana Spencer a huge, oval sapphire engagement ring surrounded by 14 brilliant-cut diamonds. The ring was valued at £42,000. Unusually, for a choice made by a member of the British Royal Family, it was not unique and any member of the public could buy the same ring from the Garrard catalogue.
Before the Princess of Wales's death in the 1997 Paris car crash, the ring was valued at more than £250,000 because of its connection to the royals, and in particular, Diana. The large central stone is a 12-carat oval Ceylon sapphire and the solitaire diamonds surrounding it are set in 18-carat white gold. Diana's choice sparked a trend for similar rings.
Prince William inherited it and then presented it to his then fiancée, Kate Middleton, who is now his wife and the Duchess of Cambridge.

Sarah Ferguson
Sarah Ferguson, the Duchess of York, received a ruby and diamond ring. The Royal family's choice of such precious colored gemstones for engagement rings started a huge demand.
Camilla Parker-Bowles
Prince Charles presented Camilla Parker-Bowles with an engagement ring featuring 3 baguette diamonds on each side. The ring was formerly owned by the Queen Mother and is valued at half a million pounds.
Joan Crawford
Joan Crawford was so keen on sapphires that the press called them "Joan blue" after her. One of her favorite pieces in her extensive collection included a bracelet set with three star sapphires of 60 carats each. She was also the owner of a 70-carat star sapphire engagement ring from her second husband, and a 72-carat emerald-cut sapphire, which she often wore together on the same finger! In the 1940s, Joan added a 75-carat amethyst ring and a huge 100-carat citrine ring, both emerald-cut with simple mountings.
We hope you've found this article interesting. Why not email us with your thoughts or any questions? We always like to hear from our customers.