The Colored Jewels of Grace Kelly - Princess Grace of Monaco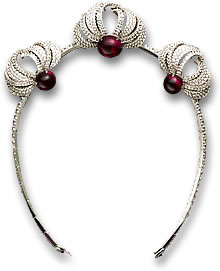 A Replica of the Cartier Ruby Tiara
Grace Kelly was a Hollywood star and style icon who married Prince Rainier III of Monaco and became Princess Grace of Monaco. As befitting a movie star, fashion idol and member of royalty, she owned some incredible jewels. Many of these were white diamonds; however, we would like to take a look at some of the colored stones that H.S.H. Grace of Monaco wore.
One of the most remarkable pieces of jewelry worn by Princess Grace was a ruby cabochon and diamond tiara by Cartier (see, image, right). This tiara is known as the Bains de Mer Tiara and was a wedding gift from the Société des Bains de Mer. The platinum and gold tiara features three large, round ruby cabochons, crowned by pavé white diamonds in a floral design. This is an extremely versatile piece of jewelry with a clever design because it can also be worn as a necklace and the three ruby cabochons are clips that can be detached and worn as brooches.
The Daisy Brooch was a stunning Van Cleef & Arpels jewel that was worn by Princess Grace. The Brooch featured petals fashioned from brilliant-cut white diamonds and a center made from several stunning blue sapphires. Also by Van Cleef & Arpels were three long "Alhambra" (clover motif) necklaces in tortoiseshell, malachite and coral. However, possibly the most sumptuous jewels by Van Cleef & Arpels in Princess Grace's collection formed a pearl wedding jewelry suite. This set included a three-strand pearl necklace and bracelet, earrings, and a ring. These beautiful pearls were chosen by the couple before their royal wedding in 1956. Shortly after this, Van Cleef & Arpels were made Official Supplier to the Principality of Monaco.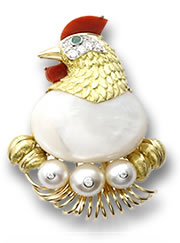 A Replica of the Cartier Chicken Brooch
Princess Grace owned several quirky animal motif pieces of jewelry. These included a striking Van Cleef & Arpels hedgehog brooch, a butterfly clip, a sapphire, emerald and diamond duck, and a lion brooch with emerald eyes and a diamond studded muzzle. She also wore a diamond-encrusted poodle brooch and a chicken brooch by Cartier. The gold and gemstone chicken brooch featured a blister pearl for the chicken's body, with three smaller cultured pearl eggs underneath, each studded with a diamond. These brooches were fashioned from yellow gold.
A recent movie, "Grace of Monaco", starring Nicole Kidman showed off some of Princess Grace's beautiful jewels. Cartier reproduced several pieces especially for the film, and they were worn by the lucky Ms Kidman. The movie, which was screened in 2014, did not receive many favorable reviews for the acting or storyline. However, many viewers enjoyed seeing the stunning Cartier jewels glittering on the big screen. These included a large emerald-cut diamond and platinum engagement ring, a three-strand diamond necklace that could also be worn as a tiara, the poodle brooch, the chicken brooch and the diamond and ruby cabochon tiara.
Sadly, Princess Grace only lived until the age of 52. Her life was cut short when she died in a fatal car accident after suffering a stroke in 1982. Yet, her legacy lives on. Her style is honored by jewelry collections that have been named after her or inspired by her. An absolutely exquisite rose brooch is part of a collection by Mikimoto that was never worn by Princess Grace, but was named after her. The brooch features a conch pearl in the center, surrounded by pink and white pavé gemstone rose petals, and bright green gemstone leaves topped with two Tahitian pearls. Some of the proceeds were donated to the Princess Grace Foundation, which is devoted to helping aspiring American performers.