Shop By
You Selected (23): Ruby Cabochons - Ruby, Star Ruby
Clear All
ID: 489166

1

pcs
5.05 ct Ruby
8.2 mm
$
50.50
Item in Stock
ID: 489168

1

pcs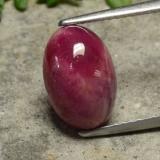 6.04 ct Ruby
11.7 x 7.9 mm
$
60.40
Item in Stock
ID: 489164

1

pcs
3.99 ct Ruby
9 x 7.7 mm
$
39.90
Item in Stock
Ruby Cabochons
Ruby
is red corundum, all other varieties of corundum being referred to as
sapphire
. Corundum is the second hardest substance on the
Mohs scale
, with a rating of 9. It is this combination of excellent hardness and the rich color and silky shine that make fine ruby gems so valuable.
Rubies range in color from pinkish to orangey and purplish and brownish red, depending on the chromium and iron content of the stone. Most experts expect a medium to medium-dark color tone in a very good ruby gemstone.
The traditional sources for fine rubies are Burma and Thailand. Today we also find many affordable rubies coming from Africa and Madagascar.
A gemstone cabochon is cut with a highly polished rounded top with no faceting and a flat or slightly domed base. A cabochon may be cut into any shape, though oval is the most frequent. The term, "cabochon" comes from the French "caboche", meaning small dome. Cabochon is often shortened to "cab" by gem enthusiasts.
Ruby cabochons include star ruby. They are inexpensive and attractive, and available in large sizes. Ruby cabs make stunning necklace pendants, rings, bracelets, earrings and more.
To find your perfect ruby cabochon gemstones, use the filters at the top left-hand side. You can search cabochons by carat weight, size, price and other factors, to enable you to find the exact ruby cabochon gemstone that you are looking for. All items are in stock and ready to be shipped.