Buy White Diamond Gems
(2)
Click for Details
26 pcs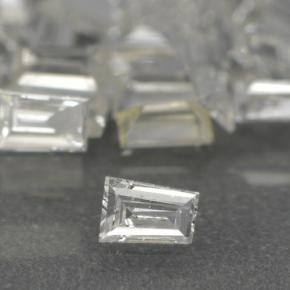 Baguette White Diamond
0.02 ct (total 0.48ctw)
2.1 x 1.1 mm
Item in Stock
White Diamond Gems
Diamond
is the hardest known natural substance on earth and is composed of carbon (the same as graphite). The name 'diamond' was taken from 'adamas', meaning 'invincible' in Greek. Diamonds have long-been prized for their exceptional hardness, high refractive index (brilliance) and remarkably high
dispersion
(fire). Being the hardest known substance (10 on the Mohs scale), diamond has a cutting resistance approximately 140 times greater than both sapphire and ruby, which are both made of corundum; the second hardest natural substance on earth. Diamond is classed as one of the 'precious four' gems, though it is not as rare as many believe. Sapphire, ruby and emerald make up the remaining 'precious four'.
Traditionally, colorless diamonds or 'white' diamonds are the most popular choice when it comes to bridal and engagement jewelry. Although diamonds can be found in other fancy colors, including blue diamond, red diamond (rarest), yellow diamond and
champagne diamond
to dark cognac color, it is the sparkle of white diamond that is most sought after. Fancy diamonds can demand very high premiums, especially untreated fancy colored diamonds. Most colors are actually the result of gem treatments such as irradiation.
Approximately half of the world's supply of diamonds come from Central Africa and South Africa. As of the last decade, the top commercial diamond producers were Angola, Australia, Botswana, Canada, the Congo, Guinea, Ghana, Namibia, Russia and South Africa. Significant deposits are also mined from India and Brazil. Canada has recently become one of the main commercial sources for white diamonds.
Certified Customer Reviews
Overall Rating -> 10

man their gems are pretty good, and the prices aren't to bad either, I like checking out hte gems on there website, beceause the pictures of the gems are taken pretty well, and you can see the table, and the facets.
Posted By Spinach in March, 2019
Overall Rating -> 10

I love gemselect and I have bought a fair amount from them. The only complaint I have is not being able to save gems. I have a lot of projects so i am in the market for a lot of different gems and it's so disappointing to have to delete them all just to purchase one or two that I have saved in my cart.
Posted By S.Hicks in March, 2019
Overall Rating -> 10

I always check this site because they have unique options.
Posted By Lisa in February, 2019
Overall Rating -> 10

Great website to navigate. Awesome Gem selection! Nice photos and discriptions for all of the gems for sale. You can find gems in all price ranges. Checkout was a breeze.
Posted By Timmy in February, 2019
Overall Rating -> 10

They had an extensive gemstone selection in all different cuts, sizes, and colors. They also had very good and workable prices. All of these aspects pulled me in as a customer.
Posted By Josh in February, 2019
Overall Rating -> 9

It all depend on the product I will receive and have it verified by my in law jewellers.
Posted By Vodka in February, 2019
Gemstone Information
Popular Gemstones