Shop By
You Selected (21): White Diamond Gems - Diamond
Clear All
ID: 378940

25

pcs
0.48 ct Diamond
2.2 x 1.3 mm
$
435.51
Item in Stock
ID: 378941

26

pcs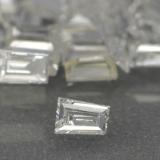 0.48 ct Diamond
2.1 x 1.1 mm
$
435.51
Item in Stock
ID: 378938

27

pcs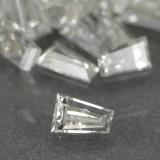 0.44 ct Diamond
2.3 x 1.1 mm
$
399.22
Item in Stock
ID: 378944

22

pcs
0.54 ct Diamond
2.3 x 1.5 mm
$
489.95
Item in Stock
ID: 378939

25

pcs
0.43 ct Diamond
2.2 x 1.2 mm
$
390.14
Item in Stock
ID: 378959

30

pcs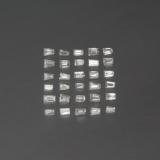 0.42 ct Diamond
1.7 x 1.3 mm
$
381.07
Item in Stock
White Diamond Gems
Diamond
is the hardest known natural substance on earth and is composed of carbon (the same as graphite). The name 'diamond' was taken from 'adamas', meaning 'invincible' in Greek. Diamonds have long-been prized for their exceptional hardness, high refractive index (brilliance) and remarkably high
dispersion
(fire). Being the hardest known substance (10 on the Mohs scale), diamond has a cutting resistance approximately 140 times greater than both sapphire and ruby, which are both made of corundum; the second hardest natural substance on earth. Diamond is classed as one of the 'precious four' gems, though it is not as rare as many believe. Sapphire, ruby and emerald make up the remaining 'precious four'.
Traditionally, colorless diamonds or 'white' diamonds are the most popular choice when it comes to bridal and engagement jewelry. Although diamonds can be found in other fancy colors, including blue diamond, red diamond (rarest), yellow diamond and
champagne diamond
to dark cognac color, it is the sparkle of white diamond that is most sought after. Fancy diamonds can demand very high premiums, especially untreated fancy colored diamonds. Most colors are actually the result of gem treatments such as irradiation.
Approximately half of the world's supply of diamonds come from Central Africa and South Africa. As of the last decade, the top commercial diamond producers were Angola, Australia, Botswana, Canada, the Congo, Guinea, Ghana, Namibia, Russia and South Africa. Significant deposits are also mined from India and Brazil. Canada has recently become one of the main commercial sources for white diamonds.