Why Use Cabochons for Jewelry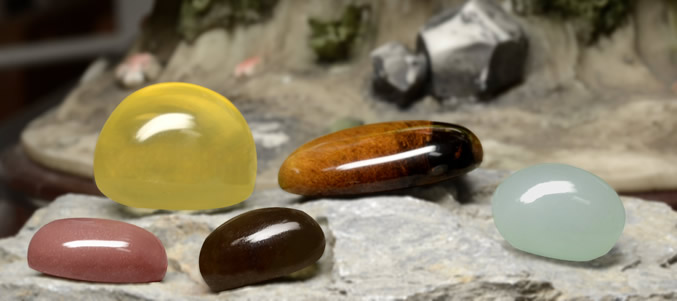 Shop Gemstone Cabochons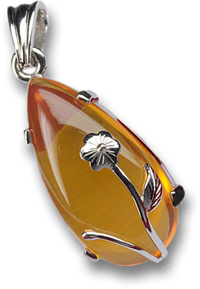 Sterling Silver Fire Opal Pendant
When most people think of jewelry, they tend to imagine faceted gemstone jewelry, even though cabochons have been around for much longer. Cutting gemstones with angular faces and complex geometrical patterns is actually a fairly recent innovation, especially considering the long history of jewelry and gemstones in modern society. Cutting en cabochon or 'cabbing' is one of the oldest and most traditional gem cutting methods, although technically it's more like shaping and polishing than it is actual cutting.
Faceted gemstones first made their appearance in European jewelry in the late 13th century. Because gem cutting was done by hand during this time, nearly all of the gemstones seen in jewelry prior to the 16th century were shaped and polished into cabochons rather than faceted. This is because in the late 15th century, the horizontal cutting wheel was invented, which allowed gemstone cutters the ability to cut materials with more complexity. Today, many buyers shopping for jewelry haven't even heard of the term 'cabochon', though it's a term that most jewelers will most certainly be familiar with.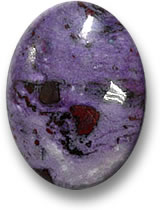 Multicolor Sugilite Cabochon
The term 'cabochon' can be used to describe any gemstone finished with a highly-polished domed top and a flat (to mostly flat) bottom or back. The domed convex top may have a steepness described in terms such as 'low-dome' or 'high-dome', and many cabochons may even be cut with undulating surfaces. The bottoms of cabochons are often left unpolished or may be slightly polished. The rough bottoms allow cabochons to be easily set into jewelry, usually through bonding with an adhesive. When cab bottoms are too smoothly polished, they can be very difficult to work with.
Even with the advancement of modernized cutting styles and techniques, the demand for traditional cabochon-cut gemstone jewelry continues to thrive. In jewelry today, cabochons are especially popular for earrings, pendants and rings. For men, cabochons are especially ideal for tie clips, cuff links and large cabochon gemstone rings. Many perceive cabochons to be low quality, since most high-quality material will be faceted. However, when it comes to colored stones, many gems are always cut en cabochon, including phenomenal gems like opal, moonstone, labradorite, and varieties of cat's eye and star gems too.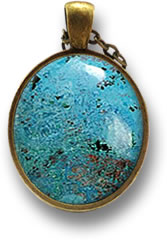 Multicolor Azurite Cabochon Necklace Pendant
In addition to phenomenal gemstones, there are many other types of gems typically cut en cabochon too. This includes softer varieties like amber, turquoise and azurite. Also, multicolored and patterned gemstones such as jasper, snowflake obsidian and dendritic agate (chalcedony) tend to be fashioned into cabochons. Most varieties of colored gems which are normally translucent will almost always be cabbed. They are only faceted on rare occasions because cabbing them for jewelry exemplifies the most prized qualities; pure color and the natural and raw beauty of the material.
What this means it that not all the cabochons you see in jewelry today are low quality or commercial grade. Especially when it comes to fine gems like jadeite and black opal, the highest quality deposits of which are fashioned into cabochons. Commonly faceted materials like sapphire and ruby are not often found as cabochons because faceting brings out brilliance, but many attractive stones with very good color can be found in cabochon jewelry. With over 120 varieties of gemstones available today, over 80 of them are often cut en cabochon. So you may find yourself with many more colored gemstone options to choose from for your next jewelry design if you browse through our large selection of cabochons available. When limited to faceted gems, you'll miss out on the opportunity to create stunning jewelry with some of the rarest gems on earth including Larimar, ammolite, hemimorphite and smithsonite.