The Queen of Pop's Rocks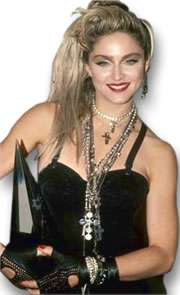 Madonna in the 1980s
Like her music and public image, Madonna's jewelry is eclectic. She has worn a variety of styles, from street chic to Hollywood glamour. When Madonna burst onto the music scene in the 1980s, she sported bangles, multiple earrings, crosses, rosaries and long chains. Following this, her style metamorphosed through the years, from punk to vogue, and then from menswear and corsets to Eastern chic, cowgirl, bling and S&M. Madonna is seen by many as a fashion icon, and she has produced several fashion brands, including "Material Girl" and "Truth or Dare". Both of these collections reflect her unique style.
At the beginning of her career, Madonna caused controversy with revealing clothes and the lyrics of songs such as "Like a Virgin" and "Like a Prayer". She went on to shock with sexually provocative performances and a book of erotic pictures, which led to some calling her immoral. In the late 1990s, she took to wearing a simple red string bracelet. She wore this after studying the Kabbalah school of thought. It is said that this indicates she was a Kabbalah follower. Such red string bracelets are also worn by several Mediterranean cultures to ward off the "evil eye". Around this time, "Ray of Light" was released, which incorporated Eastern themes. "Ray of Light" won four Grammy Awards.
Madonna Wearing Diamond "Grillz"
In the year 2000, Madonna was into her bling, wearing gold colored metal cuff bracelets, necklaces and rings in the "Music" video. She later dabbled in rap in her albums, "American Life" and "Hard Candy". In 2013, Forbes magazine declared Madonna to be the highest earning celebrity. During the same year, Madonna was seen showing off grills decorated with diamonds on her teeth. This sparked criticism that at 55 years old, Madonna should not be following the trend. When asked about her grills, she replied that she wore them because "it pisses everybody off".
Madonna has starred in several movies, most memorably as Eva Peron in the Andrew Lloyd Webber musical, "Evita". One of the most impressive pieces of jewelry worn in the film was a five-strand pearl necklace. Eva Peron had an enormous collection of jewelry and a wardrobe to match. The film inspired glamorous 1940s style clothing and jewelry collections. In an earlier movie, "Desperately Seeking Susan", Madonna wore a single earring with a pharaoh motif. The earring was not valuable, but it was auctioned for $34,375 in 2014. The white gemstone bracelets worn in her "Material Girl" music video were also auctioned, along with her pink satin gown and a tiara from the "American Pie" music video.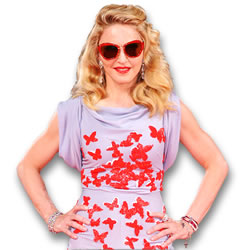 Madonna in Wallis Simpson Jewelry
Even in her fifties, Madonna still makes a big impact with her style. At the 2011 Venice Film Festival, she wore vintage Cartier jewelry and duplicates of Wallis Simpson's jewels, which featured in Madonna's film, "W.E", about the story of Wallis Simpson and King Edward VIII intertwined with the life of a modern day Wallis Simpson fan, Wally. The jewels shown off by Madonna at the Film Festival included copies of Simpson's colored gemstone cross charm bracelet, a panther ring, platinum and diamond earrings, and vintage diamond bracelets. Also recreated for the movie was the famous emerald engagement ring worn by Wallis Simpson.
In 2015, Madonna continued to dazzle, when she wore an incredible 1,000 carats of diamonds to the Oscars. The jewelry by Neil Lane included platinum and diamond earrings and bracelets. At the 57th Grammy Awards, she wore a custom-made Givenchy matador outfit, with Yeprem hand jewelry, called "The Claw" and black and white diamond hand jewelry, also by Yeprem, which she also wore for her album cover, "Rebel Heart". This S&M theme brings us up to the present day.
While Madonna has been heavily criticized, it must be recognized that she is a highly successful and independent businesswoman. Many others with similar careers have disappeared into obscurity, yet she is still working hard, looking good and making news.