Rocks for Rappers; Cool as Ice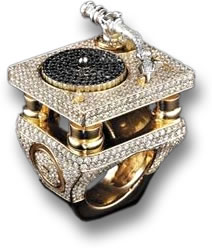 Missy Elliot's Black and White Diamond Turntable Ring
Most people associate the word "bling" with hip-hop artists. Like the music, hip-hop bling is loud, obvious and in your face. Therefore, it is not surprising that some of the most valuable jewelry is worn by rappers. Popular items of hip-hop bling are "grills", chain necklaces, white diamonds, large rings and bracelets.
Grills (or grillz) are jewelry that is worn over the teeth. They are made from metal, often gold or platinum, and can be inlaid with precious gemstones, such as diamonds or sapphires. Grills may be permanent, but are usually removable. They began as dental treatments and then developed into a trend and became popular with hip-hop artists in the 1980s. Rappers such as Flavor Flav, Lil Wayne and Nelly are known for sporting grills, and Nelly even made a Grammy Award winning song called "Grillz" featuring Paul Wall, Gipp and Ali. Jeweler, Johnny Dang is credited with creating Paul Wall's colorful gemstone grills. Eddie Plein of "Eddie's Gold Teeth" is said to be a pioneer of the hip-hop grill trend.
Large gemstone rings are often part of hip-hop bling. Jay-Z has a blue sapphire pinky ring said to be worth a staggering $500,000. It is thought to be a gift from his wife, Beyoncé. However, this pales in comparison to the 34-carat, yellow diamond pinky ring bought by producer, Scott Storch for a reported $3 million. P Diddy accidentally discarded a $20,000 pinky ring during a performance while throwing money into the audience. The building was promptly locked down and searched, but the ring was not found. The rapper later said that he never liked the ring anyway. DJ Khaled has been in the news with regard to rings; in 2013 he proposed to Nicki Minaj on MTV with a $500,000 Rafaello & Co. diamond ring. The response was not clear, however, Minaj was seen in 2015 wearing a $500,000 heart-shaped yellow diamond and platinum ring from boyfriend, Meek Mill. Some rappers' rings are extremely intricate works of art, such as Missy Elliott's "turntable ring" (see image, top), which has a movable black diamond turntable and gold needle.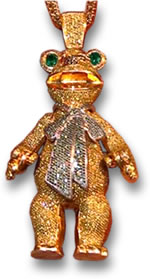 Waka Flocka Flame's Fozzie Bear Pendant
Hip-hop bling is not all serious stuff; though some like their Jesus and St Lazarus pendants, it can also be fun and playful. For example, Jamaican-American reggae/rap artist Sean Kingston brought color to his world with an enormous $500,000 chain pendant that looks like a box of crayons. However, Rick Ross's chain in the image of his own face is worth triple the value of Kingston's crayons. In a similar vein, Waka Flocka Flame has a Fozzie Bear chain. Unfortunately, such extravagant bling attracts thieves and several rappers, including Waka Flocka Flame and Sean Kingston, have had their beloved chains robbed. Some not so clever chain thieves have been unable to resist showing off their booty online.
One of the most famous jewelers of choice for "iced-out bling" is Jacob the Jeweler. Former music producer for Dr Dre, Ben Baller, is also a custom-jeweler to hip-hop artists such as Kanye West, Snoop Dogg and Drake. He supplies all manner of bling, from grills and chains to a diamond-studded prosthetic eye. The chains produced by him are known as "Baller chains" and some of them are enormous, with price tags to match. On 1st April 2013, The Hundreds brand announced that they were commissioning Baller to make "the world's most expensive diamond encrusted chain". The chain was said to have been made from a staggering 26 kg of 18K gold and 600 carat weight of white diamonds. The price was over $3 million. The date of the announcement caused some skepticism as to whether it was an April fool.
One of the wealthiest and most successful names in hip-hop is Dr Dre. He is a shrewd businessman who produces music for others such as Eminem, 50 Cent and Snoop Dogg. Dr Dre and Jimmy Iovine of Interscope Geffen A&M Records founded Beats electronics, selling mostly speakers and headphones under the trade name "Beats By Dre". In 2014, Dr Dre and Graff Diamonds produced gold and diamond Beats Pro headphones for the Denver Broncos and Seattle Seahawks. Beats was later purchased by Apple for $3 billion. Though Dr Dre lives a lavish lifestyle, rather than wear his wealth in the form of huge gold chains and diamonds, he prefers a more simple style of dress.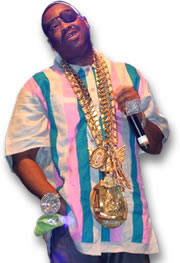 Slick Rick, Showing off His Jewelry
Unlike Dr Dre, rapper, Slick Rick is known for his huge neck jewelry, rings and bracelets, and he is not the only one. Kanye West wore an ancient Egyptian inspired Horus chain to the 2010 BET Awards which had an estimated value of $300,000. The huge chain was accompanied by two golden pyramids on his fingers. Another rapper's heavy chain had a wardrobe malfunction; while Plies was performing at the 2009 BET Awards, his chain broke. Perhaps he should have used a rope. Plies has a preference for neck-breaking jewelry and later boasted a 7 kg gold chain, with matching bracelet and grills. However, the largest non-religious diamond chain pendant is Lil Jon's "Crunk Ain't Dead" pendant, which features in the 2007 Guinness World Records. It weighs almost 1 kg without the chain and contains over 3,500 diamonds. At the time, Akon, who owns a diamond mine in Senegal, said that he planned to make an even bigger piece.
Pharrell Williams is a hip-hop artist and producer known for his style. He was voted "Best Dressed Man in the World" by Esquire magazine in 2005, and co-designed a collection of jewelry for Louis Vuitton, called "Blason" in 2008. The jewelry fashioned from white and yellow gold featured diamonds and multicolored gemstones. More recently, Williams expressed an interest in crystal healing jewelry, such as emeralds and pearls, rather than attention-grabbing bling. Pharrell Williams has produced music with several other rappers, including Snoop Dogg, who is another artist known for his bling and "gangsta" style. However, Snoop Dogg introduced a new twist when he rebranded himself "Snoop Lion" and took part in endorsing the Caliber MTV collection of bracelets. The jewelry is made out of illegal gun steel and carries the serial numbers of guns bought back by the Newark Police Department. The sales proceeds are donated to the Police Department to help them buy back more illegal firearms.
For the first time in 2008, a collection of hip-hop celebrity jewelry was to be auctioned for charity. Phillips de Pury & Co. scheduled the auction of "Hip-Hop's Crown Jewels" consisting of rappers' gemstone jewelry. The jewelry to be sold included a diamond and ruby crown-shaped ring that Tupac was wearing when he was killed in a drive-by shooting, and Pharrell Williams's multicolored chain with matching grills. Also in the catalogue were Missy Elliott's turntable ring and Lil John's "Crunk Ain't Dead" chain. The auction was later rescheduled to 2009, and then quietly cancelled. Rumors abounded. Could it be that the credit crunch hit the ice? It certainly seemed to have an effect on hip-hop statement jewelry, with some using cubic zirconia, lower karat gold alloys or smaller gemstones for those who can't bring the bling to show off their sweet success.