Jacob the Jeweler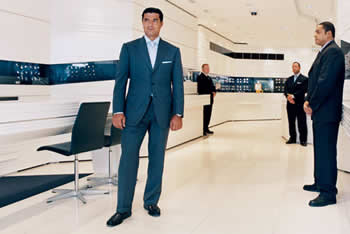 Jacob The Jeweler
Many of the famous jewelers of the world cater to royal families, aristocrats and old money. But one famous jeweler has specialized in selling to a clientele with new money, especially celebrities, entertainers and professional athletes. Sometimes it's not clear where the money comes from to buy these very expensive jewels. That can make it a dangerous business.
Jacob Arabo, widely known as Jacob the Jeweler, sells diamond-encrusted watches and oversized pendants to hip hop artists like Jay-Z, LL Cool J and 50 Cent. His signature Five Time Zone watches cost anything from $5,500 to $1 million, depending on how they are 'iced'. They are worn by the likes of Bono, Elton John and Shaquille O'Neal.
Jacob came to the USA from Uzbekistan with his family at the age of 14. Like the famous Moussaieffs, Jacob's family are Bukharian Jews. But where the Moussaieffs were a well-known jewelry family for generations, Jacob left school at 16 to learn about the jewelry business so he could support his family. By the time he was 21 he had his own business. Eventually he had a small shop in New York's Diamond District and started to attract some business from rising hip hop artists. He claims he was the one who introduced them to better quality diamonds and platinum settings. As the rappers got rich, so did Jacob.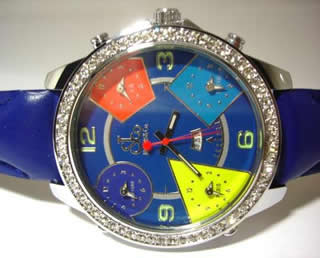 Five Timezone Watch
He moved his business uptown, to East 57th Street at Park Avenue, where he opened Jacob & Co. in 2004. Celebrity endorsements have given him the reputation as the jeweler to the new generation of stars who want to show off status symbols that are conspicuous and valuable.
Hip hop musicians take pride that they came from the street, and some aggressively maintain their 'gangsta' pose. Some of their friends are apparently genuine gangsters, and it seems they came to Jacob the Jeweler not just because they wanted flashy jewelry. Jacob accepted cash payment and he accepted it with no questions asked.
In June 2006 Jacob Arabo was arrested by the FBI on money laundering charges. It was alleged that he used his jewelry business to launder up to 270 million dollars in drug money for the Black Mafia Family drug ring. In October 2007 Jacob pleaded guilty to falsifying records and giving false statements to the investigators who were looking into the drug ring. It was part of a bargain and Jacob got off with a 30 month sentence in federal prison.
In the gem and jewelry business, it seems that you have to be careful not only who you buy from. You have to be careful who you sell to as well.