Moussaieff Jewelers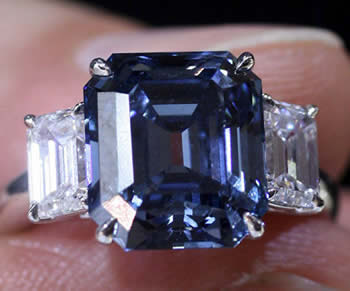 Moussaieff Blue Diamond
Among the world's great jewelers, Moussaieff of London has one of the longest family traditions. The business was started by Shlomo Moussaieff during the 1850s in Bukara, Uzbekistan. Shlomo was a rabbi as well as a trader in natural pearls, and he emigrated to Palestine at the end of 19th century, where he was one of the founders of the famous Bukharian Quarter in Jerusalem. Shlomo had seven children. One son, Rehavia, settled in Paris and established a business there trading in fine gems. In 1963, Rehavia's son, named Shlomo after his grandfather, opened the first Moussaieff store on Park Lane in London.
Shlomo ran the business in partnership with his wife, Alisa. In 2004, Shlomo retired and left the operation to Alisa and their three daughters, each of whom has a role in the business. Mrs. Moussaieff, now in her 70s, oversees everything from gemstone acquisitions to designs and sales. In addition to selling diamonds and colored gems, she also offers natural pearls. Moussaieff is one of the few jewelers who still works with natural pearls, which are now found primarily in estate jewelry. Moussaieff purchases antique pieces and uses the stones and pearls in new designs.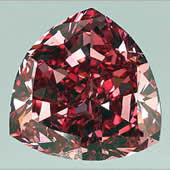 Moussaieff Red Diamond
The Moussaieffs, like Laurence Graff, are known for paying top prices for very rare gems at auction. The Moussaieffs recently paid $7.98 million for a 6.04 carat flawless blue diamond. The price of $1.32m per carat, paid at Sotheby's auction in Hong Kong, beat the previous record of $926,000 per carat. The previous record was held by the famous Hancock Red Diamond.
One of the most valuable red diamonds in the world, known as the Moussaieff Red, is also owned by the Moussaieff family. The Hancock Red weighs less than 1 carat, but the trillion-cut Moussaieff Red weighs an impressive 5.11 carats. Moussaieff purchased the red diamond in 2001 or 2002 for an undisclosed price.
The Moussaieffs are a very large family with many famous members. They include Shlomo Moussaieff of London, who is a jewelry dealer worth several hundred million dollars, his daughter Dorrit Moussaieff who is married to the President of Iceland, and Jeffrey Moussaieff Masson, grandson of Henri Moussiaeff and a famous author. James Raphael, a world-class pianist, is another great grandson of the family patriarch.