Laurence Graff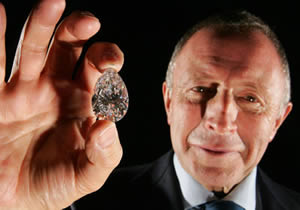 Laurence Graff
When you read of diamonds and colored gems selling for millions of dollars at Christie's or Sotheby's auctions, these high-priced auctions are often won by a man named Laurence Graff. For example, in 2006 Graff paid a record $3.6 million at Christie's for an 8.2 carat cushion-cut Burmese ruby. So who is Laurence Graff and how does he afford such expensive gems?
Graff is actually the world's number one diamond and gemstone dealer, based in London. Though one of the richest people in Britain, he keeps a low profile and you'll rarely read about him in the press.
Graff is a self-made man and built a hugely successful jewelry business from nothing, like the jeweler Hans Stern. The child of Eastern European Jewish immigrants, he grew up in the East End of London. He left school at the age of 14 and found his first job at 15, as an apprentice with a jeweler named Schindler in Hatton Garden, the historical diamond and jewelry center of London. Though he was fired after 3 months, he soon found another job where he learned to repair rings and make jewelry.
By the time he was 22, Graff had his own small jewelry business. But he had a hard time convincing London's top jewelers to buy his designs. He decided to go on the road, and with a $1,000 of diamond jewelry he went to Southeast Asia. His big break came when he was selling his wares at Robinson's Department Store in Singapore. He happened to meet the Crown Prince and Princess of Brunei (now the Sultan and Queen of Brunei). It was the beginning of a lifelong relationship with the royal family of Brunei, who have purchased Graff jewelry worth tens of millions of dollars. Many other ultra-rich clients were soon to follow.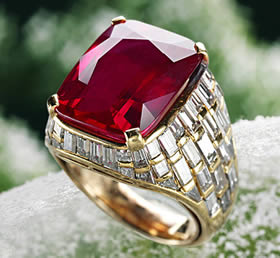 Famous Graff Ruby
With the profits from his high-end customers, Graff began to build a large retail empire, starting with his flagship store in Mayfair in London. He expanded to Europe and America. Needing a steady supply of larger stones for his expanding business, he bought a controlling stake in a Johannesburg diamond wholesaler and manufacturer, South African Diamond Corporation. That ownership also entitled him to be a DeBeers sightholder, with the right to buy rough diamonds at wholesale. Now his organization handles all its own diamond cutting and polishing as well as jewelry manufacture.
Graff still buys the world's best gemstones wherever he can find them, frequently at auction. He will recut a stone when necessary, but just the setting of spectacular stones in Graff-designed jewelry is enough for him to turn a profit no matter what auction price he paid.
Laurence Graff is still very active in his business at the age of 70. With some of the founders of other famous high-end jewelry long gone - Harry Winston, Jacques Arpel, Frederic Boucheron - Graff can claim with some justification that he now is one of the most important jewelers in the world. In fact, in 2013, Graff received an OBE for his service to the jewelry industry.