Charm Bracelets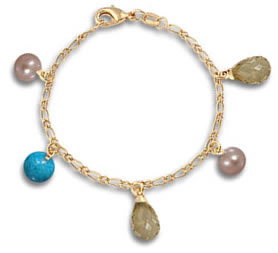 Yellow Gold and Gemstone Bead Charm Bracelet
Charm bracelets are usually bracelets made from metal, which have small trinkets attached. Charm bracelets can be extremely valuable or very affordable depending on the materials they are made from. They are beautiful and can hold a special meaning for the wearer. This could be connected with superstitious belief, for example a protective eye amulet to ward off the evil eye or a horseshoe charm for good luck. However, most modern charm bracelets tell a personal story.
Charms have been worn for thousands of years and could have first been intended as protective charms or a form of religious or personal identification. The first charms were believed to have been fashioned from bone, shell or tusk. The ancient Assyrians and Egyptians wore charm bracelets. These ancient charms would have been made from materials such as gold and carnelian, lapis lazuli, turquoise and other gems. Egyptian charms were believed to identify the wearer and protect them in the afterlife.
Charm bracelets became popular in Britain during the reign of Queen Victoria, who liked to wear and give charms such as lockets with pictures of loved ones, glass beads and family symbols. But when her husband, Prince Albert died, the charms took a morbid turn, in the form of mourning charms, made with the hair of the dearly departed or charms made from jet, the black organic gemstone that was worn as mourning jewelry. In the later part of the Victorian era, the Paris Exposition of 1889 saw the introduction of the first Tiffany & Co. silver bracelet with a heart charm.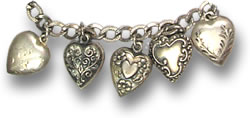 Silver "Sweetheart" Charms
Charm bracelets increased in popularity during World War I and II because soldiers would buy or make charms to send to their sweethearts from far-flung places. These bracelets would often contain lockets with photos of the servicemen and military themed charms, such as helmets or jeeps. Some of the charms contained gemstones such as turquoise. The bracelets were typically sterling silver and are now collector's items and set a trend for "sweetheart jewelry".
Italian charm bracelets differ slightly in that the charms do not dangle, but are flat, modular links in standard sizes. Another version of a charm bracelet is a chain which has beaded charms that can be strung onto the chain, such as Pandora bracelets. Some of these have tiny pendants and others do not.
One of the most famous wearers of charm bracelets was Elizabeth Taylor and one of her gold charm bracelets achieved $326,500 at Christie's in December 2011. Her twenty charms included a sodalite and gold disc, a miniature gold jeweler's loupe engraved with her name and a gold and agate heart. Another gold charm bracelet in her collection achieved $194,500. The thirty charms of this bracelet included two "evil eye" pendants, a coral fist, a sodalite rabbit and a tiny hourglass containing red gemstone sand.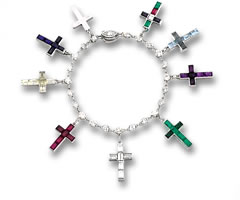 Replica of the Duchess of Windsor's Charm Bracelet
An even more valuable charm bracelet was owned by the Duchess of Windsor, formerly Wallis Simpson, the US divorcee who King Edward VIII abdicated for in 1936. The Cartier, diamond-encrusted charm bracelet was decorated with nine gemstone crosses, each of which had personal meaning to the couple. The gemstones include aquamarines, amethysts, emeralds, rubies and sapphires, and the bracelet was most notably worn by the Duchess to her wedding. The bracelet achieved over $890,000 in November 2010 at Sotheby's. The proceeds from the sale were generously donated to the Pasteur Institute to show the couple's appreciation for the people of France, where they lived for several decades.
A charm bracelet can be bought and added to throughout the wearer's life. This is what gives charm bracelets a certain kind of appeal that makes them special to the wearer and a talking point for admirers. As the years go by, a sort of visual autobiography is created. Charm bracelets allow the wearer to remember important life events by wearing their heart on their sleeve, and invite others to see their unique and personal life story.