GemSelect August 2014 Newsletter - Gemstone Implants and Charms
| | |
| --- | --- |
| | Mughal Ruby Pendant |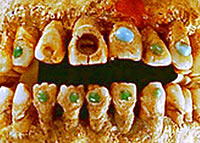 Gemstone Inlay in Mayan Mouth
There are many who believe in the healing powers of gemstones and precious metals. Throughout history, both Eastern and Western cultures have worn and used gemstones not only for their beauty, but because of certain properties or attributes that were connected with the jewels. The use of gemstones date back to the earliest civilizations and in some cultures, gemstones were even implanted into the body, rather than worn.
Archaeological discoveries have revealed that the Mayans inlaid teeth with gemstones such as jadeite, pyrite, hematite, turquoise, quartz, opal, serpentine and cinnabar. Were these early fillings, or did they have some sort of religious or cultural purpose?
It is said that the Mayans believed that if they adorned their teeth, it would enhance their voice and thus facilitate communication with God. The Mayans also performed early dental implants, using animal teeth, shells and teeth from other humans. They used devices like drills, made from hard materials such as obsidian, which is volcanic glass. Obsidian fractures with very sharp edges, making it a perfect surgeon's tool. The Mayans were both skilled dentists and believers in the metaphysical powers of gemstones.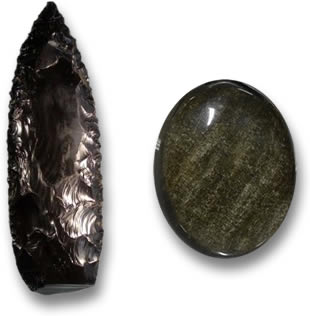 Obsidian Blade and Gemstone
The Mayans' curious dentistry seems to be resurfacing in modern times. A professional piercer recreated the Mayan mouth by having opal inlay put into his lower and upper canine dental implants. This is a little different to the usual hip hop tooth jewellery.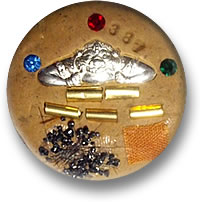 Thai Amulet with Gemstones
The ancient Egyptians and Chinese people used gemstone amulets during the burial of their dead. The mummies of ancient Egypt were surrounded by riches and jewels, to help the dead on their journey into the next world. The Chinese used jade in the orifices of corpses, since they believed that it would preserve the deceased. The Shan people of Burma traditionally put an offering on the tongue of the deceased for the boatman who takes the spirit across the river of death. Shan people of normal status would have coins placed on their tongues and those of high status would have offerings of rubies or other gemstones, gold or silver placed inside their mouths.
A lot of Thai people believe in the mysterious powers of amulets that have been blessed by Buddhist monks, and some devotees have these amulets inserted under the skin of their arms for protection. The nearby Shan people of Burma used to insert charms under the skin to protect them in battles. Nowadays, it is still common for South East Asian people to be given temple tattoos that are believed to have protective powers.
In Malaysia, needles made from gold or other precious metals and even gemstones are implanted into the body. These are known as "susuk" and are believed to protect the wearer from harm. Nowadays, this is forbidden by Islam. There is a well-known Malaysian horror film called "Susuk" that was made in 2008 about the use of such charms.
Susuk charms take various forms such as gold needles, diamonds, pearls and other colored gemstones, plant ingredients, animal body parts and even elephant sperm. Apparently, susuk used to only be used by royals and nobles. The susuk can be swallowed, inserted into the body or be magically conjured into the body during a special ceremony.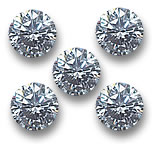 Diamond Gemstones
Women have these charms implanted in the belief that the charms will enhance their beauty, youth and sexual allure. Men have susuk in the belief that they will gain charisma and gain supernatural powers, such as invulnerability. The charms are also believed to improve the wearer's career or business and prevent accidents and harm. Before the charms are inserted, the wearer is usually given a ritual flower bath. After the ritual of insertion, the wearer is usually given a number of restrictions, such as not being allowed to scratch their faces, eat bamboo shoots, chicken or bananas. Curiously, they are also told not to walk under clothes lines or stairs for several days following the insertion. Susuk that were inserted to protect the wearer from physical harm should be removed before death, otherwise it is thought that they will cause the wearer terrible suffering. It's too bad if the witch doctor dies before the susuk is removed. Also, it is said that when susuk inserted for youth and beauty are removed, the wearer's face will instantly revert to its natural age and level of ugliness.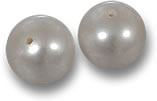 Pearl Beads
An English merchant called Ralph Fitch, who travelled to Northern Thailand in the late 1500s, was amazed to note that Thai men inserted bells made from precious metal into the skin of their penises. This practice was also observed by a Flemish diamond trader called Jaque de Coutre, who travelled to South-East Asia around a similar time. He commented that the practice was supposed to discourage homosexuality, though how is anyone's guess. Such penis implants still survive in modern day Thailand, though rather than being bells made of precious metal and used by the upper class, prison inmates are the ones implanting "pearls" into their penises, which are usually made from smooth pieces of glass from Coke bottles and inserted with sharpened toothbrushes. This may have stemmed from the Yakuza practice of inserting one pearl under the skin of the penis for each year spent behind bars. Years ago, real pearl gemstones were used, which is why the practice is known as "pearling".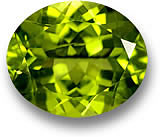 Peridot
Peridot is the designated birthstone for August. It has a vivid lime-green or olive-green color that remains bright under artificial light. This quality caused peridot to be called "evening emerald" by the Romans, who used it as a gemstone. In fact, in the past, peridot has been mistaken for emerald. Peridot has a long history as a jewelry gemstone. It was used by the ancient Egyptians, who called it "the gem of the sun". Peridot is an excellent choice of gemstone for jewelry because it is extremely versatile. It can be cut in various styles, possesses good hardness, is usually untreated and most gems have no visible inclusions. Peridot has been found in meteorites, but the most favoured peridot gemstones come from Pakistan. Recently, China has become one of the main producers of peridot.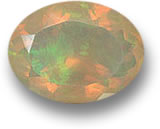 Opal
Opal is the national gemstone of Australia due to the fact that Australia is the largest producer of opal gemstones. However, this multicolored opal is from Ethiopia. Ethiopian opals are relatively new to the market, but are a variety definitely worth considering. They have a range of base colors, including white, blue, orange, grey and brown. The play of color of Ethiopian opals gives them a magical quality that attracts the eye and increases their value. As with other opal varieties, Ethiopian opal has a high water content, therefore, opal gemstones must be properly cared for to prevent damage. Opals make wonderful earrings, brooches and pendants, but are not recommended for everyday-wear rings, due to their delicate nature.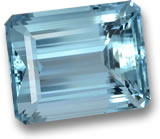 Aquamarine
Aquamarine belongs to the same mineral group as emerald; beryl. The name "aquamarine" comes from a Latin phrase meaning "seawater", and looking at this watery-hued gem, you can see why. Indeed, aquamarine was considered by the ancient Greeks and Romans to be a sailor's gemstone and legends tell of aquamarine being the treasured possession of mermaids, who protected sailors who carried it. Since aquamarine is a beryl gemstone, it has the same high level of hardness as emerald, making it ideal for any type of jewelry. Aquamarine is the birthstone for March and is also the 19th wedding anniversary gem. It is thought by crystal healers to promote a happy marriage and to sharpen the mind.
The largest lab-grown colorless diamond has been created by a company called Pure Grown. The large synthetic gemstone weighs 3 carats and has an SI clarity. The company expects to sell the lab-created gemstone for a predicted $21,000.
Sapphire not only makes beautiful gemstones, but since it is is a very hard material (with a Mohs hardness score of 9), it is being used in the production of the latest smartphone display screens, notably, the iPhone 6, which is rumoured to use a sapphire crystal display. However, in order for a display screen to enjoy the full durability of sapphire, it would need to be made with pure sapphire, which would result in a rather expensive product. There is some speculation that the iPhone 6 screen is a glass and sapphire blend.
| | | | |
| --- | --- | --- | --- |
| Event Name | Location | Venue | Dates |
| Gem & Lapidary Wholesalers Spruce Pine | USA | Cross Street Commerce Center, 31 Cross Street, Spruce Pine, Mitchell, South Dakota, USA | July 31 - August 3, 2014 |
| The Beadworks Fairs | UK | Denbies Wine Estate, Dorking & The Guildhall, Plymouth, UK | August 4, 2014 |
| Australian Opal Exhibition 2014 | Australia | QT Hotel, Gold Coast, Australia | August 7 - 8, 2014 |
| East Coast Gem, Mineral & Fossil Show | USA | Eastern States Exposition Center, 1305 Memorial Avenue, West Springfield, Massachusetts, USA | August 8 - 10, 2014 |
| Canadian Jewellery Expos, 2014 | Canada | Metro Toronto Convention Centre, Toronto, Canada | August 10 - 12, 2014 |
| Canadian Jewellery Expos, 2014 | Canada | Shaw Conference Hall, Edmonton, Canada | August 15 - 17, 2014 |
| The Scottish Bead Fair 2014 | UK | Perth Concert Hall, Perth, Scotland, UK | August 17, 2014 |
| Jewellers Association Show 2014 | India | B.M. Birla Auditorium, Jaipur, India | August 22 - 25, 2014 |
| Japan Jewellery Fair (JJF 2014) | Japan | Tokyo Big Sight Exhibition Center, Tokyo, Japan | August 26 - 28, 2014 |
| Ambermart | Poland | AmberExpo, Zaglowa 11, 80-560 Gdansk, Gdansk, Poland | August 28 - 30, 2014 |
| International Jewellery, London | UK | Olympia Exhibition Centre, Hammersmith Rd, Kensington, London, UK | August 31 - September 2, 2014 |
| JAA International Jewellery Fair, Sydney | Australia | Sydney Exhibition Centre, Glebe Island, Sydney, Australia | August 31 - September 2, 2014 |
Every month we answer questions of general interest from our customers. Please feel free to send your questions or suggestions to our support team at Help@GemSelect.com!
Q:
I am looking for a gem in a particular size to fit a ring. How can I find the size I need?
A:

Shop By Size

When seeking a certain gemstone size, the first thing to know is that carat weight and size are not the same thing. Many jewelers like to buy gems by carat weight, but the internationally recognized unit of measurement for gems and jewelry is millimetres. To avoid disappointment, always buy gems by size rather than by carat weight.

To shop by size, use the "shop by" drop-down menu (as shown on the right). After selecting "size", a diagram will appear. Enter the exact dimensions needed (in millimetres) and then click "submit". The website will then show you all the options available. You can narrow your options by ticking the boxes at the top of the search page, to search by shape, cut, color and so on, or you can sort the gemstones by using the "sort by" tool. Alternatively, you can simply sort all gemstones by size. This will allow you to peruse all of the stock available.

Q:
Hi, I'm becoming increasingly interested in gemstones and gemmology and I would like to learn more. Can you recommend a good book or reliable resource?

A:
We are glad that you find gemstones as interesting as we do. We can recommend Walter Schumann's "Gemstones of the World", which is an invaluable resource for every gem enthusiast. It is comprehensive, reliable and interesting.
We hope you found our topics interesting. Please feel free to send us your questions, comments or feedback!
Also, if you haven't already, be sure to join us on any one of our social networking pages. We love interacting with our customers. You can visit us on Tumblr, LinkedIn, Twitter, Facebook or Pinterest!
To ensure you can receive our emails, please be sure to add help@gemselect.com to your list of safe contacts, or you add us into your email address book! Please feel free to contact us with any questions, comments and queries! We respond to each and every email we receive.
Happy gem hunting,
Your friends at GemSelect