GemSelect Newsletter - August 2011
ETHIOPIAN OPALS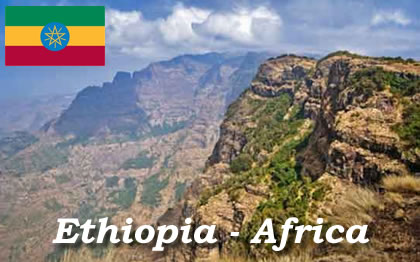 Ethiopia Africa
Ethiopia is one of the oldest sites of human existence known to scientists today, having yielded some of humanity's oldest traces. How fitting then that it has also produced a gemstone proven to have first been used by early mankind as a tool 160,000 years ago. Now is your chance to own such a gem.
The opal is a rare gemstone and has a diverse brilliance of color that encompasses the whole of the color spectrum. The Ethiopian opal is one of the most beautiful ever found.
We at GemSelect have some of the finest Ethiopian opals on the market.
Ethiopian opal base colors include white, yellow, orange, dark red, caramel, chocolate and everything in between. The degrees of transparency range from crystal clear to opaque. The Ethiopian opal is quite unique and different from other more common opal and one of the most striking and distinctive of the Ethiopian opals is the chocolate variety showing the colorful snakeskin pattern.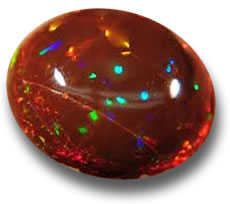 Chocolate Opal from Ethiopia
The chocolate opal is a jewel with a story. It was first discovered by noted anthropologist and archeologist, Louis Leakey, in a Kenyan cave during a 1939 expedition. Leakey found that, remarkably, the opal had been used as a tool by very early mankind. In 1995, mining engineer Telahun Yohannes, found the Ethiopian Yita Ridge opal field deposits, 150 miles northeast of the capital, Addis Ababa and soon after, started mining. The Ethiopian opal had, at last, been discovered.
More recently white seam opal gems from the Gondar Desert region in Northwest Ethiopia were introduced to the market. This type of opal is often reminiscent of Australian and Brazilian opal, but it has a much better reputation for stability.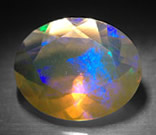 Opal from Ethiopia
In the past most opals came from either Australia or Mexico and the Ethiopian opal is relatively new to the market. Although being available from the mid 1990s, it only really started to appear on the market around 2003. So, it is still relatively early days in the exploration of these opals and cutters are finding new techniques and ways to bring these beautiful opals to the market.
Owning an Ethiopian opal really does mean having something that is unique with a very special story, quite different to any other opal you may see.
Every month we answer questions of general interest from our customers. Please feel free to send your questions or suggestions to our support team at help@gemselect.com!
Question
I recently ordered a few gemstones from you; some with certificates and some without. The certificate does not show the clarity of the gem; why is that? Do I need to pay extra to get the clarity certified?
Answer
Until today there is no existing international standard for the colored gemstone clarity grading! The only exception is diamond; this clarity grading standard is used by labs around the world.
There have been several attempts to standardize it but nothing is in place so far. It is certainly more difficult to apply a standard for all colored gems since the physical and chemical structure is very different for many gem types.
Question
The color of the gems I ordered does not look like the color on the screen. Did you send me a different gem? I do like them very much but the color is not what I saw on the screen.
Answer
This is the number one issue with all color sensitive goods sold on the Internet.
Here is what we have experienced over many years; from all screens we have used and tested only 25% showed natural colors (with default settings) which matched the color of the object photographed. Some of the screens can be adjusted by using a color calibration tool for monitors which is usually used in digital photo processing studios. However, even after calibrating the screens only 50% showed satisfying results. In all cases we only used brand names like HP, Sony, LG, Samsung and some others. There is no industry standard for displaying colors properly! It might be useful to take a photo with a digital camera of an object close to your screen which can be compared on your screen. You may be surprised by the result and wonder where the monitor gets this color from.
Keep up with our new arrivals before they hit the newsletter by joining our thousands of fans and followers on our social networking pages. We love interacting with our customers - you can visit us on Tumblr, LinkedIn, Twitter, Facebook or Pinterest!
To ensure you can receive our emails, please be sure to add help@gemselect.com to your list of safe contacts, or you add us into your email address book! Please feel free to contact us with any questions, comments and queries! We respond to each and every email we receive.
Happy Gem Hunting!
Your friends at GemSelect