Rare Ammolite Gemstones
Ammolite is a rare gemstone of organic origin that is fairly new to the market, with commercial mining beginning only in 1981. Ammolite is the fossilized shell of ammonites, which are composed primarily of aragonite, the same mineral that makes up nacreous pearls. Ammolite's main attraction is an opal-like play of color.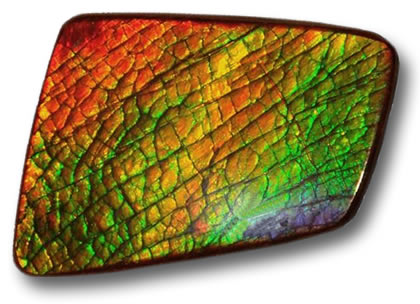 Unprocessed Ammolite
Thus far ammolite has been found only along the eastern slopes of the Rocky Mountains of the United States and Canada, mainly in Alberta and Montana. It has been known to native people of the Americas for hundreds of years, who believed that it possessed magical powers. In the 1960s, amateur lapidaries began to work with it, and ammolite was first described in a major trade magazine in 1969. In 1981 the World Jewellery Confederation (CIBJO) officially recognized ammolite as a gemstone.
A company called Korite International was formed in Alberta, Canada in 1979 to mine ammolite along the St. Mary River near the city of Lethbridge. This area was an inland subtropical sea in prehistoric times, known as the Cretaceous or Western Interior Seaway. Ammonites were cephalopods (squid-like creatures) that thrived in tropical seas until becoming extinct along with the dinosaurs at the end of the Mesozoic era. As the seas receded, the ammonites were buried by layers of bentonite sediment. This sediment preserved the aragonite of their shelled remains, preventing it from converting to calcite.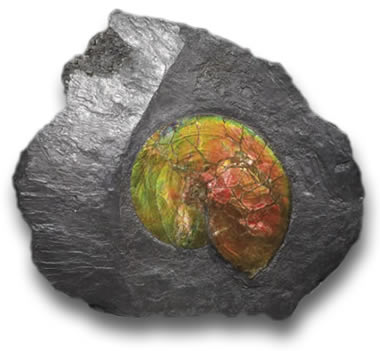 Ammonite Fossil
The chemical composition of ammolite is somewhat variable. In addition to aragonite it may also include calcite, silica, pyrite or other minerals. The shell itself may contain a number of trace elements, which include barium, chromium, copper, iron, magnesium, manganese, strontium, titanium and vanadium. Ammolite is fairly soft, with a hardness of about 4 on the Mohs scale. Its specific gravity is 2.75 to 2.80, and its refractive index is 1.52 to 1.68.
An iridescent opal-like play of color is shown in fine specimens, mostly in shades of green and red, though all the spectral colors are possible. The iridescence is due to the microstructure of the aragonite. Unlike most other gems, which get their color from light absorption, the iridescent color of ammolite comes from light interference. Light rebounds from stacked layers of thin platelets that make up the aragonite. The thicker the layers, the more reds and greens are produced; the thinner the layers, the more blues and violets predominate.
The ammolite itself is actually a very thin sheet, about 0.5 to 0.8 millimeters in thickness. Ammolite is almost always found in matrix (host rock), which is typically a grey to brown shale, chalky clay or limestone.