Shop By
You Selected (1180): Ethiopian Opal Gems - Fire Opal, Opal, Opal Doublet, Boulder Opal, Chocolate Opal, Black Opal, Opal in Matrix
Clear All

VIDEO
ID: 467270

1

pcs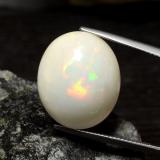 18.33 ct Opal
20 x 16.9 mm
$
737.97
Item in Stock
ID: 478689

1

pcs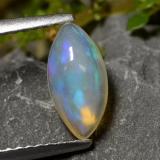 0.67 ct Opal
9.7 x 4.9 mm
$
23.45
Item in Stock
ID: 308219

1

pcs
1.16 ct Opal
10.9 x 7.3 mm
$
49.88
Item in Stock

VIDEO
ID: 462093

1

pcs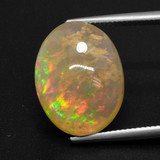 17.26 ct Opal
19.3 x 14.8 mm
$
694.89
Item in Stock
ID: 308207

1

pcs
1.33 ct Opal
11 x 8 mm
$
57.19
Item in Stock
ID: 462487

4

pcs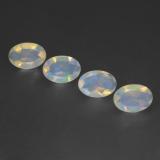 1.42 ct Opal
7 x 4.9 mm
$
56.80
Item in Stock

VIDEO
ID: 462135

1

pcs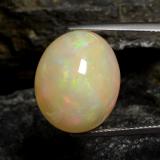 15.44 ct Opal
18.8 x 15.7 mm
$
621.61
Item in Stock
ID: 462632

3

pcs
1.17 ct Opal
7.1 x 5.1 mm
$
46.80
Item in Stock

VIDEO
ID: 462133

1

pcs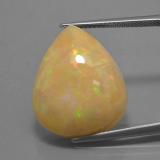 15.39 ct Opal
22.8 x 17.9 mm
$
619.60
Item in Stock
ID: 479497

1

pcs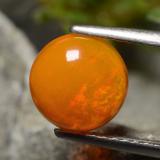 1.15 ct Opal
7.9 mm
$
30.53
Item in Stock
ID: 301935

1

pcs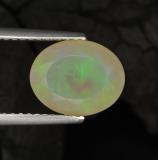 1.33 ct Opal
10 x 8.1 mm
$
53.20
Item in Stock

VIDEO
ID: 486006

1

pcs
14.53 ct Opal
20.9 x 14.6 mm
$
584.98
Item in Stock

VIDEO
ID: 462223

1

pcs
14.39 ct Opal
22.2 x 13.6 mm
$
579.34
Item in Stock
Ethiopian Opal Gems
Although Ethiopia is one of the oldest sites of human existence, Ethiopian opal is relatively new to the market, being available since the mid 1990s, and appearing on the market around 2003. Ethiopian opal base colors include white, yellow, orange, dark red, caramel and chocolate. These beautiful opals may be transparent, translucent or opaque. Ethiopian opals thus may be faceted or cut en cabochon and are available in various shapes and sizes.

More than any other gem, each opal is distinctly an individual. No other stone has as rich and varied a folklore. Opals are also the most delicate gems commonly worn. They require special care to insure their health and longevity. Opal's fire was long thought to be the result of iridescence. However, with the advent of scanning electron microscopes, we now know that it is a result of diffraction. Opal is relatively soft, with a rating of 5.5-6.5 on Mohs scale. Despite its frequent use in rings, opal is a poor choice for a ring stone; it is much better suited to earrings, pins, and pendants.

To find the Ethiopian opal gems that you seek, filter the results further by using the left-hand menu. You can buy Ethiopian opals by shape or color. By using the top menu, you can search by carat weight, size, price and other factors, to enable you to find the exact Ethiopian opal gems that you are looking for. All items are in stock and ready to be shipped.