Bridal Jewelry Around the World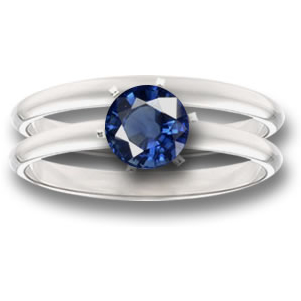 Blue Sapphire and White Gold Bridal Rings
In the West, some brides may wear a tiara or a pearl necklace on their wedding day. However, a wedding would seem incomplete without wedding rings, which are a traditional part of the wedding ceremony. The continuous circle of a wedding ring symbolizes eternity and the wedding ring signifies the love and fidelity of the giver. In many Christian wedding ceremonies, it is presented with the phrase, "With this ring I thee wed". In many countries and religions around the world, the wedding ring is a significant part of a marriage ceremony, but there are also other types of jewelry that is worn by brides.

In Greek orthodox weddings, the bride and groom wear crowns known as stefana. These crowns symbolize heavenly crowns and also that the husband and wife are king and queen of the family. The crowns are usually joined by a ribbon to symbolize their unity and are placed on the head of the bride and groom by the priest in a Crowning Ceremony. Years ago, the crowns would be worn for a whole week, but this is not usually practiced nowadays. According to tradition, the crowns should be displayed over the marriage bed. However, some couples exhibit the crowns in their living room. Not all couples take their crowns home, since some churches provide borrowed crowns for the ceremony. Greek wedding crowns used to be simple affairs, made from vines, leaves, flowers and ribbons. Modern Greek wedding crowns are not so simple and are often fashioned from precious metal with gemstones such as pearls, diamonds and gold leaves. A famous crowning ceremony was performed during the marriage of King Juan Carlos of Spain and Queen Sophia of Greece.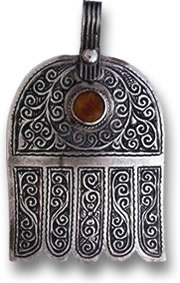 Silver and Amber Khamsa Pendant
In some parts of China, silver bridal jewelry is considered auspicious. For example, the Dong people of Southwest China treasure silver, and families collect silver jewelry for their daughters to wear on her wedding day, sometimes beginning when the daughter is very young. Similarly, the Miao people consider silver to be valuable and Miao brides often wear a weighty 8-10 kg of silver, and sometimes even more! Yemenite Jews wear extremely elaborate bridal headdresses and silver rings, bracelets and necklaces of coral beads and silver bells. The Berber people of North Africa traditionally wore silver bridal jewelry with gemstone beads or cabochons, such as coral or amber, that were believed to provide protection from bad luck. In Saudi Arabia, men have traditionally worn silver wedding rings. This is because the Koran discourages men from adorning themselves with gold. On the other hand, women are permitted to wear gold and often receive wedding gifts of jewelry from their husbands.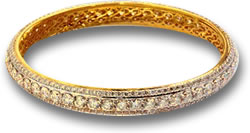 Gold and Diamond Bangle
Gold is important in the bridal jewelry of many countries, for example, Nepal, Thailand, India and Indonesia. In Indian Hindu weddings, the bride traditionally wears sixteen pieces of jewelry, which are usually made of yellow gold and are studded with gemstones. These items adorn the bride from head to toe. Perhaps the gold bridal jewelry shows that the groom or bride's parents are wealthy enough to afford the wedding or symbolizes the fact that the bride is worth her weight in gold.
At some traditional Hindu weddings, the groom presents the bride with a special beaded necklace or necklace pendant called a mangalsutra, which means something like "holy thread" or "lucky thread". This necklace or pendant is a sign of marital status and the black beads, usually made from black onyx, are thought to protect the couple from the evil eye. The mangalsutra used to be made from a yellow thread colored by turmeric and tied around the hand, but nowadays, the mangalsutra is often made from gold and sometimes has a diamond pendant.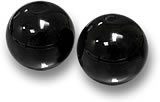 Black Onyx Beads
Married Indian women wear bangles which can be made from glass, silver or gold and are usually worn in pairs. They may be decorated with gemstones or inlay. The colors of the bangles have special meanings, such as yellow for happiness. It is said that an Indian bride wears the smallest bangles that she can fit over her hands since it is believed that smaller bangles are luckier. If a glass bangle accidentally breaks, it is considered to be an inauspicious sign. If a woman is widowed, she breaks the glass bangles herself in mourning. This is heavily dramatized in Bollywood movies!
Whether a spartan or elaborate affair in the West or the East, a wedding can be one of the most important days of a couple's life and the jewelry worn can be an integral part of the ceremony that is filled with symbolism.