White Gold Jewelry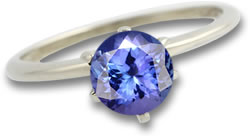 Unplated White Gold and Tanzanite Ring
White gold is a gold alloy that contains a white metal to give it a light appearance. The metals that are usually used in white gold are nickel, silver, manganese or palladium. The color of white gold depends on the metal it is alloyed with and the percentage of white metal used. Since most white gold has a grayish appearance, in order to increase its whiteness, white gold is typically plated with rhodium.
During the Art Deco era, platinum became a popular metal of choice for wealthy jewelry lovers. However, during the Second World War, the USA made platinum a strategic metal and banned its use for jewelry. Therefore, a white gold alloy with the appearance of platinum was made to replace platinum. White gold alloys are less expensive than platinum and palladium, so they became popular for jewelry, especially engagement and wedding rings.
For those who are sensitive to nickel, it is important to know whether white gold jewelry contains nickel. Jewelers should clearly label their white gold if it contains nickel, since it can cause skin rashes for some. Jewelers should also make clear whether the white gold is plated or not, and with which material. Rhodium plating will prevent irritation, but once the layer of rhodium wears down over time, the skin will be exposed to the nickel content and then an allergic reaction can occur. For this reason, white gold is often alloyed with palladium, which does not cause any irritation. However, palladium is more costly than nickel. The durability of rhodium plating depends on the thickness of the plating, and individual wear and tear. White gold can easily be replated with rhodium, making it appear as good as new.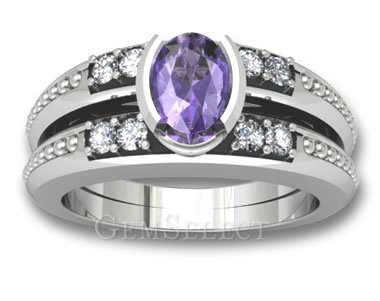 Rhodium-Plated White Gold and Amethyst Ring
Like other gold alloys, white gold varies in purity grades, which is indicated by karats. White gold should always be stamped with a number to indicate its grade. For example, white gold that is marked "18K" or "750" contains 75% pure gold. White gold tends to be 14K (58.5% pure gold) and not higher than 18K, since it would be too yellow to be deemed "white gold".
When choosing a jewelry metal, it is important to consider the color of the gemstone that will be set into the metal. White metals compliment blue stones and make white gemstones appear larger and brighter. However, stones that are slightly yellowish or brownish will appear whiter when set in yellow precious metal. White gold is not recommended for yellowish or brownish stones, which will appear even less white against a white metal background.
While white gold has become extremely popular in the West, yellow gold remains the precious metal of choice in the East. In fact, the gold found in the shops of Bangkok and other countries in Asia is among the purest in the world. Some jewelry lovers prefer the look of white metal and others like the appearance of yellow or rose gold. It really is a matter of personal choice, and for those who find it difficult to decide, modern mixed-metal gemstone jewelry may provide the perfect answer.