Jewelry Retailer Secrets of the Trade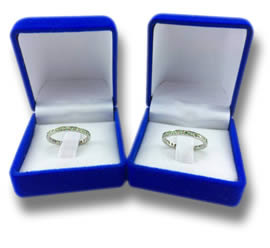 Green Tsavorite Garnet Rings
In every industry, there will always be some insider secrets, and the gem and jewelry industry is no exception. Of course, ethical jewelers and jewelry retailers will tell the truth when asked about their products (if they know the answer), but it's up to you, the consumer, to ask the right questions to ensure you're getting what you expect and what you've paid for. Like the chef's special sauce, some things are best kept a secret.
Fluctuating prices
Most jewelers update their prices daily to reflect the current market prices for gold and jewelry, including diamonds and precious metals. This means the price you found yesterday in their store may very well change by the time you actually go the cashier. This is fair when it comes to diamonds, since they are usually custom ordered at the time of sale, but when it comes to gold and precious metals, daily fluctations in market prices shouldn't affect retail prices for consumers instantaneously, especially when the item is already in stock.
Most jewelry retailers won't reveal that market prices for gold, silver and other precious metals take up to 8 months before they impact the selling price for consumers. And most won't tell you whether prices will be lower tomorrow based on market trends. The jewelry on display in-store was most likely purchased months or even years ago - at a locked price. Despite this, many retailers will still update prices based on the gram weight of precious metal in their items. This is why a $1,000 ring today may cost you $1,100 tomorrow.
Diamonds and Gemstones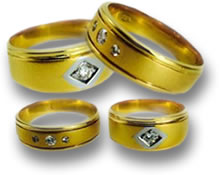 Men's Gold and Diamond Bands
Diamond and other gemstone suppliers are required to disclose any gem treatments or enhancements made to their gems before selling them to jewelers and resellers. The open disclosure policy has become an industry standard, so much so, that suppliers who do not disclose treatments or enhancements prior to offering them for sale are frowned upon and branded as unethical or cheaters.
However, this is not the case for the jewelry retailer. On the retailer's end, most jewelry is often sold without disclosing any of these details to the consumer. In fact, do you ever recall a retailer asking you if you would be interested in purchasing an "irradiated Swiss blue topaz pendant" - or perhaps an "18K beryllium-heated sapphire ring"? Indeed, many of the gems shown in stores today have been treated to improve color, clarity and sometimes even size, but most retailers won't tell you this unless you ask them. It may be in the small print if you read carefully. Even routine gem treatments such as oiling (emerald) or heating (ruby and sapphire) are usually handled with a "don't ask, don't tell" policy. However, in the end most consumers don't mind as long as the jewelry item can be appraised for the price they've paid, or sometimes more.
Virtual Inventory
Most consumers have no idea that the diamonds offered for sale are not actually available for immediate sale. In fact, that very same stone you've been contemplating is likely featured on hundreds of other jewelers' websites, and depending on individual mark-ups, it can be listed at different prices too. Why? Because it would be far too costly for jewelry retailers to keep thousands of diamonds in stock. And if they did have thousands of diamonds in stock, even big chain stores would take several years to rid them from their inventory and earn a profit. This is why jewelers and retail stores use a shared virtual inventory.
Diamond suppliers upload availability information to a centralized feed, removing and adding items as they're bought and sold. The database is accessible to thousands of jewelry trade members from all over the world. This virtual stock system is good for both jewelers and suppliers. It is important to always check and compare prices before buying jewelry, because that same gem is likely priced lower somewhere else. Most consumers have the assumption that the best prices are found at big name stores because they sell in volume, but in many cases, smaller, independent jewelry stores will offer better prices than chain stores. Also, most jewelers will happily haggle over prices and offer discounts, but only if you ask them.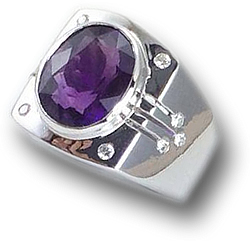 Men's Amethyst Silver Ring
In-store Warranties
Thinking about purchasing that extended warranty? Well, think twice. Almost every jewelry store will offer in-house warranties for their items, but at an added cost, sometimes amounting to several hundred dollars. Having an extended warranty often gives consumers a false feeling of full protection. In-house warranties are usually not worth the added costs. They may cover labor defects, but then again, you shouldn't need a warranty for that. Most in-house warranties do not cover full loss, and chances are you won't notice something wrong with your ring until it's too late. Rather than purchasing a warranty, it is far better to cover your jewelry with homeowner or renter's insurance because these policies often provide full coverage, so even if your jewelry is lost, damaged or stolen, you're fully protected.
These are many other secrets of the trade, so the list certainly does not stop here. Always ask questions before buying, and buy from reputable sources. If you are buying anything expensive, ask your jeweler to put the details in writing along with the sales receipt. Important details include metal purity, metal weight, gemstone carat weight, and the diamond or gemstone grades if available. After buying expensive jewelry from one jeweler, you can always take the item to another jeweler from a different shop to provide you with an apprasial. The appraisal of value should be made by an independent accredited gemologist.