GemSelect April 2014 Newsletter - Swiss Blue Topaz
| | |
| --- | --- |
| | Swiss Blue Topaz |
Azure Blue
Swiss blue topaz is a color somewhere between sky blue and London blue. The middle of the road for blue topaz; not too light and not too dark and without the dark greenish color of London blue. It may be the middle of the road, but this gemstone is certainly not mediocre. Swiss blue topaz has a beautiful vivid blue color.
The hue of Swiss blue topaz has been compared to the azure of the sky and the vivid blue of the ocean. Swiss blue is a little brighter than aquamarine and lighter than electric or cobalt blue.
Blue is said to be the color of calm. Peace and tranquility can be found when looking into the blue of the ocean. Blue symbolism relates to trust, wisdom, confidence and truth. The calming effect of blue is thought to slow the metabolism. Additionally, light blue is a more feminine shade than dark blue and is associated with healing, understanding and tenderness.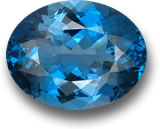 London Blue Topaz
In nature, blue topaz is a very pale blue, so in order to achieve a vivid blue, topaz is enhanced through a stable and permanent procedure, known as irradiation. Topaz gemstones are exposed to an artificial source of radiation to alter their color. Sometimes, heat treatment is used following irradiation to change the color of gemstones even more. This is known in the trade as "combination treatment". A deep blue enhanced topaz is known as "London blue"; medium blue is called "Swiss blue" and light-blue is termed "sky blue". Those who feel anxious at the thought of wearing irradiated gemstones can rest assured that the distribution of irradiated gemstones is strictly regulated to ensure that these gemstones do not reach the market too soon after irradiation, for the safety of all, from lapidarists to jewelry designers and finally, those who wear the jewelry.
Topaz is an understated gem, it is affordable, has great hardness, luster and excellent clarity. In fact, the famous "Braganza Diamond", a 1680 carat stone owned by the Portuguese royal family, was revealed to be colorless topaz. This shows just how brilliant topaz gemstones are, such that they can be mistaken for the most popular and highly prized gemstone of all time; diamond.
Blue topaz is one of the top selling non-traditional colored gemstones. Swiss blue topaz can be overlooked, since the darker London blue is tends to be the most highly valued. However, the softer and more feminine Swiss blue makes a stunning jewelry gemstone.
Swiss blue topaz is the perfect colored gemstone for the summer. When set in silver, platinum or white gold, it looks cool and icy. In yellow gold settings, it is reminiscent of golden sand and ocean blue.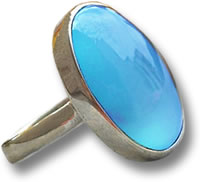 Swiss Blue Topaz Ring
Since Swiss blue topaz is affordable in substantial sizes, it is an excellent gemstone for cocktail rings or pendants. One ring by Paolo Costagli features an approximately 35 carat cushion-cut Swiss blue topaz set in 18 karat white gold and is called "by the pool", probably due to its cool, watery blue hue. Versace have used faceted blue topaz in their Barocco range and have also created a "V-line" cabochon-cut blue topaz in a white gold set ring. Gucci have a checkerboard-cut topaz dinner ring.
Anzie have a range of jewelry fashioned from Swiss blue topaz, which includes silver earrings, bracelets and necklace pendants. Swarovski have produced faceted blue topaz beads. A number of Cartier products use Swiss blue topaz, such as an amethyst, diamond and blue topaz necklace and a platinum set blue topaz and diamond brooch. Tiffany and Co. designer, Paloma Picasso designed a simple blue topaz dot charm that incorporates a smooth topaz cabochon in 18 karat gold. Some designers mix London blue, Swiss blue and sky blue topaz into one piece of jewelry, which shows an intriguing range of hues.
The Duchess of Cambridge has been seen wearing a pair of pale blue topaz and diamond hoop earrings by Kiki McDonough. She also has peridot, blue topaz and diamond earrings by Ms McDonough.
Vanessa Williams from "Desperate Housewives" was snapped in West Hollywood, wearing a Manya & Roumen 18 karat gold Celestial Goldfish ring with eyes made from Swiss blue topaz.
Singer, Katy Perry wore a sterling silver blue topaz cuff bracelet by Anzie for the 21st Annual MuchMusic Video Awards.
Ammolite Gemstone
Ammolite is a rare organic gemstone, made up of the fossilized shells of Ammonites. Aragonite is the material that ammonites are mostly composed of; the same material found in nacreous pearls. Ammolite gemstones have a striking play of iridescent color, which mostly exhibits green and red hues. In rare specimens, pinks and purples can also be seen. This is a result of light reflecting off thin platy layers. Ammolite is only found on the eastern side of the Canadian Rocky Mountains and this supply is expected to be depleted within around twenty years. Alberta and Lethbridge have both declared ammolite to be their official gemstone. Ammolite is also known as "korite". Due to the fragility of ammolite, it is usually layered for use in jewelry. When used as a jewelry gemstone, ammolite emits such an interesting play of color that it draws attention to the wearer.

Imperial Topaz Gemstone
Imperial topaz is the most sought after natural topaz and is considered to be the color of the setting sun. It is also known as "precious topaz". In the 17th century, it was mined in Russia and was exclusively worn by the Russian Tsars. Imperial topaz used to be the term reserved only for orange topaz with red dichroism, but nowadays, imperial topaz refers to a wider range of colors, including yellow, pink and pink-orange. These golden, peachy and pink tones are in trend for spring and summer 2014. The versatility of topaz allows for a variety of jewelry designs, with both large and small gemstones in a range of cuts and shapes.
Chrome Tourmaline
Gemstone quality forest-green chrome tourmaline from Tanzania is rare; therefore, it is seen in private collections more often than in jewelry designs, which is a shame because it is a beautiful gemstone. It is a variety of chromium-bearing green dravite. Chrome tourmaline sometimes also contains vanadium, which is the coloring agent found in emerald and tsavorite garnet. Chrome tourmaline has good hardness, but is often only available in small sizes. Jewelry designs for chrome tourmaline include bezel-set and pronged-set rings, earrings and pendants. Chrome tourmaline is said to rival the green of emerald and tsavorite, but has the advantage of being available at more affordable prices.
On April 16th, Christie's New York will hold a magnificent jewels spring sale at the Rockefeller Center. Both colorless and colored diamonds will be on sale and Christie's anticipates procuring over $50 million in sales. The lot features a 6.10 carat intense pink diamond ring, which is expected to sell for $4 to $6 million.
Graff Diamonds revealed a $55 million lady's watch, called "Hallucination", which features rare multicolored diamonds, at BaselWorld 2014. The timepiece is said to be the most valuable watch ever made.
Tiffany & Co. will welcome new executive vice president and chief financial officer, Ralph Nicoletti, from 2nd April 2014. Mr Nicoletti will be moving from CIGNA where he held the position of executive vice president and CFO. The current chief operating officer and CFO, Mr James Fernadez, will be retiring in July.
| | | | |
| --- | --- | --- | --- |
| Event Name | Location | Venue | Dates |
| BaselWorld 2014 | Switzerland | Basel Exhibition Centre, Basel | March 27 - April 3, 2014 |
| Jewelry and Gem Fair (JGF) Europe 2014 | Germany | Messe Feiburg, Germany | April 1 - 4, 2014 |
| Kofu Jewelry Fair 2014 | Japan | Exhibition Hall, Almesse Yamanashi, Japan | April 2 - 3, 2014 |
| Rock, Mineral, Gem, Jewelry & Fossil Show | USA | Florida National Guard Armory, 2809 South Fern Creek Avenue, Orlando, Florida, USA | April 4 - 6, 2014 |
| The Best Bead Show | USA | Double Tree Miami Mart, Miami, Florida, USA | April 4 - 6, 2014 |
| Smart Jewelry Show 2014 | USA | Navy Pier Chicago, USA | April 5- 7, 2014 |
| Oroarezzo, Italy 2014 | Italy | Fairs and Congresses Arezzo, Italy | April 5 - 8, 2014 |
| JOYA | Mexico | Expo Guadalajara, Jalisco, Mexico | April 8 - 10, 2014 |
| NY/ NJ Mineral, Fossil, Gem & Jewelry Show | USA | New Jersey Convention & Exposition Center, 97 Sunfeld Avenue, Edison, New Jersey, USA | April 11- 13, 2014 |
| Gemboree, Australia's 50th National Gem, Lapidary, Jewelry & Mineral Show | Australia | Gatton Showgrounds, Gatton, Queensland, Australia | April 18 - 21, 2014 |
| Malaysia International Jewelry Festival | Malaysia | Kuala Lumpur Convention Centre, Kuala Lumpur, Malaysia | April 18 - 21, 2014 |
| 12th Gold & Jewelry Exhibition | Kuwait | Kuwait International Fairgrounds, Mishref, Kuwait | April 21 - 26, 2014 |
| Jewelry Fair Korea, 2014 | South Korea | COEX, 159 Samseong dong, Gangnam-gu, Seoul, South Korea | April 24 - 27, 2014 |
| International Gem and Jewelry Show | USA | Monroeville Convention Center, 101 Mall Blvd., Monroeville, Pennsylvania, USA | April 25 - 27, 2014 |
| Mineral, Gem and Jewelry Show | USA | Macon County Fair Grounds, 3700 Westlawn Ave, Decatur, Illinois | April 26 - 27, 2014 |
| 36th MidEast Watch & Jewelry Show | UAE | Expo Centre Sharjah, UAE | April 29 - May 3, 2014 |
Every month we answer questions of general interest from our customers. Please feel free to send your questions or suggestions to our support team at Help@GemSelect.com!
| | |
| --- | --- |
| Q: | Are GemSelect's gemstones natural? |
| A: | Yes, we only sell natural gemstones and do not stock synthetic or lab-created gems. Any treatments or enhancements are declared, in order to prevent any misunderstanding or disappointment. We pride ourselves in providing only natural materials at affordable prices. However, some gemstone types are routinely treated. If any of our gemstones are treated or enhanced, rest assured that GemSelect will declare this. |
| Q: | Hi, I'm new to colored gems and would like to ask what is most important in colored diamonds, clarity or color? |
| A: | For colored diamonds, color is king. Colored diamonds are evaluated slightly differently to colorless or white diamonds, and the most important factors are hue (the characteristic color), tone (lightness or darkness of color) and saturation (depth or strength of color), followed by clarity. |
We hope you found our topics interesting. Please feel free to send us your questions, comments or feedback!
To ensure you can receive our emails, please be sure to add help@gemselect.com to your list of safe contacts, or you add us into your email address book! Please feel free to contact us with any questions, comments and queries! We respond to each and every email we receive.
Happy gem hunting,
Your friends at GemSelect