About Blue Topaz
According to a well-known gem and jewelry industry magazine, "Colored Stone", since the early 2000s, blue topaz has become the second most popular gemstone in the world (sapphire is consistently number one). Topaz popularity is certainly not surprising. Topaz is a very hard material - 8 on the Mohs hardness scale - and blue topaz is a very pretty stone that is available in a wide range of vivid hues with a striking vitreous luster. It is also a very affordable gem when compared to the price per carat of similar colored gemstones such as aquamarine.
At the same time, blue topaz is a gem that is not well understood by many buyers and some recent controversy in the USA has led some buyers to rethink their blue topaz purchases. In this case, access to the correct information can help blue topaz customers make informed decisions about whether to buy blue topaz or not. There are two important things to know about blue topaz. The first thing is that while topaz is very hard, it is not the most durable gemstone. That's because it has perfect cleavage, a property it shares with diamond. That means it can be chipped or split by a sharp blow, so it should be protected from hard knocks.
The second important thing is that topaz does not occur naturally in the deeply saturated blues you find on the market today. Blue topaz in nature is very rare indeed and tends to be a very pale blue. The vivid blues available on the market have all been produced by treatment and enhancement of colorless white topaz - with irradiation and often also with heat. The color change in blue topaz is considered permanent and stable. In the past, there was some controversy about the safety of this treatment for the consumer, but in July of 2007, the American Nuclear Regulatory Commission (NRC) tested 9 batches of irradiated blue topaz gems, averaging 500 carats each, and found that the results showed none of the enhanced topaz material posed health risks to consumers.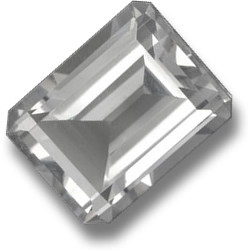 There are three different irradiation methods used to produce blue topaz. One method, used to produce a very pale blue hue is exposure to a gamma ray source in a cobalt irradiator. This method does not cause gemstones to be radioactive. The second method is electron bombardment in an accelerator. This is also known as 'linac' treatment and produces the color seen in 'sky blue' topaz. The third method of irradiation exposes topaz to fast neutrons in a nuclear reactor. This produces the darker hues known as 'London blue'. Due to residual radioactivity, irradiated topaz must be held in a secure facility for a specified period of time before it can be released for heating, cutting and polishing. The length of time varies from a few weeks for linear accelerator irradiated topaz, to a several years for topaz irradiated in a nuclear reactor.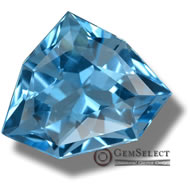 There are very strict rules in place to protect not only consumers but also the cutters and gem dealers who handle these gems on a daily basis. In July of 2007 the American Nuclear Regulatory Commission (NRC) reminded the gemstone and jewelry industry that current regulations require the initial importer of irradiated gems to be licensed by the NRC. Importers of blue topaz in the US may seek certification from companies that hold an NRC licence, in order to assure themselves or customers that these gemstones are completely safe.
The NRC issued a fact sheet on irradiated gemstones to assure the public that these treated gemstones were indeed quite safe for jewelry and collectors. The NRC is now working with the industry to put a testing system in place that will include blue topaz treated in linear accelerators, as well as material treated in nuclear reactors. Anything that can be done to assure the market that these beautiful and very popular blue topaz gemstones are indeed safe is well-worth doing.