I Want to Buy Gemstones; What are my choices?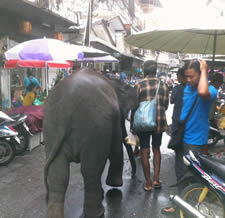 Gemstone Market in Chanthaburi
So you want to buy gemstones?
Maybe you're treating yourself or someone close to you to a special gift and you want to have some jewelry made. In that case you will be buying what are referred to as loose gemstones. Loose gemstones are cut and polished precious and semi-precious gemstones that have not been mounted or fixed into jewelry. They are just loose stones. Loose gemstones should be genuine, original, precious and semi-precious stones, not artificially produced materials, which are called synthetics and are made in laboratories. Synthetic or artificial gemstones are the types normally found in low-priced jewelry.
So, if you are looking for gemstones to buy then we can assume that you are looking for a genuine loose gemstone. Precious and semi-precious stones are usually bought from an online gem supplier, a gem and jewelry trade fair, or from a gemstone wholesaler or a retail jeweler. If you have a jewelry shop, or make your own jewelry, then you may buy your gemstones from any one of these parties. Online retailers, if they are a good retailer, will have plenty of loose gemstones for you to choose from, including a large variety of different gemstone types, in a multitude of shapes and cutting styles, and in a wide range of sizes and stunning colors available in different carat weights.
Loose Gemstone Wholesalers
If you wish to buy in bulk and don't have any specific customers in mind, then you may wish to buy from a gemstone wholesaler. Most often the wholesaler will visit you at your business premises with his loose gemstones. Most wholesalers have an established list of clients and you may wish to shop around for a suitable wholesaler to do business with.
Gemstone Trade and Street Markets
Buyers in the jewelry business also attend
trade shows
to buy their precious stones. So, if you have a lot of time to spare and do not mind spending your day examining a multitude of gemstones,
and
you intend to buy your loose gemstones in bulk quantity, then you may consider attending a trade show.
Popular trade show events
include Tucson's Mineral and Gem Show, JCK Las Vegas, as well as Hong Kong's and Bangkok's
gem and jewelry events
.
A great example is the weekly gem market in Chanthaburi in Thailand. Every weekend, hundreds of people, wholesalers and buyers, flock there to do business. In fact, Chanthaburi is where many of the Thai gemstone dealers and jewelers (for example jewelers in Bangkok) buy their own loose gemstones.
At a gemstone market you make your interest known to the sellers, for example, you may wish to buy sapphire and tourmaline, and they will come to you. A broker will normally approach you with a collection of loose colored gemstones and negotiate with you. At some markets you can reserve a table and sit all day negotiating with sellers as they take their turn and present their gemstones to you.
Online Gemstone Wholesalers and Retailers
Not everyone has the time or inclination to spend all day at a gemstone market. So, if you are a private buyer and you are buying a single gemstone or two for a special occasion, and maybe just have an interest in precious stones, then your best option will be to buy a loose gemstone from an online retailer. Choose an online retailer with a large choice of precious stones. Check out the description and details of the retailer's gemstones. Read their
return policy
and their
shipping information
. Finally, look and investigate for genuine customer reviews to see what other buyers' dealings and experiences were like shopping with them, both good and bad.
GemSelect Online Gemstone Supplier
Advantages and Disadvantages
Gemstone Wholesaler
Advantages:
Normally they will visit you at your premises with their loose stones.
You can build up a business relationship and establish trust.
You get to see and touch the gemstones.
You can inspect the quality.
You can negotiate a good price for the gemstones by buying in bulk.
Disadvantages:
Your market and choice is restricted.
You often times cannot buy single gemstones.
Gemstone Trade Shows and Gem Markets
Advantages:
You get to see a large variety of loose precious stones.
You can see and touch the stones.
You can inspect the quality.
You can usually have the gemstones tested on-site.
You can negotiate a good price for the gemstones by buying in bulk.
 Disadvantages:
It is very time consuming. You will first need to travel to the show.
You will need to spend all day or weekend choosing your gemstones.
It can be tiring and stressful.
You have to be very careful who you are doing business with. i.e. what are the guarantees? Will there be a genuine return policy?
Online Gemstone Wholesalers and Retailers
Wholesale Gemstone Supplier
Advantages:
Ease of buying your gemstones. You can buy from the comfort of your own home or business.
No time issues. Take your time, you can visit and re-visit the sites numerous times until you have made your mind up on what precious stone you want to buy, if any.
Stress and hassle free. You are in control and you can decide when, if and how you will make the purchase.
Wide variety of choice. Choose an online retailer with a large inventory of gemstones and take your time. You can choose all the gem stone types, shapes, cuts and colors, all in one convenient place.
Costs are minimal.
You are protected by your credit card issuer or Paypal (if offered).
  Disadvantages:
You cannot touch or feel the gemstone until it arrives.
You cannot purchase it immediately but have to wait a few days for delivery.
You have to rely on the integrity of the retailer to uphold the return policy.
We hope this article will help you to make a decision on how you should buy your gemstones and possibly put your mind at rest.