Fine Jewelry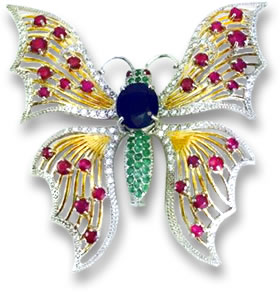 Colored Gemstone Butterfly Brooch
There are several different terms used to refer to gemstone jewelry. For example, costume jewelry, fashion jewelry, couture jewelry, fine jewelry, luxury jewelry and high jewelry, to name just a few. But what do they all mean?
Costume jewelry used to refer to jewelry of lesser value or imitation items, but now the term has expanded to accommodate the word "fashion", and costume and fashion jewelry are simply defined as adornments that are designed or worn to be in style. These jewels may be made from high quality materials by hand, or they could be produced from inexpensive materials and mass-produced. A related term introduced by fashion houses is "couture" jewelry, which also refers to fashion jewelry. Couture or fashion jewelry can be of considerable value, especially if it is produced by a famous fashion designer.
Another term for jewelry is "fine" jewelry. This used to be a generally accepted term for jewelry made from precious metals and precious gemstones. But the gemstones that are traditionally thought of as "precious"; diamond, sapphire, ruby and emerald, are not necessarily the most valuable gemstones. In fact, imperial jade, imperial topaz, tanzanite, aquamarine, pearls and several other gems are just as sought-after and high value.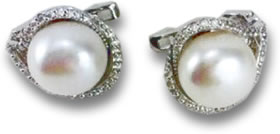 Pearl Earrings
When it comes to precious metals, for "fine" jewelry, the lines are also blurring. Alternative metals are becoming more popular, which means that the definition of "fine" jewelry is evolving into something different.
Some consider fine jewelry to be an art form. This means that each piece is painstakingly produced by hand, rather than mass-produced by machines. There seems to be a fine line between fashion jewelry and fine jewelry. According to the dictionary, for something to be fine, it should be of superior quality, skill or appearance. Yet, it could also be carefully or delicately made, refined and elegant, or excellent in quality. There are differences of opinion when it comes to a clear definition of fine jewelry.
"Luxury" is an additional word that is used to refer to jewelry. Like the word "fine", this is another term that is open to interpretation. If something is a luxury, then it is not a necessity. Therefore all jewelry could be considered luxury items. However, another opinion is that only the most sumptuous, indulgent or extraordinary pieces should be referred to as luxury jewelry.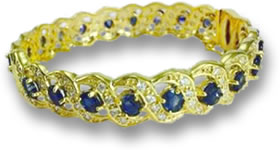 Gold, Sapphire and Diamond Bracelet
Alternatively, the word "high" is used for jewelry, meaning "high-end" jewelry. This is also known by the French term "haute joaillerie". This would indicate expensive jewelry that appeals to sophisticated or discerning customers. Yet, doesn't every customer consider their choices to be discerning? This could invite jewelers to put a high price tag onto jewelry items to market them as "high" jewelry.
To conclude, as they say, beauty is in the eye of the beholder. The ways in which jewelry is defined depend upon personal opinion and preferences. Perhaps the only way to truly define jewelry is not by its price tag, but by considering the following: The gemstones used and their type, color, clarity, carat weight, cutting style and scarcity. Also, the types of metals used, the amount and purity level. Lastly, the workmanship should be taken into account, since true works of art require extra attention to detail.