Exquisite Emerald Tiaras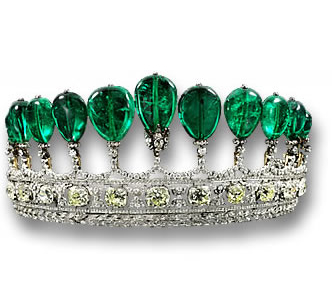 The Princess Katharina Henckel von Donnersmarck Emerald Tiara
Tiaras have long been associated with members of the monarchy and marriage. Opulent and ostentatious items such as these represent a significant part of the crown jewels of most kingdoms. Such headgear is donned by brides the world over, who allow themselves to feel like princesses on their all-important wedding day. This article presents some of the most enchanting emerald tiaras. The emeralds in these tiaras are among the rarest jewels in the world.
The Princess Katharina Henckel Von Donnersmarck Tiara
An incredibly impressive tiara achieved a record-breaking $12.7 million at Sotheby's Zurich in May 2011. At the time of the sale, it was reported to be the most valuable emerald and diamond tiara to be seen at auction in 30 years. This stunning piece was commissioned around the turn of the 20th century by Count Henckel First Prince von Donnersmarck, who was an extremely wealthy German businessman. Prince Henckel had the tiara made for his second wife, Princess Katharina. It features 11 Colombian pear-shaped emerald drops that weigh around 500 carats in total. It is possible that the emeralds previously belonged to Empress Eugénie as part of the French Imperial Crown Jewels, which were sold at auction following the fall of the French monarchy. Previous to this, the emeralds could have belonged to an Indian Maharajah. Sotheby's has seen other jewels from Count Henckel von Donnersmarck's family. The Count bought a pair of yellow diamonds for his first wife, Pauline Therese Lachmann, which achieved $7.9 million in 2007.
Queen Victoria's Emerald and Diamond Tiara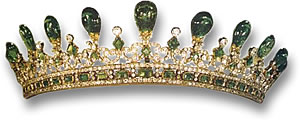 Queen Victoria's Emerald Tiara
Queen Victoria is probably best-known for her sombre appearance, since she wore mourning jewelry from the death of her beloved husband, Prince Albert in 1861, until her own death in 1901. As befitting an influential monarch and Empress of India, Queen Victoria owned an incredible collection of jewelry, including an emerald and diamond tiara that was designed by her art-loving, devoted husband, Prince Albert. The tiara was made in 1845 by Joseph Kitching for the sum of £1,150. It is a Gothic style piece encrusted with hundreds of diamonds. The top of the tiara features large, drop-shaped emerald cabochons mounted on spikes over diamond-shaped and octagonal faceted emeralds. It was said to have been one of her favorite items of jewelry. The tiara is now thought to be owned by one of Queen Victoria's descendants. It was last seen on the head of Caroline Worsley, the former wife of the Duke of Fife, in 1960 at the State Opening of Parliament.
The Duchess of Angoulême's Emerald Tiara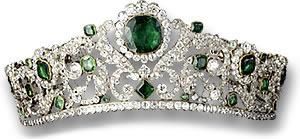 Duchess of Angoulême's Emerald Tiara
This tiara was made by jeweler brothers, Evrard and Frederic Bapst, in 1819 for Marie Therese, Duchess of Angouléme, the daughter of King Louis XVI and Marie Antoinette. The tiara contains over a thousand glittering white diamonds set in silver and 40 emeralds set in gold, in a scrolling design. The centerpiece is a large cushion-cut emerald surrounded by brilliant-cut white diamonds. The tiara incorporated 14 emeralds and other materials from the French Crown Jewels. In 1830, the Duke of Angouléme became King and Marie Therese became Queen of France for just 20 minutes before Louis XIX abdicated and the couple left France for Britain. Upon their departure, Marie-Therese retuned her emerald and diamond tiara to the state. The tiara then became the property of Empress Eugenie, last Queen of France. Like many other French Crown Jewels, the tiara was auctioned off after the fall of the French monarchy. The buyer was thought to have been British, since the tiara reappeared in the UK and was once owned by Wartski's of Mayfair. The tiara was later exhibited at the Victoria and Albert Museum in London for twenty years from 1982. In 2002, the owner decided to sell the tiara, which has returned home and now stands among the French Crown Jewels in the Louvre.
These days, tiaras seem to be making an attempt to become more mainstream in the form of modern metallic head decorations. However, these are not the large, regal head decorations that are pictured above, but are somewhere between a simple headband and a tiara. The modern fashion tiara functions as a neat and stylish hair ornament rather than a statement of prestige. Nevertheless, it can make a woman feel like a princess, even on a dull day.