Emeralds from Zambia
When most people think of fine emeralds, they think of Colombia. Brazil is also an important source for emeralds, mainly for mid-grade product. However, Colombia has the greatest mindshare among consumers for higher quality emeralds. In the gemstone trade, however, another source is attracting a great deal of attention, that is Zambia.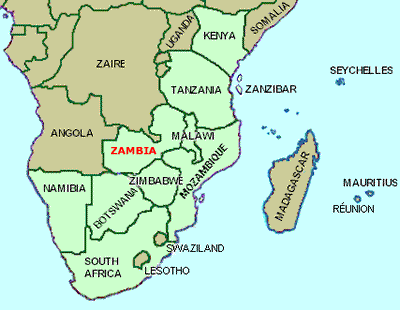 Map of Southern Africa
The Republic of Zambia is located in Southern Africa, in a region rich in gemstones. Many of its neighbors are more famous for gems, especially Mozambique, Tanzania and Namibia. Once known as Northern Rhodesia, Zambia gained its independence from Britain in 1964. Zambia is slightly larger than the state of Texas and has a population of around 12 million people. The economy has traditionally been dependent on copper mining, but the country is trying to diversify by promoting agriculture, tourism, gemstone mining and hydropower. However, it remains one of the poorest countries in the world.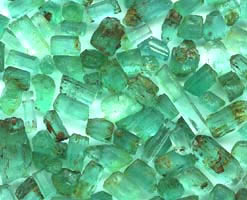 Zambian Emerald Rough
Large scale emerald mining began in Zambia around 1976. The color of the Zambian stones tended to be a more saturated green than the Colombian emeralds, but what was most notable about the Zambian material was its transparency and clarity. Colombian emeralds tend to be highly included with many internal fractures and fissures. The chief attraction of Colombian emeralds is their outstanding color. The Zambian material showed that emeralds could also display excellent transparency and brilliance.

Zambian Emerald
The high end market was slow to accept Zambian emeralds, but that began to change when Tiffany & Co. began to promote emeralds from Zambia in 1989. Today Zambian emeralds are well-respected and recognized for their own distinctive characteristics. Zambian emeralds now constitute about 20% of the world's supply. Some of the Zambian emeralds are dark-green, and some have a bluish tone, especially under incandescent light. But many Zambian emeralds rival the Colombian product for color.
Kagem is the largest emerald mine in Zambia and has a long and history of producing high quality emeralds. During the last three years, Kagem has produced an average of 6.5 million carats of emeralds annually.