Gemstone Earrings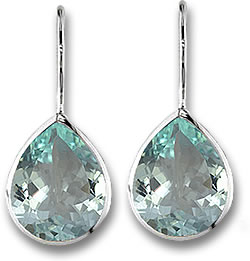 Pear-Shaped Aquamarine Earrings
Gemstone earrings are available in all colors, shapes and sizes. If you are a fan of earrings, consider choosing your own loose gemstones to design your own unique and stylish earrings. There are a few things to consider when it comes to making your own personalized colored gemstone earrings, in order to get the right look. We would like to offer some advice to help you to get the best out of your gemstone earrings.
Earring Size Does Matter
For those born with long graceful necks, almost any style is suitable. However, people with short necks do not always suit long earrings, which can emphasize problem areas for the wearer rather than enhance and lengthen. If the earrings are touching the shoulders, they will make the neck appear shorter, whilst some dangle earrings that are not longer than an inch or so will add length to a short neck. Width is also important. People with wide features can use contrasting long earrings to elongate the face. However, those with narrow features look best in rounded earrings, such as hoops.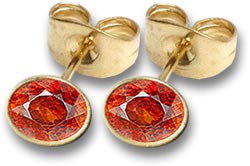 Sphalerite Gold Stud Earrings
Face Shape - How to choose
When wearing earrings, it is important to consider face shape. Earrings can help to balance the face and it is useful to know how to do this. The general rule is to use earring shapes that contrast with the face shape. For example, those with long faces should not wear long earrings, which may make the face appear even longer. Long faces benefit from round earrings which help to make the face appear fuller and wider. People with heart-shaped faces can balance out their pointed chins by wearing earrings that are wide at the bottom. Round faces can be lengthened with long earrings and those with square jaws gain softness from rounded earrings such as hoops. Small studs flatter those with delicate features, but may be lost on larger-featured people. Those lucky people with oval faces can wear any earring type.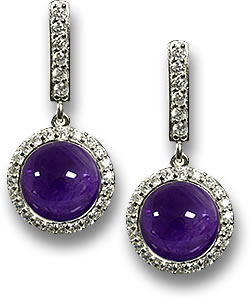 Amethyst Cabochon Dangle Earrings
How to Choose Earring Color
As the right colored clothing enhances skin tone, jewelry should also be chosen in flattering colors. This includes both the setting material and also the color of the gemstones. People with cool coloring tend to look best in white gold, silver, platinum and tungsten. Warm-toned people suit rose gold, yellow gold, copper and bronze colored metal. This also applies to colored gemstones, so cool toned people should choose cool colored gems, such as Swiss blue topaz and light amethyst. Warm toned people should choose warm colored gems, such as orange sapphire, brown smoky topaz and red ruby. Earrings can bring out hair color as well as skin tone. For instance, cool hues such as turquoise provide an interesting contrast to red hair. Additionally, carefully chosen earrings can enhance an outfit.
What to think of when designing Earrings - Hair
When choosing a pair of earrings for the day or night, hairstyle is another factor to take into account. If you have long hair and are wearing your hair up, dangling earrings such as teardrops are perfect for balancing out a fully exposed face. Alternatively, studs can be seen clearly when the hair is out of the way. Long chandelier earrings can be a little too much for a fully exposed face, since they can make the face appear too long. For a ponytail it is best to wear earrings that are not longer than the jawline. Those with short hair can experiment more with earring styles because their earlobes are exposed. Long hair will tend to cover small earrings, so larger earrings can be worn with long hair worn down.
Please be aware that each gemstone is a unique product of nature, so it can be a challenge to find an exactly matching pair of gemstones with regard to size, shape, dimensions and color. If you are interested in making a pair of earrings or a suite of jewelry, it is possible to buy a matching pair of gemstones. However, if you do not see a matching pair in our online inventory, please contact us and let us know. Our staff will be happy to find a match for you.