June 2013 Newsletter: Great Ideas for your Loose Gemstones
Great Ideas for your Loose Gemstones
As many of you may already know, there are very few bargains to be found when buying preset jewelry. This is because preset jewelry is driven by ever-increasing market prices and packed full of hefty premiums including raw materials, labor, craftsmanship and other variables. Many times, the biggest cost factor when purchasing preset jewelry is the designer or brand name, which sometimes amounts to more than everything else combined. Unfortunately, this behavior isn't limited to the jewelry industry, in fact, very rarely will the brand name not affect pricing for certain commodities. Luckily, natural gemstones happen to be one of those commodities, because natural gems are 'manufactured' by only one designer - Mother Nature!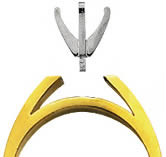 Jewelry and gemstone lovers are becoming savvier every day when shopping for gems and jewelry. Many are cleverly creating their own bargains by purchasing stones and settings separately and by purchasing items online rather than in-store. The tremendous growth and popularity of "do it yourself" has exploded over the past couple of years. The do-it-yourself trend has become so popular that it even has its own officially recognized acronym, "DIY". Making DIY jewelry not only leaves a little extra in your pocket, but it can also be fun and much more rewarding than simply buying 'off-the-rack'.
So why buy loose gemstones? Well, buying loose gemstones rather than preset jewelry is like bringing your own steak to Applebee's! You bring it and they grill it! It also assures you higher quality, more variety and extra money!
Quality
Once a gemstone has been set, it's very difficult to know the actual quality of the stone. Jewelry settings can easily hide and obscure blemishes, which makes it very easy to mislead you into thinking a stone is better than it actually is. It's not uncommon for shops to showcase their finest stones loosely and then display preset jewelry using lower quality stones. This can give the false impression that the high quality stones on display and the ones featured in the preset jewelry are one and the same! This may not always be the case, so buyers should always beware, always ask questions and buy only from reputable jewelers.
Variety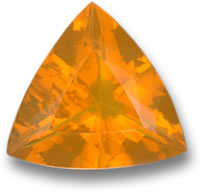 Why buy 'off the rack' when you don't have to? When buying loose precious stones, you can choose your own gem type, color, shape, cut and size. With preset jewelry, what you see is what you get and chances are, hundreds of other folks are wearing the same exact designs. By choosing your own gemstones, you have unlimited variety and choice, and since precious gems are like snowflakes, you can rest assured knowing that your personalized jewelry is exactly that - personalized and therefore unique. Even if the jewelry settings are standard stock designs, by choosing your own shape, color, cut and gem type, the look and style of the ring will not be a cookie-cut design. Imagine a plain gold ring with a round colorless stone, and then imagine the same ring featuring a trillion-shaped Mexican fire opal. A simple change in gem type can make quite a difference.
Money
Last, but certainly not least, buying loose gemstones can save you money. That's right – we said 'can'. This is dependent entirely upon where or whom you buy your stones from. Buying from your neighborhood 'megamall' or luxury retail store most likely won't save you a dime. Confucius once said, 'Too many hands in the cookie jar only leave crumbs for none". So basically, the less hands your stones pass through, the more cookies you'll have left over for you. The key to saving money is buying direct from the source or at least as close to the source as possible.
So I have a Loose Gemstone – Now What?
Many times, our customers ask us for ideas about what to do with their loose gemstones. Unless you're a collector of gems or a connoisseur, chances are you'll want to wear your gemstones, because as beautiful as they may be, only after setting them into wearable jewelry can they truly be appreciated.
Your Local Jeweler
Working with your local jeweler is the easiest solution, but you do not have to spend a fortune on a custom setting. A more affordable solution is to choose a standard setting and have your jeweler set the stone for you. Standard settings are typically available with stock 'heads' that accommodate calibrated gemstones. We have thousands of calibrated gemstones available – all precut and measured to fit standard settings. If you plan to do this, we recommend first choosing your setting and then buying your stone. Be sure to buy your stones based on measurements (size) and not by carat weight.
Ask your jeweler for size and shape specifications for your desired setting. Almost all settings will allow some variance for size. It is worth bearing in mind that most stock settings have easily interchangeable heads, meaning you can easily swap heads to accommodate larger, smaller or different shaped stones. This small customization is generally not expensive and it's a very common request that any skilled jeweler can arrange.
Gem Collecting and Ornamental Design
One of the easiest things to do with your loose gemstones is to simply collect them and put them on display. Just like any other collectable item, the value of gemstones appreciates over time and collecting gems requires nothing more than display sets and some identification labels. There are countless varieties, colors, shapes and patterns of gemstones available, so collecting gemstones can be a hobby to continue for generations.
Aside from simply displaying your collection, gemstones make excellent household ornaments too. You can use them as simple paper weights or for much more creative uses such as feng shui or other traditional practices. Most ornamental gemstones are available as carvings and other interesting freeform shapes. You can find them available in a number of different gem types shaped as animals, flowers and other wonderful objects of nature.
String Jewelry
Create your own jewelry using stranding techniques! Strung jewelry has been worn for thousands of years and is an excellent option for loose gemstones. Stranded jewelry does not require drilled gemstones as most people tend to believe. Gems can be set into premade heads, baskets or findings and then strung into wonderful necklace, bracelet and anklet designs. You can make strung jewelry using a range of materials from cotton string to fishing line, or even leather and precious metals.
Strung jewelry has become one of the hottest trends of the decade. You can find designs ranging from simple pendants strung from strips of leather to complex multi-stranded designs with price tags that would blow your mind.
Beaded Jewelry
Beaded jewelry requires the use of drilled gemstones. You can buy your gemstones predrilled, but if you want more variety, you can drill them yourself. It's a relatively easy process. However, before you begin drilling expensive tourmaline gems, we definitely suggest honing your skills using some common rocks found outside your home.
Making your own beaded jewelry is as easy as pie. You can use rough, tumbled, faceted or cabochons stones of any type. The possibilities are endless. However, please be aware of various hardness levels. For example, you wouldn't want to bead sapphire next to sphene, unless something is strung between them for protection. Always use high quality string for beading, because more often than not, beaded jewelry tends to break due to string quality and not craftsmanship. Spending a few dollars more for quality material is definitely well worth it.
We're frequently asked "How many beads or gemstones will I need?", but there isn't a fixed number since all gems have varying densities. The number will vary depending on the size of your stones and the length of your strand. The table below can help determine the number of stones you'll need for your project. We recommend buying extra stones because finding matching replacements later can be rather difficult.

Beads or Stones Per Inch (Rounded to the Nearest 0.25 Stone)
Stone Size
3mm
4mm
5mm
6mm
8mm
10mm
12mm
14mm
16mm

Strand

Length

1 inch
8.5
6.25
5.0
4.25
3.25
2.5
2.0
1.75
1.5
7 inches
59.25
44.5
35.5
29.5
22.25
17.75
14.75
12.75
11.0
16 inches
135.5
101.5
81.25
67.75
50.75
40.75
33.75
29.0
25.5
24 inches
203.25
152.5
122.0
101.5
76.25
61.0
50.75
43.5
38.0
Wire Wrapping Jewelry
Wire-wrapping is one of the oldest jewelry making techniques and because no soldering or heating is required, this technique may possibly be one of the easiest ways make your own jewelry. Wire-wrapping consists of hand-shaping thin wire around stones or other objects through basic maneuvers of twisting, looping, wrapping, hooking and other creative techniques. You can easily create jewelry and jewelry components including jump rings, eye pins, ear wires, baskets, clasps, bezels and bails with nothing but wire and your own two hands.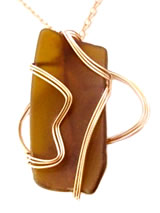 Jewelry wire is typically made of copper, silver, brass or gold, but just about any malleable material can be used. Wire is available in different shapes and patterns such as flattened, squared or twisted wire. Wire is measured in 'gauges'; the lower the gauge, the thicker the wire. Thicker wire is ideal for anchoring stones and forming chokers and bangles, whereas thinner wire is used for intricate detailing and forming shapes or jewelry findings.
The only basic tools you'll need for wire wrapping are pliers and wire cutters in assorted sizes. You'll also want to have a number of different wires available (sizes, colors, patterns, etc). Many designers often use premade jewelry findings which makes it easier to complete jewelry designs. In most cases, it's only clasps or pins that are purchased and the rest of the jewelry is made by hand. Premade components, referred to as 'jewelry findings', are readily available online or at any local jewelry store.
Featured Gems of the Month
Each month we feature rare and unusual gems from our inventory. This month, we would like to show you some wonderful gems that would make perfect gifts for Dad! This year, celebrate Father's Day with gemstones as special as him!
1. A very unique 274.20 ct Green Malachite Gemstone Carving.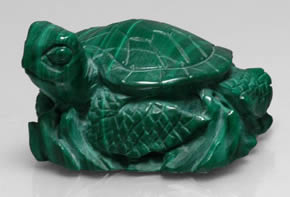 This is one of the most interesting and detailed of gemstone carvings we've acquired. Malachite is perfect for gemstone carvings especially because of its interesting patterns. Malachite is also known to take an excellent polish. This particular carving is from the Congo, one of the leading sources for fine malachite. Malachite is becoming scarcer every day and its popularity over the last few years has skyrocketed. Despite the tremendous demand, prices for malachite are still very much affordable (this item is only $0.70 cents per carat). However, as sources get more and more depleted, we will surely see a rise in prices for these rare gems.
2. A 78.09 ct Multicolored Labradorite Teardrop Cabochon.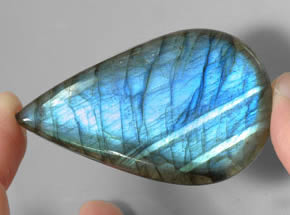 Labradorite is a remarkable gem. The optical phenomenon of 'labradorescence' was named after the gemstone and not the other way around as in most cases. This particular stone has a very interesting parallel line pattern that appears through the wonderful sheen (see picture). Although the gemstone appears opaque, it is actually quite translucent. Labradorite stones make wonderful pendants as well as other men's jewelry accessories such as cuff links or tie tacks.
3. A Whopping 27.17 ct 'Golden Star' Black Sapphire.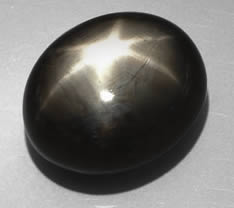 This wonderful star sapphire is a recent arrival in our stock. Star sapphires display a star-like effect (asterism) under certain lighting conditions. The wonderful golden colored rays are unique only to star sapphires originating from Thailand. The asterism is caused by silky rutile inclusions which can be seen from the surface of the stone. Many times, consumers mistakenly confuse the rutile inclusions for poor polishing or fractures, when actually, the inclusions are responsible for creating the desirable star effects in the first place. Star sapphires are remarkably durable and a very popular stone for men's rings. This gemstone would make any dad happy!
4. A 3000 ct Baseball-Shaped Lapis Lazuli Gemstone.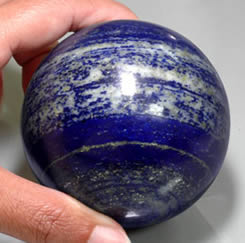 Converted into pounds, this monster-sized gemstone weighs over 1.3 lbs - over half a kilogram! This giant lapis lazuli would make an excellent ornament for Dad's office desk. The pattern resembles the Earth a little, so by giving this to Dad, you're giving him the world! The cutter of this stone has done a wonderful job in preserving the parallel ring pattern as can seen in the pictures. Patterns like this are very unique and highly sought after by gems collectors.
Industry News
Farewell to Pearl Legend, Mr. Frank Mastoloni

It was a sad day when the Jewelry Industry said farewell to pearl legend, Mr. Francis J. Mastoloni. 'Frank' Mastoloni was the president of Mastoloni Pearls, which is based in New York, USA. Mastoloni Pearl Company is one of the biggest pearl suppliers in the world. Frank Mastoloni was very well-known and respected by people all over the world. He will be greatly missed. We would like to take a moment to recognize and celebrate his legendary achievements and to send our deepest sympathy to all of his family and friends.
JCK Las Vegas, 2013

The biggest jewelry show of the year recently took place May 31st through June 3rd, 2013. JCK Las Vegas is the jewelry industry's premier annual trade show of the year. This year it was held at the Mandalay Bay Resort & Casino and was attended by some of the biggest names in the gem and jewelry industry. Jewelers from all over the world flock to Las Vegas, Nevada, every year to see the latest jewelry trends and designs.
Customer Questions
Every month we answer questions of general interest from our customers. Please feel free to send us your questions or suggestions to our support team at help@gemselect.com.
| | |
| --- | --- |
| Q: | I want to make payment through a bank transfer. Can you send me your IBAN number and bank details? |
| A: | An IBAN (International Bank Account Number) is not required to send bank transfer payments to us for order processing. IBAN numbers are usually associated with European Banks only and are not used in Asia or America. To complete a bank transfer payment, all your bank requires is our bank name, address, account name and SWIFT or BIC Code. After placing your order online, you will receive all of this information on-screen as well as by email. You can simply print out the details and take them along with you to your bank to complete your order. |
| Q: | I don't have a credit card and do not like paying by Western Union. Can I do a direct bank transfer through PayPal? |
| A: | In most countries, the answer is YES! You can transfer funds via PayPal directly from your bank account. You do not need a credit card! For more information, you can visit the PayPal website for your country. To find information, simply use Google and search for 'PayPal send payments". Your local PayPal website will show up in the search results and from there, simply click on the link and see how easy it really is! |
We hope you found this article interesting.
If you have any comments or suggestions, just drop us a line. We really do read and reply to every single email we receive.
Lastly, please make sure you can receive email from help@gemselect.com by adding us to your email safe contact list. We would also like to wish everyone a Happy Father's Day 2013. If your country isn't celebrating Father's Day, it doesn't mean you can't still call him anyway, just to tell him just how special he is!
Happy gem hunting,
Your friends at GemSelect