Art Nouveau Jewelry; Nature Against the Machine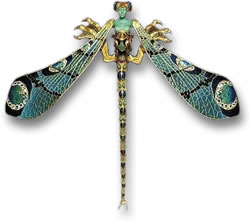 Dragonfly Woman Art Nouveau Brooch by Lalique
The movement of Art Nouveau occurred during the late 1800s and early 1900s before the rise of Art Deco. The name Nouveau, or "new" indicated the desire of artists to create modern designs, and leave behind old fashioned and restrained Victorian styles and industrialism. Indeed, Art Nouveau was a forerunner to modern art and bridged the gap between 19th century art and Modernism. The movement has various names according to the region. For example, in Germany, Art Nouveau was known as Jugendstil and in the UK, it was called the "Glasgow Style". In Russia and Spain, it was called "Modern". The term "Art Nouveau" came from Siegfried Bing's gallery, "Maison de l'Art Nouveau" in Paris.
Art Nouveau sought to unite all forms of art, and was considered by some to be a lifestyle, since it was believed that everyday objects could be seen as works of art, thus art could be incorporated with life. This can be clearly seen in the work of Louis Comfort Tiffany, who designed the stained glass Tiffany lamp, and beautiful architecture, such as the Casa Batlló ("House of Bones") designed by Antoni Gaudi in Barcelona, which is an outstanding work of art that was designed to be lived in. Art Nouveau drew inspiration from the beauty of nature, focusing on the curves of flora and fauna or reproducing forms such as dragonflies, birds, leaves and flowers.
The prevalence of natural forms is particularly noticeable in the work of William Morris, who was one of the followers of John Ruskin's Arts and Crafts Movement (Known as Mission Style in the USA) in the UK. This movement saw the beginning of Art Nouveau and emphasized craftsmanship and skill rather than mass production. However, Morris was more concerned with interior design, especially patterned wallpaper, than jewelry. Charles Robert Ashbee was a prominent British jewelry designer of the Arts and Crafts Movement. Ashbee made use of gemstones such as moonstones, pearls, opals and coral to create unique jewelry featuring birds, peacocks, insects and plants.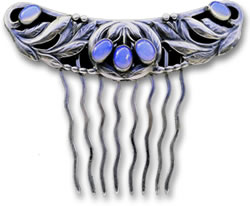 Art Nouveau Silver Hair Comb with Moonstone
Art Nouveau is significant to the history of jewelry design, because the movement saw jewelry design as an art form, since the decorative arts were united with fine art. Art Nouveau jewelry incorporated Japanese art and metalwork, and moved away from diamonds toward colored gemstones such as opal. Enamel was also used. Previously, jewelers or goldsmiths had been responsible for creating jewelry by working metal or setting stones, but Art Nouveau focused on jewelry designers as artists who would use gemstones, enamel, ivory, glass and metalwork to create an artistic and unique piece of jewelry. One of the popular enameling techniques was known as plique-à-jour, (loosely translated as "letting in daylight"). It used translucent enamel with no backing, which gave the effect of a stained glass window in miniature. This allowed natural features favored by Art Nouveau, such as leaves and insect wings to be recreated with breathtaking accuracy.
The main icon of Art Nouveau jewelry was, without a doubt, the French artist, Réné Lalique. Lalique was first famous for his glass art, and he later became France's premier Art Nouveau jewelry designer. Along with enamel, Lalique often used pâte-de-verre, a glass paste, to produce faces, flowers and other colored constituents of his work.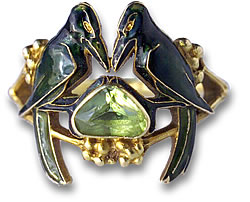 Georg Jensen was a famous Danish Art Nouveau silversmith who became world famous due to his beautiful and innovative designs, some of which incorporated the Art Nouveau style. The House of Fabergé, famous for creating decorative eggs for the Russian Tsars, also showed Art Nouveau influences in some pieces.
Although the Art Nouveau movement only spanned a short time, there was an Art Nouveau revival in the 1960s. The sensual curves, at-oneness with nature, flowers and naked women with long-flowing hair were perfectly suited to the hippie era and the flower power movement.
The appreciation of the Art Nouveau style has continued into the modern day and one of the current masters of the style is award winning Russian designer, Ilgiz Fazulzyanov, whose exquisite jewelry encapsulates the essence of Art Nouveau. Fazulzyanov is internationally renowned for his intricate enameling and was the first Russian jewelry designer to take part in and win the International Jewelry Design Excellence Award at the Hong Hong International Jewellery Fair in 2011. Ilgiz won the award again in 2013. It is wonderful to see a contemporary designer not only keeping the unique style of Art Nouveau alive, but adding his own personal touches.