Japan and Jewelry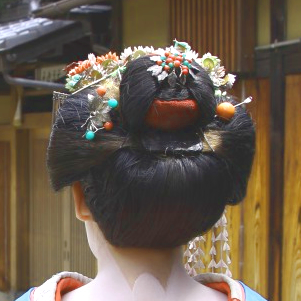 Japanese Hair Ornaments
When it comes to Japan, Western-style jewelry has not been around for very long. For most of Japan's history, there was very little contact with the Western world. In fact, Western influence didn't hit Japan until the Meiji Restoration of Imperial power in 1868. Prior to this, the Japanese didn't have much demand for Western-style jewelry such as rings, bracelets, necklaces or watches; simply because most Western-style jewelry just didn't match with the traditional Japanese-style of clothing such as 'kosode' and 'kimono', which are essentially pocketless, robe-like garments. After 1868, Western-style clothing gained popularity throughout Japan, which fueled demand for the commercial manufacturing of Western jewelry, bringing about the rise of timeless Japanese legends like Mikimoto Kokichi and K. Uyeda Jeweler.
Like most things in Japanese culture, jewelry wasn't just ornamental; it was usually combined with a practical purpose as well. Examples include items such as swords, sword fittings, straps, pins, buttons, combs, hair sticks, hairclips called 'kanzashi', and of course, netsuke, inro and ojimi. The art and craftsmanship behind the techniques of making netsuke, inro and ojimi have evolved over hundreds of years and have now become an important part of Japanese culture. Many historical pieces have been found to date back to the early 16th century. Even some modern pieces have been known to fetch extraordinarily high prices in Europe, Asia and the USA.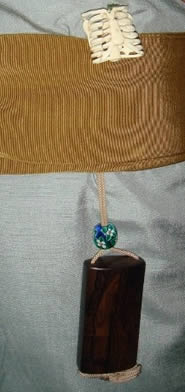 Inro, Ojimo Gemstone Bead and Carved Netsuke
Gemstones like agate, coral and ivory were the most prized carving materials found in these legendary Japanese jewelry designs. Inro were small handcrafted boxes or cases worn by Japanese men. Inro cases were used to carry personal belongings. They were essentially used like modern-day wallets. The Japanese would wear them stacked and strung to their robes by cords under their obi (a wide sash). A small, carved bead called an 'ojimi' was used to keep the boxes together while the inro were being worn. At the end of the cord was a decorative sculpture called 'netsuke'. The netsuke were used like toggles to secure everything in its place.
There is another age-old jewelry tradition connected to Japanese culture which is less known than netsuke, called 'souken kanagu', or Japanese sword decoration. Souken kanagu is one of the first forms of jewelry seen in Japanese culture, and it can be seen in the scabbards and handles of many Japanese swords and blades in the form of minute decorations. The skillful souken kanaku craftsmen became experts in the art of turning gold and bronze alloy (known as 'irokane') into detailed ornamental objects, featuring insects and small animals which were most popular as they were believed to bring Japanese soldiers luck during battle.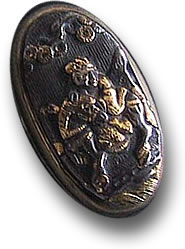 Japanese Gold and Bronze Alloy Inlay Technique
After the Meiji Restoration of Imperial power, the Japanese government banned the carrying of swords. However, at the same time, Japan's government officials were required to wear Western-style button-up uniforms, which meant that Japan's 'souken kanaku' craftsmen could still use their skills, but in the creation of a new jewelry concept; button-making. The sword-decoration techniques they learned and developed were skillfully applied to the making of metal shirt and jacket buttons and it wasn't long before their elaborate work and designs caught the eyes of Western jewelry and art dealers visiting Japan. The Westerners had never before seen the unique combination of gold and bronze alloy and the inlay applied to Japanese souken kanagu, which immediately garnered interest in commercial trade between Japan and the Western world.
Soon, Japan began trading buttons with the world, and not long after, Japan's talented craftsman began to produce more and more Western designs for commercial trade, including watch chains, clock cases and various other gold and bronze inlay ornaments. The souken kanaku button makers of Japan may indeed be responsible for much of Japan's jewelry history. More recent statistics show that Japan's jewelry industry has been generating over 30 billion US dollars annually. Over time, Japanese jewelry trends have become much more Westernized. In fact, much of Japan's jewelry sales are now related to domestic bridal and engagement jewelry, rather than overseas trading - and of course, fine gemstone and pearl jewelry too.