Jean-Baptiste Tavernier
Born in Paris in 1605, Jean-Baptiste Tavernier was one of the most famous travelers of the 17th century, who pioneered the trade of various commodities with India. However, it is his involvement with the trade of gemstones and his connection with the famous Hope Diamond for which he is most famous.
Tavernier was born in Paris into a family of Protestant geographers and engravers, originally from Antwerp in Belgium. Growing up, he heard much talk of travel and affairs in far-off lands, which inspired him to undertake his own journeys, and by the age of 16, he had already visited England, Holland and Germany. He then spent some time with other relatives who were able to introduce him to the royal court. While continuing his exploration of the European continent, he also gained some military experience, all of which was to help him later when he traveled to the Far East.
It was in September 1638 when he began the first of his famous journeys to India, a trip which would last five years. He visited Agra and Golconda in Northern India. He also visited the court of the Great Mogul Emperor in Delhi and his diamond mines, which marked the beginning of Tavernier's career as a gemstone trader.
In 1642, while still on this first trip, Tavernier acquired a 112 carat diamond most likely found in the Kollur Mine in Golconda. This would later become known as the Hope Diamond. At the time when Tavernier first bought the stone, it had been only crudely cut. He described it as having the "beautiful violet" color for which it is famous.
The legend of the diamond's curse began at this time; it was said that Tavernier activated the curse when he stole the diamond from the eye or forehead of a statue of the Hindu goddess, Sita, and that he was mauled to death by Russian wild dogs as a result.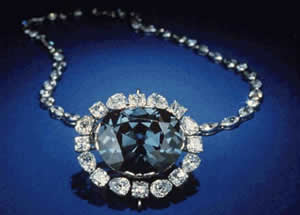 Hope Diamond
Fortunately for Tavernier, this did not actually occur. Instead the stone probably helped to establish him as an elite merchant trading only in the most valuable of jewels and precious goods, with a clientele which consisted mainly of princes and emperors of the East.
He made six eastern journeys in total, traveling almost constantly with India a key point of each itinerary. It was around 1668 when he returned to his native France some twenty-six years after buying the diamond. He then sold the diamond to the French King, Louis XIV, along with an assortment of other large and small stones.
Tavernier had an unparalleled knowledge of the overland trade routes to the East, and close and amicable relationships with many great Oriental nobles. At the request of Louis XIV, he wrote of his journeys as a guide for others who wanted to establish trade with the Far East, his most famous book being Le Six Voyages de J. B. Tavernier.
Tavernier's life ended in Moscow at the age of 84 on yet another journey east to Persia. The reason for his final journey at such an advanced age remains a mystery.