GemSelect Newsletter - October 2010
In our newsletter this month:
In the last 10 years, the main source of colored gemstones has shifted from Southeast Asia, especially Sri Lanka, Burma and Thailand, to Africa. About half of our inventory now consists of African gems, with nearly 60 different gem varieties represented. Most come from the rich geological formation in East Africa known as the Neoproterozoic Mozambique Belt, which runs south from Kenya through Tanzania and Mozambique to Madagascar.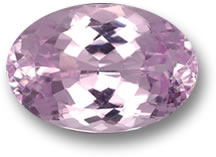 Kunzite from Afghanistan
These are still early days for African gems, so we expect many new discoveries to come. But gemstone traders are already looking to the next developing region for interesting new stones. A likely candidate is Central Asia, the vast expanse stretching from Iran in the west to the Chinese border in the east, and from the Ural Mountains of Russia in the north to Afghanistan and Pakistan in the south.
The Central Asian region has been known for its gemstones since antiquity. More than 4,000 years ago, traders brought lapis lazuli from the mines in Badakhshan in Afghanistan over the Silk Road to Egypt and India. Badakhshan was also the source of the reknowned balas rubies - actually red spinel - such as the Timur Ruby and the Black Prince's Ruby that are part of the British Crown Jewels. The famed Kashmir sapphires are more recent, dating back only to 1880.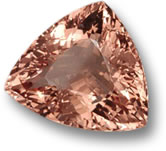 Natural Morganite
Currently, there are relatively few gems from Central Asia on the market. Mining in the region is extremely challenging, due to the mountainous terrain, limited accessibility and the harsh climate. Many parts of the area are war-torn or politically unstable, and attempts by outsiders to impose stability have arguably made matters worse. But the mineral riches have been known for many years. Recently the American government announced that Afghanistan alone has nearly 1 trillion dollars worth of untapped mineral resources.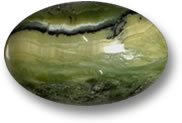 Afghan Serpentine
Here at GemSelect we have managed to build a small but diverse stock of Central Asian gemstones. We have found kunzite, morganite, turquoise, serpentine and lapis lazuli from Afghanistan, with much of the material of very high quality. We have chrysoberyl and peridot from Pakistan, and the peridot in particular is exceptional. Russia and the former Soviet Republics are producing a number of rare gem varieties, including clinomhumite, charoite, chrome diopside, seraphinite, strawberry quartz, rhodonite and goshenite.
In the future we expect to see much more production from this region, especially from the river valleys of the Hindu Kush mountains at the junction of Pakistan, Afghanistan, Tajikistan and China. Known deposits include emerald, ruby, tourmaline, aquamarine, spinel, topaz, and many different garnet and quartz varieties. Central Asia may well turn out to be as important for gemstones in the future as it was in antiquity.
Each month we focus on a rare and unusual gem from our inventory. This month we feature an enormous malachite from the Democratic Republic of Congo:

Malachite from the Democratic Republic of Congo
We have had very large gemstones in our stock before, including some weighing over 400 carats. But we've never had anything quite as large as this outstanding specimen of malachite that weighs in at over 1,647 carats, with dimensions of 97 x 68 x 22 mm. But this is not just a huge stone, it is a very high quality piece as well, with vivid banding and a full color range from light-green to black. Despite its enormous size, the stone is free of defects and is very nicely polished.
Every month we answer questions of general interest from our customers. Please feel free to send your questions or suggestions to our support team at help@gemselect.com!
Question
I would like to get a white gemstone for an engagement ring, but I don't want to buy an expensive tiny diamond. Can you tell me what choices I have? I appreciate your advice. SE, Canada.
Answer
There are a number of different gemstones that are found in white, including
topaz
,
zircon
,
goshenite
and
danburite
. But for a ring that you'll wear every day,
sapphire
really has the best combination of hardness, durability and brilliance. You'll find white sapphire available in a wide range of shapes, including round and princess cut.
You'll also find some lightly tinted and pastel colored sapphires that are reminiscent of colored diamonds. These are also popular for engagement rings. Consider a rare
unheated sapphire
for such an important ring.
Question
If I buy a lot of 6 rubies and purchase a gem certificate, how many certificates do I get for the lot? Would I get 1 certificate or 6 of them? Or do I have to pay $30 extra for each gem in the lot? Thank you, MH, USA.
Answer
When we send gems to a gemological laboratory for
certification
, they charge for each stone they test. Since we sell many of our smaller stones in lots, we don't expect our customers to pay the certification fee for every stone in the lot, since the lab fees could easily exceed the cost of the gems. So we ask the lab to test a randomly selected gem from each lot. This seems to strike the right balance between assurance and expense. But if you purchase a pair or lot of gems and would like certificates for each and every gem, just
email
us and we'll be glad to arrange it.
Keep up with our new arrivals before they hit the newsletter by joining our thousands of fans and followers on our social networking pages. We love interacting with our customers - you can visit us on Tumblr, LinkedIn, Twitter, Facebook or Pinterest!
To ensure you can receive our emails, please be sure to add help@gemselect.com to your list of safe contacts, or you add us into your email address book! Please feel free to contact us with any questions, comments and queries! We respond to each and every email we receive.
Happy Gem Hunting!
Your friends at GemSelect