Color Zoning in Gemstones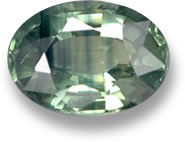 Color Zoning in Sapphire from Thailand
The term color zoning refers to the uneven distribution of color within a gemstone. Depending on the degree of color zoning, this is usually regarded as a less than desirable trait, since color consistency or uniformity of color is an attribute of finer gemstones. However, for some gems, dramatic color zoning is an attractive feature.
Color zoning is typically due to changing conditions during crystal formation. If the availability of trace elements that serve as coloring agents changes, there will tend to be areas of less (or more) color in different parts of the crystal. Gems that are not colored by impurities, such as peridot and topaz, will rarely exhibit color zoning.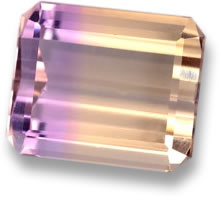 Natural Ametrine from Bolivia
Color zoning, like inclusions, can be graded on a relative scale. Zoning can be minute or minor, obvious or prominent. The location, color difference and contrast are also important factors. Zoning that can only be seen under magnification is negligible and does not have an impact on quality. However, moderate to severe color zoning usually does affect quality and thus price. Color zoning is always judged from the face up position, looking down through the table of the stone. Zoning that is visible only through the pavilion of the gem does not usually affect value.
Many natural gems will exhibit some degree of color zoning and this is an important sign of their natural origin. Gem traders look for some color zoning in amethyst and citrine, for example, since the many synthetics in the market do not display the zoning typical of natural quartz.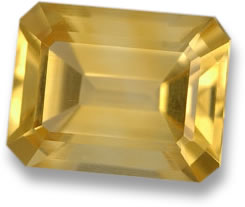 Color Zoning in Natural Citrine
Some sapphires are well known for their color zoning. Many of the green sapphires from Australia and Thailand, when viewed under magnification, show that the green color is actually a function of blue and yellow color zoning. Some of these sapphires show interesting blue-green color zoning that is visible to the naked eye, and the inexpensive parti-colored sapphires have become quite popular.
There are a few gemstones that are valued specifically because of their distinctive color zoning. Both ametrine and some multicolored tourmaline gems display well defined zones of color. Ametrine combines amethyst and citrine in the same crystal, and the color zoning is due to differing oxidation states of iron within the crystal. The cause is believed to be temperature differences across the crystal during its formation.