GemSelect December 2014 Newsletter - Gemstones for Beauty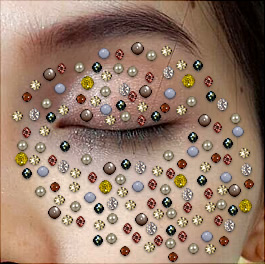 Gemstones for Beauty
Jewels and Beauty
Gemstones have been associated with beauty for millennia. Jewels have been treasured since their discovery and symbolize beauty. It is no surprise that such objects of beauty have been used for beautification. Indeed, gemstones have been used for cosmetic purposes for thousands of years. The quest for youth is nothing new, with beauty being coveted since the very birth of mankind.
In the past ten years or so, we have seen a trend for "mineral makeup". However, it seems that this is nothing new. Previous civilizations used gemstones and other minerals as cosmetics. However, where modern mineral makeup is thought to be beneficial to the skin because of natural, non-toxic ingredients, early use of such "mineral makeup" was sometimes detrimental to the health of the wearer.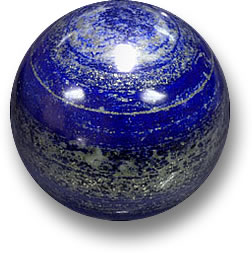 Lapis Lazuli Sphere
Ancient Egyptians used kohl on their eyebrows and around their eyes. Ground lapis lazuli was worn as a blue eyeshadow and malachite was worn on the lower lids to color them green. The malachite would have been ground into a powder and then mixed with another substance to make a paste. However, it is now known that malachite dust is toxic due to the copper content. Therefore, when cutting and polishing malachite, the dust should not be inhaled. However, it is thought that small amounts of lead in Egyptian makeup served to protect wearers from eye infections by increasing the production of nitric oxide in the body. Darkening the area around the eye was also thought to protect from the glare of the midday sun. Malachite was also used by the Romans as a green eyeshadow and azurite was used as a blue eyeshadow. Azurite dust is also toxic because of the copper content.
The ancient Egyptians were not the only ones to make use of such minerals. An upmarket ancient Roman form of rouge (blusher) contained cinnabar (mercury sulfide), which is poisonous. Ironically, the Romans thought it imparted a healthy glow! Ancient Roman face treatment masks contained (in addition to excrement and animal urine!) ground oyster shells. These were thought to have a whitening effect. As author, Nick Bantock says, "Pain and beauty, our constant bedfellows".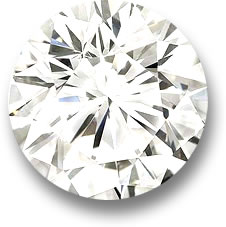 Dazzling Diamond
Nowadays, the use of gemstones in cosmetic products seem to be having a revival. However, the gems used in modern products are not malachite, azurite or cinnabar.
White diamond powder is used in some anti-aging products, and this is hardly surprising because diamond has an extremely high refractive index, excellent dispersion (also known as "fire") and a prized adamantine luster. This means that diamond refracts, disperses and reflects light. Therefore, a cosmetic product containing diamond should illuminate and brighten the appearance of skin. Since diamond is composed of pure carbon, it is not toxic. However, diamond is the hardest mineral on the Mohs hardness scale, so we hope that it would be such a fine powder that it would not have an abrasive effect when rubbed onto the skin. White diamond powder is also used in nail polish to give a sparkling shimmer.
White Pearl Bead
Pearls have been used for beauty treatments for thousands of years. Since pearls are composed of calcium carbonate, they may even have a beneficial effect on skin, in addition to improving its surface appearance. Mother of pearl (nacre), the main ingredient of pearl, is held together by a protein called conchiolin (a type of keratin - which is what hair, nails and the outer layer of skin are made of), which is said by some to reduce wrinkles, firm, and tone skin. Others say that it whitens by slowing down the production of melanin. It is not surprising that this material illuminates, since the beautiful (pearly) luster of pearls has been prized for millennia. Pearls have a characteristic shine and the best quality pearls show sharp, bright reflections. The last empress of China, Dowager Empress Cixi, used pearl powder and was known for her youthful appearance even in her old age.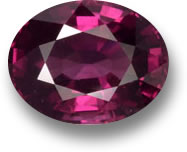 Raspberry Red Rhodolite Garnet
As with the ancient use of gemstones for colored makeup, modern makeup has made use of the colors of nature. For example, some high-profile cosmetic companies have been known to use gemstones such as rhodolite, a rose colored garnet, to impart a "fresh glow" to the face. Others use even more valuable precious ingredients, such as rubies to "brighten the skin". Rubies are known for their vivid color and fluorescence. The fluorescence of ruby gives the gemstone a glow, so perhaps there is some science behind this. Other cosmetic companies use precious gemstones such as emerald, not to enhance, but to correct. It is thought that the green hue of emerald has a concealing effect on dark circles and fine lines. While it is true that green counteracts redness, the product also claims to improve broken blood vessels by promoting circulation.
With the modern trend for extreme exfoliation, the use of chemical (acid) peels, microdermabrasion or scrubs to peel away layers of skin and then "resurface" the skin for the appearance of glowing, fresh skin, home kits have become popular. People can now do their exfoliating in the comfort of their own home to reveal a new look. One cosmetic company has produced a microdermabrasion set that contains "pulverized aquamarine and quartz sand". Aquamarine, being a type of beryl, has a Mohs hardness score of 7.5 to 8. Quartz has a hardness of 7. Such minerals would certainly scrub away the skin if used as an exfoliant. Even humble sodium chloride (salt) at a Mohs hardness of 2.5, has an exfoliating effect when used as a scrub.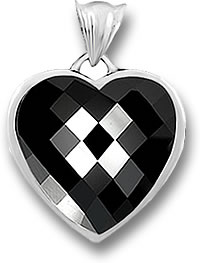 Black Tourmaline Gemstone Jewelry
In the pursuit of perfection, hundreds of years ago, women did not have the benefit of scientific research. Therefore, they turned to natural substances such as gemstones and minerals to increase their allure. Since the age of enlightenment, jewels and gems have continued to have an attraction. Indeed, natural gemstones are equated with natural beauty and glamor. Products with gemstone ingredients are enticing, since they invite consumers to indulge in extravagance whilst increasing personal attractiveness. It therefore seems that the use of gemstones in cosmetics could be partly due to clever marketing.
We at GemSelect admire the beauty of gemstones, and while they have some wonderful and interesting physical properties that could have cosmetic applications, we prefer to see gemstones worn in the form of jewelry. Therefore, we recommend that gemstones be polished, finished and showcased rather than ground up so as to be unrecognizable.
Gemstones as jewelry make the perfect adornment. However, in some cases, gemstones worn on the face can have a dramatic and dazzling effect, such as when gemstones are fixed onto the face for fashion shows or parties (see top image). We would not recommend doing this with high value gems!
Featured Gems - Tanzanite, Apatite and Malaya Garnet
Back to Top
Oval Tanzanite Gemstone
Tanzanite is one of the birthstones for December and is thought to inspire calmness and compassion. Tanzanite is only found in one area of the world; the hills of Northern Tanzania, which is where it gets its name from. The blue to violet color of tanzanite can rival the finest sapphire. Since tanzanite is a pleochroic gemstone, it can appear blue or violet, depending on the angle it is viewed from. The vitreous luster, good hardness, clarity and stunning color of tanzanite make it an excellent jewelry gemstone. Like diamond, tanzanite exhibits perfect cleavage. Therefore care should be taken when setting and wearing tanzanite.
Blue-Green Apatite Gem
Apatite is rare in gemstone-quality, yet it is a very affordable gemstone. We have recently acquired some apatite gems in this Paraiba-like blue-green color. Apatite is not usually seen in jewelry stores, but is admired by collectors for its various attractive colors including pink, yellow, green, blue and violet. Apatite gets its name from the Greek word for "cheat". This is because it can be mistaken for other gemstones, such as precious beryl, tourmaline and topaz. Apatite is found all over the world. Apatite is associated with learning, inspiration and extroversion. Since apatite has a brittle tenacity and relatively low level of hardness (5 on the Mohs scale), it should be used in protective jewelry designs or jewelry that is worn occasionally.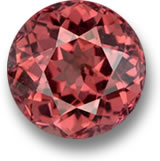 Round Malaya Garnet Gem
Malaya garnet (sometimes spelled "malaia garnet"), like tanzanite, was discovered in the 1960s in Northern Tanzania. Malaya garnet is a hybrid garnet with a variable composition. When it was first discovered, malaya garnet was disregarded because it didn't fit into the established garnet types. In fact, the term, "malaya" comes from a Swahili word meaning "outcast". Malaya garnet has some interesting and unique colors that are rarely found in gemstones, such as pinkish-orange, reddish-orange and peach. This, along with its excellent durability, brilliance and luster makes malaya garnet an attractive jewelry gemstone that is suitable for any design.
There is a special exhibition of Navajo Jewelry at the Smithsonian's National Museum of the American Indian until January 10th 2015. This exhibition features contemporary jewelry made by the award winning Yazzie family of New Mexico and among the pieces on display are turquoise, opal, lapis lazuli, sugilite, coral, onyx, and gaspeite gemstones set in both silver and gold. This exhibition is a must for admirers of Native American Jewelry, since these exquisite items are true works of art. For those seeking inspiration, it is worth paying a visit to the George Gustav Heye Center at the Alexander Hamilton US Custom House of New York.
The Blue Belle of Asia, a 392.52 carat cushion-cut blue Ceylon sapphire achieved a record amount of $17.5 million at Christie's Geneva, setting a new record for a sapphire sold at auction. The magnificent jewel sold for double its pre-sale estimate. The buyer was a private collector.
Every month we answer questions of general interest from our customers. Please feel free to send your questions or suggestions to our support team at help@gemselect.com!
Question
Hi, I'm interested in buying a rose-colored zircon gem, but I'm not sure about zircon gems, are these the same as cubic zirconia?
Answer
Zircon
is a completely natural gemstone material that is composed of zirconium silicate, whereas
cubic zirconia
is a diamond simulant composed of zirconium dioxide. Cubic zirconia crystals are synthesized in a laboratory. They are grown as "cubic" crystals to imitate diamond. Zircon is not a well-known gemstone, but it is interesting because it is one of the densest gemstones and is thought to be the oldest mineral on earth. Zircon occurs in a variety of colors, and has excellent brilliance and fire. Also, zircon is a birthstone for December.
Question
Hello, I'm not very good with online transactions, can I pay for my order over the phone?
Answer
Unfortunately, we do not take orders over the phone because the information is not secure. When you pay online, your credit card details are encrypted, which means that we do not have access to your confidential information. Therefore, this is a much safer method of payment. It is a lot simpler than you may think. Please see our
payment options and details
to find out how to checkout. If you are still unsure, please feel free to contact our customer service representatives, who will help you through the payment process.
We always welcome your questions, comments and feedback! For those who are interested in attending some gem and jewelry events, please see the details below.
Event Name
Holiday Jewelry, Fashion & Accessories Show
Venue
Renaissance Schaumburg Hotel & Convention Center, Shaumburg, IL, USA
Dates
December 3 - 6, 2014
Event Name
Dubai International Jewellery Week
Venue
Dubai World Trade Centre, Dubai, UAE
Dates
December 3 - 6, 2014
Event Name
Mineralien Hamburg
Venue
Hamburg Messe and Congress GmbH, Messeplatz 1, 20357 Hamburg, Germany
Dates
December 4 - 6, 2014
Event Name
Dallas Winter Gem, Jewelry & Bead Show
Venue
Grapevine Convention Center, TX, USA
Dates
December 4 - 6, 2014
Event Name
Christmas Days Incheba
Venue
Vienna Road, 3-7, 851 01Bratislava, Bratislava, Slovakia
Dates
December 4 - 22, 2014
Event Name
Greensboro Gift & Jewelry Show
Venue
Greensboro Coliseum Complex, Greensboro, NC, USA
Dates
December 5 - 7, 2014
Event Name
The International Gem & Jewelry Show Inc.
Venue
Westchester County Center, 198 Central Avenue, White Plains, NY, USA
Dates
December 5 - 7, 2014
Event Name
Tokyo Mineral Show
Venue
Ikebukuro Sunshine City, Tokyo, Japan
Dates
December 5 - 8, 2014
Event Name
The Universal Gem Show Columbus
Venue
Ramada Plaza Columbus North Hotel & Conference Center, 4900 Sinclair Rd, OH 43229, Columbus, USA
Dates
December 6 - 7, 2014
Event Name
Tokyo Mineral Show
Venue
Ikebukuro Sunshine City, Tokyo, Japan
Dates
December 5 - 8, 2014
Event Name
Jaipur Jewellery Show
Venue
Rajmahal Palace, Jaipur, Rajasthan, India
Dates
December 20 - 23, 2014
Keep up with our new arrivals before they hit the newsletter by joining our thousands of fans and followers on our social networking pages. We love interacting with our customers - you can visit us on Tumblr, LinkedIn, Twitter, Facebook or Pinterest!
To ensure you can receive our emails, please be sure to add help@gemselect.com to your list of safe contacts, or you add us into your email address book! Please feel free to contact us with any questions, comments and queries! We respond to each and every email we receive.
Happy Gem Hunting!
Your friends at GemSelect