The Wonders of Lapis Lazuli
There are few gemstones with as long and romantic a history as lapis lazuli. Though found in several locations around the world, the finest lapis comes from Badakhshan Province of Northern Afghanistan, where it has been mined continuously for over 6,000 years.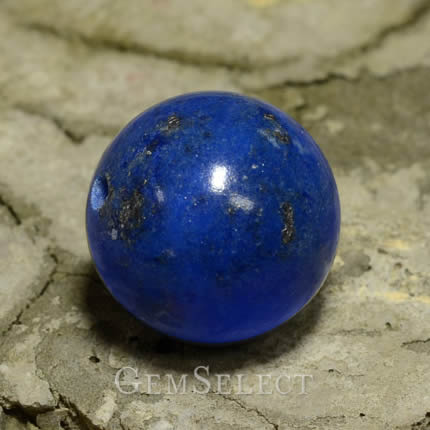 Lapis Lazuli Gemstone
Lapis lazuli was one of the earliest gemstone materials. It was used for sacred amulets in ancient Egypt and by the Assyrians and Babylonians for cylinder seals. Historians believe that Cleopatra used powdered lapis for eye shadow. The ancient royal Sumerian tombs of Ur, located near the Euphrates River in Lower Iraq, contained more than 6,000 beautifully executed lapis lazuli statuettes of birds, deer and rodents as well as dishes, beads and cylinder seals.
Powdered lapis was also the source for the blue pigment known as ultramarine, used by painters from the Medieval period through the Renaissance. The synthetic version of ultramarine was discovered early in the 19th century and the use of expensive lapis for pigments quickly declined.
Lapis is one of the few gemstones that is a rock rather than a mineral. That is because lapis is normally a mixture of 3 minerals; lazurite, calcite and pyrite. Lazurite, a complex mineral containing sulfur, is the essential ingredient of lapis that gives it its vivid blue color. Calcite is calcium carbonate, a white mineral responsible for the white streaks in many specimens of lapis. Pyrite is iron sulfide, which is white-gold in color and lends lapis its distinctive glitter.
The finest lapis is a deep intense blue. Additionally, it is smooth and fine-grained with a glossy, polished surface. Collectors look for a low calcite content. The calcite can be seen as white streaks or patches within the darker blue, or it can be distributed throughout the specimen, giving the rock an overall lighter blue hue. Pyrite inclusions are valued by collectors, but the inclusions should not be too large, since they have a tendency to discolor at the edges.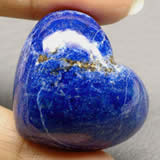 Lapis is a fairly soft stone, ranging from 5 to 6 on the Mohs scale. It is also somewhat porous and should be protected from solvents and chemicals. Lapis is almost always cut as cabochons or beads, or carved into a variety of ornamental objects. Though there are many choices today in blue gemstones, lapis is said to be the original blue stone. Its rich historical associations as well as its color make it a unique and attractive gemstone.