About Apatite Gemstones
Many gemstone lovers are fascinated by the ancient lore associated with gemstones, especially in relation to the human body. But whatever you might think about the alleged healing powers of gems, there is one gemstone mineral which is actually produced and used by the human body. That mineral is apatite.
While apatite is a common mineral, gem-quality apatite is quite rare. Apatite is known by gemstone connoisseurs especially for two colors; the Paraiba-like blue-green, and the leek-green color that once earned apatite the name "asparagus stone". There is also a very rare deep purple apatite, found in the aptly named Mount Apatite in Maine, USA.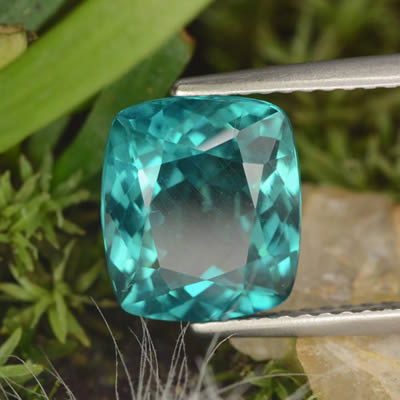 Blue Apatite Gemstone
But from the point of view of mineralogy, apatite is a group of phosphate minerals, including hydroxylapatite, fluorapatite and chlorapatite. These vary according to the concentration of hydroxide, fluorine or chlorine ions in the crystal. Hydroxylapatite is the major component of tooth enamel and makes up 70% of our bones.
Green Apatite Gemstone
Apatite-rich rock is also the most important source of phosphorus in the world. Phosphorus is an essential chemical in phosphate fertilizers. Phosphorus is also widely used in explosives, fireworks, pesticides, toothpaste and detergents.
While tooth enamel is the hardest material in the human body, apatite is not especially hard when compared to other gemstones, with a rating of only 5 on the Mohs scale. So apatite jewelry is usually confined to earrings and pendants or occasional-wear rings with protective settings. Apatite is also sensitive to heat and acid, so should not be worn when working with chemicals.
When crystals of rutile grow in apatite, the stones may display chatoyancy (the cat's eye effect) when the gem is cut as a cabochon.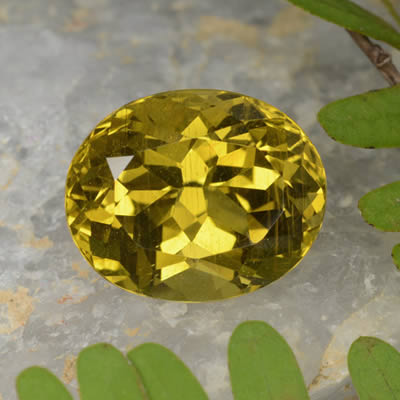 Yellow Apatite Gemstone
Gem-quality apatite is found in a number of places in the world, including Burma, Brazil and Mexico. The neon blue-green material is found chiefly in Madagascar. When evaluating an apatite gem, color saturation is very important, since the more intense the color, the most valuable the gem. Stones over one carat are rare and will command higher prices in the market. It is unusual to find clean apatite; most pieces have at least some inclusions.