Necklace Styles for Men and Tips on How to Wear Them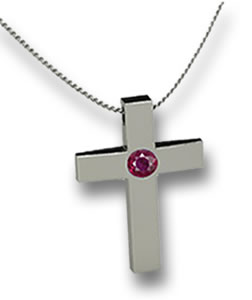 Silver Cross Pendant with Ruby Inlay
For men, the wearing of jewelry is becoming more and more frequent. Jewelry designed for men is very different in style than women's jewelry. You won't find anything like fashion and costume jewelry in the wardrobes of most men, as this type of jewelry is tailored to women's style. Women's jewelry designs are often intended to be the centerpiece of an outfit, with an attempt to overwhelm. With men, jewelry is worn to lightly accent or compliment their style, rather than to overwhelm. Men's jewelry is usually more rugged and masculine than women's jewelry. Of course, some designs can be more delicate than others, but for the most part, men's jewelry should have an aged worn-in look, like it was handed down from your father's father. One of the most popular forms of jewelry worn by men today is the necklace. But for men, looking good wearing a necklace isn't always easy, it requires a bit of know-how and it helps if you have a basic understanding and familiarity with the several different styles of men's necklaces available today.
When it comes to jewelry, simple chain necklaces are one of the most favored styles worn by fashionable men today. The most popular and classic chain necklace design usually consists of several flat loop-style links, which are tightly spaced to give the appearance of being made of a single solid ribbon. An interesting twist is to combine two metals (usually white and yellow gold), which create an interesting two-toned pattern. There are a number of other chain styles available, and they can be found in just about every type of metal alloy imaginable. Lower-end pieces are usually made from stainless steel or titanium, and finer pieces are made of precious metals such as sterling silver, gold and platinum. Through the creative mixing and matching of different types of spacers, clasps, links and colored metals, jewelry designers have created chain styles suitable to accessorize every type of outfit. When worn properly, they can look great whether they're being worn with a casual T-shirt or a fine tailored suit. When buying and wearing chain necklaces, it's best to choose a chain that falls just below the collarbone. To keep a modest look, wear chain necklaces under the shirt, leaving just a small amount of chain exposed. Other types of necklaces, including military 'dog-tag' necklaces can be worn over a shirt without making too much of a statement, provided that they're worn with right type of 'urban' apparel.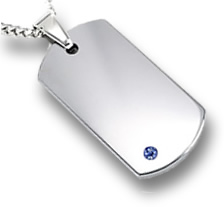 Dog Tag Necklace with Blue Sapphire Inlay
Dog-tag necklaces are definitely one of the most prevalent men's jewelry trends today. The design concept was taken from standard issue military identification tags worn by military personnel. When worn as jewelry, men's dog-tag necklaces can serve a dual purpose; they are often worn as a fashion accessory and also carry customized messages which can be engraved into the tags. Most will engrave their tags with inscriptions that show the wearer's personal details, such as their name, birthday and blood type, for example.
The basic dog-tag necklace usually consists of two flat tabs (tags) suspended from a simple ball chain. Some dog tag necklaces can be very expensive, especially when produced by upscale designers. High quality designs are usually made with finer chains, which replace the basic ball chain. Tags are usually made of stainless steel, but they can be made from titanium, tungsten, tungsten carbide, silver and gold or platinum. Often, tags are enclosed by some type of outer border and many designs may even have inlayed gemstones set into the tag. Many consider this style of necklace disrespectful of those that have served in the military, but its fine to wear if it suits your style.
A pendant necklace can refer to a very broad range of jewelry designs, but is essentially any style of necklace that features a dangling ornament, usually suspended by some type of bale. Pendants have been a favorite for men for many decades because of their versatility. The necklace itself can consist of links and chains, or it may be a single piece of rope made from leather or another material such as hemp. Religious emblems are popularly worn as pendants, including variations of crosses, stars and cameos. Amulet pendants are also very popular, often worn for luck with a belief that they carry a certain protective power or ability. When buying and wearing pendants, choose one that is long enough so that the bale and ornament will rest just below the neckline. If it is too long, the pendant may swing uncontrollably, and if too short, the movement of the pendant may be restricted. Pendants can be worn under or over the shirt, depending on the situation and style of garment worn. In general, when wearing collared shirts, necklaces and pendants should be tucked in under the shirt. Some bulky pendants may not fit comfortably when tucked in, so bear in mind the size, shape and weight of the pendant if you plan to wear it daily.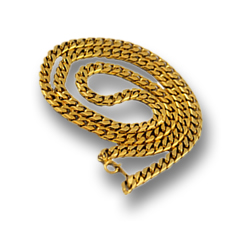 Men's 24K Gold Chain Necklace
These are just a few of the top styles of necklaces worn by fashionable men today, there are many more to choose from. One other notable style that was very popular during the 90s and early 2000s was the choker style necklace. Many found this design to be very youthful, especially when made with colorful beads or shells, often giving the wearer a 'beachboy' or 'hippie' look, even for men into their late 30s and 40s. Chokers are worn tightly around the neck and are usually strung with rope-like materials; rarely will you find a men's choker made from metal. When choosing a choker, make sure it's not too tight around the neck. To look good and remain fashionable but not tacky, choose a choker with toned-down colors. Many chokers can be overly obnoxious. Chokers should only be worn with casual outfits since they are worn above the neckline. The benefit of this is that there is no need to worry about wearing it over or under a shirt.
In conclusion, a good collection of different necklace styles is definitely becoming a must-have accessory kit for men. Just like cuff-links, neckties and watches, many men keep an assortment of necklaces in their collection. For example, an elegant chain necklace to accent a fine suit, a choker for hitting the surf on weekends, and dog-tags for camping and hiking. In any case, whatever type of necklace you decide on, be sure to wear it with confidence and let the jewelry compliment you, and not the other way around.