GemSelect June 2014 Newsletter - Father's Day Jewelry Ideas and Bling for Blokes
| | |
| --- | --- |
| | Black Star Sapphire |
The time of year to show our appreciation and honor fathers and grandfathers all over the world has come again. But before you rush out and buy an "I love you, Dad" tie, a gadget he won't use or a "Dad" paperweight, read on for some gemstone and jewelry gift ideas that would be better appreciated by deserving dads everywhere.
Men seem to get a raw deal when it comes to jewelry options. However, nowadays, jewelry for men is becoming more colorful and interesting. Gemstone jewelry can be personalized with an engraved message or a father's birthstone. Examples of appropriate birthstones include turquoise for a father born in December or a star sapphire for a father born in September.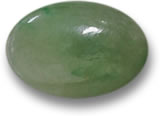 Jadeite Cabochon
Men's gemstone rings have a variety of styles and are often made with precious metals such as sterling silver, black gold and even metals such as stainless steel. For men who would like to make a statement, a ring with a large gemstone would be an appropriate choice, such as the black star sapphire cabochon ring worn by Brad Pitt, the garnet ring worn by Keith Richards or P Diddy's five carat Kashmir blue sapphire pinkie ring. Jade cabochons are a popular choice for men's rings, especially in Asia. For men who would like something less flashy, rings with gemstone inlay are good alternatives. Gemstones for men that are appropriate for inlay include lapis lazuli, turquoise, ammolite, mother-of-pearl, jade, labradorite, Larimar and malachite.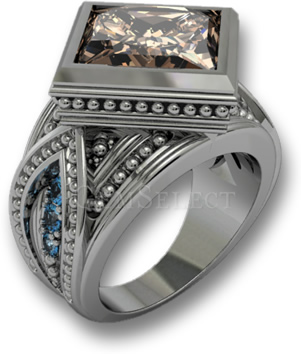 Bezel-Set Men's Smoky Quartz Ring
Popular faceted gemstones for men include black and white diamond, blue diamond, sapphire, emerald and yellow diamond. To get the same effect as diamond at a lower cost, other gemstones could be used, such as topaz (blue, yellow and white), melanite (black), sapphire (black, green, yellow, blue or white), spinel (several colors) or tourmaline (all colors). Faceted gemstones in men's rings tend to be flush-set, channel-set or pave-set in band rings or signet rings.
Men's earrings tend to be mainly studs and the gemstone of choice is diamond or other white gemstones such as sapphire and topaz. In the 1980s, men favored a single earring, but nowadays, men who wear earrings tend to have both ears pierced. Justin Bieber wears black gemstone stud earrings and Will Smith wears white diamond stud earrings. Some rare color was seen on a man's ears when Pharrell Williams wore gold and yellow diamond studs by Lorraine Schwartz at the 86th Annual Academy Awards (2014 Oscars).
Dangly earrings are worn by a few brave men, such as Snoop Dogg (who favors a turquoise bead), Rob Lowe in the 1980s and Aerosmith star Steven Tyler.
Harrison Ford wears a single earring, sometimes a gemstone and at other times a small hoop earring. Morgan Freeman also wears a single hoop earring, attributing his choice to the pirate look. David Beckham has taken this a step further by wearing two hoops set with white pave diamonds. Men's hooped earrings with flush-set, channel-set gemstones or gemstone inlay are another way to wear both hoops and gemstones at the same time. Faceted gemstones are for the flamboyant, whilst opaque gemstones, such as malachite or lapis lazuli offer some interesting color without appearing ostentatious.
The word, "bracelet" is enough to put some men off, but bracelets for men can be cool. For example, Johnny Depp's layered bracelets do not detract from his masculinity in any way. Beaded bracelets for men are easy to make and generally use natural, earthy colors (such as tiger's eye, jasper or agate) and soft materials, such as woven leather. Black onyx beads are also often seen on beaded bracelets for men. To introduce some color whilst keeping a masculine tone, black beads can be accented with one colored gemstone bead, such as turquoise, or colored gemstone beads accented by a single metal bead or clasp. Alternatively, different metals are mixed together and accented by one or two colored gemstone beads, such as lapis lazuli and jasper.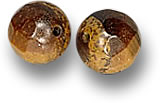 Tiger's Eye Beads
Cuff-style bracelets are also popular for men. These can be plain, or incorporate masculine motifs such as Celtic designs, crosses, snakes, skulls, chains, spikes, studs, dragons, anchors, hooks or scorpions. Some jewelry designers experiment by mixing different types of precious metal, or use gemstones that have a metallic luster such as hematite. Gemstone cabochons can be set into men's cuff bracelets in Native American style, such as turquoise, carnelian or malachite. If cabochon bracelets are a little too much, a small section of pave-set colored gemstones or gemstone inlay can add a unique quality to a cuff bracelet, such as Cartier's pink, white and yellow gold, pave-set diamond bracelets for men. David Yurman's Chevron Collection includes a sterling silver bracelet with blue pave-set sapphires and a leather bracelet with a sterling silver and pave-set black diamond clasp.
Long gone are the days of men being limited to chains, army dog tags, crosses and medallions. These days, men are wearing rosaries (Jersey Shore actor) and fine gemstone necklace pendants, such as Brad Pitt's diamond pendant, designed by Angelina Jolie and Robert Procop, and Johnny Depp's blue sapphire pendant. For the less flamboyant man, traditional styles can be updated with a modern touch. For example, pave-set gemstone dog tags are popular, some with a single large gemstone amid small stones, or a single gemstone in a precious metal background. These can be white, black or colored gems. Some have a chequered appearance with two or three different colored gemstones. Dog tags can also be inlaid with gemstones such as lapis lazuli or malachite. Also popular are pave-set gemstone skull pendants and crosses, and skulls with gemstones for eyes.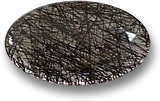 Black Rutile Quartz
Gemstones that would be appropriate for men's necklace pendants are black rutile quartz, which looks like something that would belong to the evil, black Spiderman or the wicked witch in "Snow White and the Huntsman". It is white quartz with dark-brown to black rutile needle inclusions. Each gemstone is unique with either sparse or dense inclusions. Rutile quartz is usually cut en cabochon. Obsidian is another gemstone that would be suitable for a man's necklace pendant. Obsidian is volcanic glass with a dark body color and a beautiful gold sheen. For men who prefer a metallic luster, hematite is a good choice. Other interesting gemstones for men are black opal, jasper, tiger's eye, tiger's eye matrix, the rarer hawk's eye, pietersite, moldavite, maw-sit-sit, jade and labradorite. Labradorite has a unique "labradorescence", which is a particular kind of metallic iridescent sheen.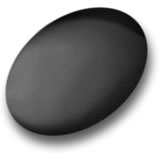 Onyx Gemstone
The jewelry that is most widely worn by men is the type that adds a final flourish to a suit, such as cufflinks, tie tacks, tie clips, tie pins, lapel pins and studs. These items show that a man pays attention to what he wears. Black onyx inlay is a classic choice for cufflinks, but for men who would like something a little different, some more interesting gemstones include mother-of-pearl (used by Louis Vuitton and Bulgari), lapis lazuli (in designs by Faberge and Tiffany & Co), turquoise, abalone, labradorite, ruby (seen in Van Cleef and Arpels' designs), spinel, jade, sodalite (in Cartier creations), blue topaz, red coral, amethyst, black and white diamond, sapphire, smoky quartz (used by Asprey) and peridot.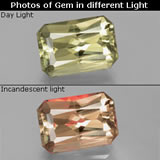 Color Change Diaspore
Color change diaspore is a gemstone that has become very popular lately. It has an unusual and rare optical quality - it can display different colors under different lighting. Diaspore is mined from the mountains of central Turkey and is sometimes sold as "zultanite". When viewed under natural daylight or fluorescent light, color change diaspore appears kiwi green with flashes of yellow. However, under incandescent lighting it appears to be pinkish. Diaspore has a good Mohs hardness score of 6.5 - 7 and a high refractive index of 1.702 to 1.750, which means that it has good brilliance. Additionally, diaspore has perfect cleavage like diamond and topaz.
Pietersite Cabochon
Pietersite is a rare gemstone that is composed of hawk's eye and tiger's eye. It is found in Henan Province of China and Namibia, South Africa. Pietersite gets its name from Mr Sid Pieters, who first described it in Namibia, in 1962. Pietersite is a distinctive gemstone that has "chaotic chatoyancy" caused by brecciated crocidolite inclusions and appearing as swirls or streaks of gold or orange. Pietersite has a beautiful silky luster. Its stormy appearance has caused it to be known as "the tempest stone" and it is believed to possess a highly-charged energy. In crystal healing, pietersite is thought to help cure addiction and boost self confidence. Pietersite cabochons are perfect for making interesting necklace pendants.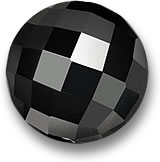 Black Spinel Gemstone
Spinel is a gemstone that has been used for centuries. Fine spinel has great hardness (8 on the Mohs scale), an attractive vitreous luster and occurs in a great choice of colors, such as vivid red, cobalt blue, purple, green and black. Spinel has been mistaken for fine ruby in the past, such is its beauty. Spinel is available in a variety of shapes, such as round, oval, baguette, barrel and square shapes. Spinel is believed to be a soothing stone that emits calming energy and is recommended for those suffering from stress. It is a non-traditional zodiac stone for those born under the sign of Gemini. Spinel's versatility makes it suitable for almost any jewelry design.
The Cannes Film Festival 2014 saw flashes of color, with Hilary Swank and Cate Blanchett both choosing to wear blue gemstone earrings by Chopard. Cate Blanchett also wore a Paraiba tourmaline ring. Julianne Moore and Lea Seydoux wore emerald Chopard earrings. Julianne Moore's emeralds were accented by contrasting pink sapphires and rubies. Ruby earrings by Lorraine Schwartz were also worn by Blake Lively. De Grisogono jewelry included emerald and sapphire hooped earrings worn by Riley Keough.
Tiffany & Co has achieved a 50% increase in net earnings during its first quarter of business. The US jewelry manufacturer's worldwide net sales increased by 13% and its net earnings rose to $126 million during the three months ending April 30th, 2014. Chairman and CEO, Michael J. Kowalski expressed his pleasure in the following statement: "This is an excellent and encouraging start to the year. We were pleased with the strong and broad-based sales growth across most regions and product categories and our ability to leverage those improved sales into very significant growth in operating and net earnings. Strength in fine and statement jewelry sales continued, while sales of our new or expanded jewelry collections accelerated, led by our ATLAS collection."
Sotheby's lost its $141 million highest total jewelry auction record (achieved by the sale of the Graff Vivid Yellow diamond for $16.3 million along with other notable gems) after only one day. Christie's reclaimed the crown when it sold the largest flawless vivid blue diamond in the world for $23.8 million and achieved a record breaking total of $154 million. The 13.22 carat blue diamond was bought by Swatch Group AG, the company that bought out Harry Winston last year, and has been renamed "The Winston Blue".
| | | | |
| --- | --- | --- | --- |
| Event Name | Location | Venue | Dates |
| AGTA GemFair Las Vegas | USA | Mandalay Bay Resort and Casino, 3950, Las Vegas Blvd, Las Vegas, USA | 29 May - 2 June, 2014 |
| Hyderabad Jewellery Pearl and Gem Fair 2014 | India | Hyderabad International Trade Exposition Centre, Hyderabad, India | 7 - 9 June, 2014 |
| GIA London Campus Open Day | UK | GIA's London Campus, 104 Great Russell Street, London, UK | 13 June, 2014 |
| The Jewellery Show, London 2014 | UK | Somerset House, London, UK | 10 - 11 June, 2014 |
| EPHJ Expo | Switzerland | Palexpo Geneva, Grand-Saconnex, CH-1218 Geneva, Switzerland *This venue may change* | 17 - 20 June, 2014 |
| Hong Kong Jewellery and Gem Fair | SAR Hong Kong | Hong Kong Convention & Exhibition Centre | 19 - 22 June, 2014 |
| Cambodia Gems and Jewelry Fair 2014 | Cambodia | Diamond Island Convention and Exhibition Center, Phnom Penh, Cambodia | 12 - 15 June, 2014 |
| The International Gem & Jewelry Show, Houston | USA | Houston Reliant Park Center, One Reliant Park, Houston, USA | 20 - 22 June, 2014 |
| The Gujarat Jewellery and Gem Fair | India | Gujarat University Convention & Exhibition Centre, Ahmedabad, India | 20 - 22 June, 2014 |
| International Watch & Jewelry Guild Show | USA | Crowne Plaza Chicago O'Hare, Rosemont, Illinois, USA | 23 - 24 June, 2014 |
| International Mineral & Gem Exposition | France | Espace Musee, Square Prensureux, Sainte Marie-aux-Mines, France | 26 - 29 June, 2014 |
Every month we answer questions of general interest from our customers. Please feel free to send your questions or suggestions to our support team at Help@GemSelect.com!
Q:
I see the word "pleochroism" when reading about gemstones. What exactly is this and does heat treatment affect it?
A:
The optical phenomenon of pleochroism means that a gemstone appears to be different colors when viewed from different angles. Examples of strongly pleochroic gemstones are andalusite, iolite, kyanite, kunzite, sphene and tanzanite. Gemstones that display two colors are called "dichroic" and gemstones that exhibit two or three colors are called "pleochroic". Gemstones that exhibit three colors are also called "trichroic".

Heat treatment does affect trichroism; it has a positive effect on tanzanite, which is routinely heated to bring out the blue and violet colors and suppress the undesirable brownish-yellow hues. When tanzanite is heated to 752-932 degrees F (400-500 Celsius), most brownish-yellow tints disappear. Iolite is not generally heat-treated because it has a low melting point.

Q:
I see that you have both tiger's eye and hawk's eye listed, what is the difference between the two?
A:
Tiger's eye and hawk's eye are varieties of fibrous quartz and both are "pseudomorphs" of quartz, which means that they began as one mineral (crocidolite) and were later transformed into quartz. The difference in the two is the color. Hawk's eye has bluish to blue-gray colors, which can appear as chatoyant flashes or as a main body color. Hawk's eye has a lower iron content than tiger's eye. It is the oxidation of iron that turns hawk's eye into tiger's eye; iron turns the material browner. Hawk's eye is rarer than tiger's eye.
We hope you found our topics interesting. Please feel free to send us your questions, comments or feedback!
Also, if you haven't already, be sure to join us on any one of our social networking pages. We love interacting with our customers. You can visit us on Tumblr, LinkedIn, Twitter, Facebook or Pinterest!
To ensure you can receive our emails, please be sure to add help@gemselect.com to your list of safe contacts, or you add us into your email address book! Please feel free to contact us with any questions, comments and queries! We respond to each and every email we receive.
Happy gem hunting,
Your friends at GemSelect