Obsidian: Volcanic Glass
When you buy a gem, you want to be sure that it is a natural stone and not glass. But there is one kind of natural gemstone that actually is glass. Obsidian is naturally occurring volcanic glass. It is formed when felsic lava extruded from a volcano cools without crystal growth. Obsidian has been known since prehistoric times, and has some fascinating properties as well as some important practical uses.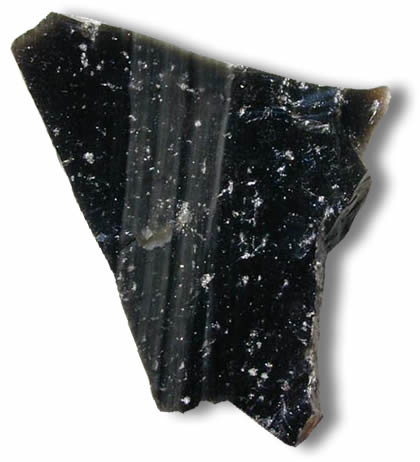 Obsidian Rough Stone
Obsidian is mineral-like, but is not a true mineral because it is not crystalline and does not have a well-defined chemical composition. Usually obsidian is at least 70% silicon dioxide. Pure obsidian is usually dark in color, though the color varies depending on the presence of impurities. Iron and magnesium give the obsidian a dark-green, brown or black color.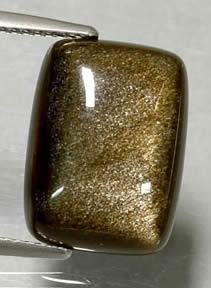 Gold-Sheen Obsidian
In some stones, small white inclusions of radially clustered cristobalite crystals in the black glass produce a blotchy or snowflake pattern, and this is known in the gem trade as snowflake obsidian. Obsidian may contain patterns of gas bubbles remaining from the lava flow, aligned along layers created as the molten rock was flowing before being cooled. These bubbles can produce interesting effects such as a golden or rainbow sheen.
Since obsidian is composed mainly of silicon dioxide, it has similarities to quartz. However, since obsidian is not crystalline, it is not as hard as quartz. Obsidian has a hardness of 5 to 5.5 on the Mohs scale. It also has a lower density (2.35 to 2.60) and refractive index than quartz (1.45 to 1.55). Unlike quartz, obsidian is singly refractive.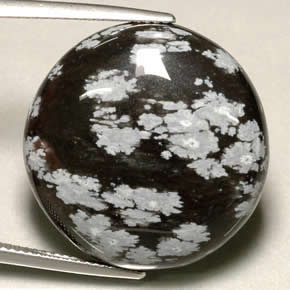 Snowflake Obsidian
In addition to its use as a gemstone, obsidian has been used in cardiac surgery, since well-crafted obsidian blades have a cutting edge many times sharper than high-quality steel surgical scalpels, with the edge of the blade being only about 3 nanometers wide. Even the sharpest metal knife has a jagged, irregular blade when viewed under magnification. When examined under an electron microscope an obsidian blade is still smooth and even.
Obsidian is found in many locations that have seen volcanic activity, including Ecuador, Japan, Italy, Iceland, Indonesia, Mexico and the USA.